Hollyford Track
Hiking The Hollyford Track is an ideal way to experience the very essence of New Zealand's wilderness as well as the country's natural and human history and heritage. The Hollyford Track guided walk has opened the area to people who otherwise may not have been able to access and experience this spectacular part of New Zealand.
In this 3 day / 2 night all inclusive guided wilderness experience you will be transported from the mountains to the sea, transecting the Hollyford Valley by foot, jet boat and finally helicopter into Milford Sound. A maximum number of 16 people in your group provides for a personal experience. Along the way your expert and passionate guide will bring to life the diversity of landscapes, vegetation and wildlife, as well as the captivating stories of the original Maori and early pioneering families. You'll enjoy first rate cuisine prepared and served by our friendly lodge hosts while relaxing in our well-appointed and comfortable private lodges.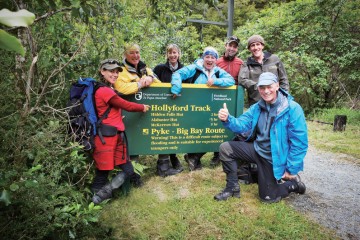 ---
Hollyford Track Itinerary
Day 1: Hollyford Valley to Pyke Lodge
You will be picked up from your accommodations in either Queenstown or Te Anau. Shadowing the swift clear waters of the Hollyford River and beneath the gaze of the mighty Southern Alps, including Fiordland National Parks two highest peaks of Mt Tutoko (2746m) and Mt Madeline (2537m), you'll re-trace footsteps of original Maori and early pioneer explorers, as the track undulates gently through native beech forest and beside impressive tumbling waterfalls. As ample food and comfortable bedding are all provided by your guides and at our private lodges, you are relieved of the burden of carrying a weighty pack and are free to discover a fascinating world through the expert interpretation of your guide.
At the end of your first day's adventure you'll be welcomed at Pyke Lodge by your friendly lodge hosts. Here you'll enjoy hot showers, impressive 3 course cuisine and the opportunity to relax with a post dinner drink and savour the majesty of Mt Madeline while reflecting on a great first day of your guided walk experience.
Distance: 19.5km
Day 2: Pyke Lodge to Martins Bay Lodge
After a short walk you'll board our jet boat for the next part of your adventure. Jet boats were invented in New Zealand for the shallow rivers of the South Island and these powerful and safe boats provide for a captivating scenic ride along the Hollyford River and down Lake McKerrow with glassy water whisking past and mountains rising dramatically above. You may even encounter a family of Bottlenose Dolphins who are regular visitors to the lower river and lake. Before the ride is over even your professional jet boat driver has a story to share.
Human history in the Hollyford Valley is as incredible as the scenery and you'll stop to discover the tragedies and triumphs of ill-fated Jamestown before walking through ancient forest giants such as native Rimu, Totara and Kahikatea, some believed to be up to 1000 years old. Soon the towering lowland podocarp forest transforms into a tenacious coastal garden. Thunderous surf on the rugged West Coast is a prelude to a bay of boulders where the rare Fiordland Crested Penguin is a seasonal visitor. A little farther on, Long Reef plays host to a rookery of native New Zealand Fur Seals where you'll marvel at their nimble skills in the crashing surf and relax as they laze on the rocks. Martins Bay Lodge completes a special second day and glasses are raised to the traditional 'Hollyford Toast' as a memorable way to finish your day.
Distance: 15km
Day 3: Martins Bay to Milford Sound
Begin the day with an exploration of Martins Bay Spit. Here you will view historical sites of Maori occupation of the area where chief Tutoko and his people guarded entry into the Hollyford Valley, controlling access into and out of highly valued pounamu (greenstone / jade) gathering areas. Your guide will also highlight the plant and wildlife of this unique environment helping you to discover the diversity of this truly remote area. You will also have the opportunity to explore the sand dunes, and wander along the isolated beach at your own pace with the Tasman Sea as your companion and reflect upon this intrepid journey.
Returning to Martins Bay Lodge for lunch, your lodge hosts bid you farewell as you board your aircraft for a scenic flight along the rugged coast and into the truly spectacular and dramatic Milford Sound where you'll marvel at the grandeur of vertical granite walls rising from the sea.
Once in Milford you'll be met by your return shuttle host and travel the impressive Milford Road up through the famous Homer Tunnel cutting through a divide of sheer granite rock, and stopping at the source of the Hollyford Valley and River before embarking on your journey back to Te Anau and Queenstown.
Distance: 8.5km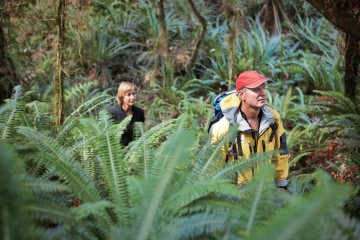 ---
Hollyford Track Accommodations
At the end of an invigorating day exploring our beautiful valley, you'll arrive at your warm, cozy, dry lodge to a hearty welcome and fine cuisine prepared by your friendly and professional lodge hosts. While Hollyford Track is in the isolated and rugged wilderness of Fiordland, New Zealand, it doesn't mean you can't enjoy all the comforts of home. Your tour company's lodges have been purpose designed and built to provide you with a level of comfort and indulgence in a place you would least expect it. The private lodges are exclusively for the use of our guided walkers, and are very well appointed with dining and lounge areas, open fires, drying rooms, separate flush toilet and shower facilities with unlimited hot water.
The lodges run on battery bank powered electricity, and we do conserve energy by turning off some electrical facilities overnight. However, lighting is available throughout the night, and 24hr power is available in the lounge area.
Day 1 – The evening of Day One is spent at the rustic Pyke Lodge nestled beneath the converging mountain ranges and amongst native forest at the confluence of the Hollyford and Pyke Rivers. Pyke Lodge is often graced with spectacular views of the sun setting and rising over the majestic Mt Madeline and Darran Range.
Day 2 – The evening of Day Two is spent at Martins Bay Lodge, a new lodge on the lowland flats close to mouth of the Hollyford River. Cheeky Kea, a large alpine parrot, often play in the Cabbage Trees outside the lodge at dusk and the sound of the surf on nearby Martins Bay Spit is a soothing evening soundtrack.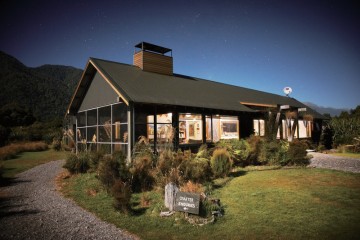 ---
Abel Tasman Coastal Track
Abel Tasman National Park, located at the very top of the South Island, is home to beautiful golden sand beaches, stunning rock formations, and diverse wildlife. The Abel Tasman Coastal Track links a chain of stunning crescent-shaped bays of golden sand and overlooks the clear waters of Tasman Bay.
Abel Tasman's Coastal Track is a wonderful way to explore The Park. The Track's ocean-side location allows for easy access to the water, making a combined kayak and walking tour of the track ideal. This 3 day / 2 night guided trip allows you walk and kayak the track, or walk only – you choose! Suitable for all levels, no previous sea kayaking experience is necessary as you will be accompanied by an experienced guide at all times on the water. Enjoy unparalleled natural scenery, wonderful meals, and a unique outdoor experience catered to your preferences and activity level.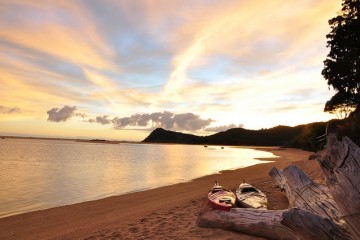 ---
Abel Tasman Coastal Track Itinerary
Day 1: Nelson / Motueka to Awaroa via Totaranui
All aboard our Vista Cruise vessel! As we cruise from Kaiteriteri at the southern tip of the Park, north to Totaranui we echo the contours of the spectacular Abel Tasman coastline. Relax on the upper or lower viewing decks and enjoy a hot drink from the cafe. From Totaranui, walk through mature beech and rata forests, and along secluded golden beaches to the breathtaking expanse of the Awaroa inlet. Here, a warm kiwi welcome awaits you at Meadowbank Homestead – Awaroa, a faithful re-creation of the Wilson family's original home on the "finest site in the bay".
Distance: 6km
Day 2: Awaroa to Torrent Bay
Wake to breakfast overlooking the gardens of Meadowbank Homestead, watching the movement of the tides over golden sands. Walk with your Guide to the golden expanse of Onetahuti Beach then paddle to Torrent Bay, through Tonga Island Marine Reserve and exploring hidden inlets along the way. Your guides will settle you into your kayaks with a full training and safety brief. Weather permitting, there is the opportunity to visit the Seal Colony on Tonga Island where New Zealand fur seals breed. It is often possible to spot new-born pups here in December and January.
Enjoy the sensation of paddling through the clear turquoise waters of the Park as we cruise past Tonga Quarry and the Tonga Arches, where your guide will explain the history of this granite area, pointing out some of the unusual natural features and relics from the historic quarry. Midday, stop for lunch at sheltered Bark Bay, where you can take time out to explore, swim or relax on the golden sand.
After lunch, we continue our paddle, beach hopping along the coast with picture-postcard views, including the Falls River and Frenchman's Bay. At around 4.30 pm paddle into Torrent Bay to be welcomed with refreshments and a hot shower in your ensuite room.
Distance: Walk Awaroa to Onetahute 4km; Sea Kayak Onetahuti to Torrent Bay 10km
Day 3: Torrent Bay to Kaiteriteri
Wake up to morning light on the golden sands of Torrent Bay and perhaps a coffee on the deck before a hearty home-cooked breakfast to set you up for another day of scenic paddling.
Around 9.30 am we leave Torrent Bay by kayak and glide southwards along the coast, to discover the pristine bays and beaches named by French Explorer, Dumont D'urville in 1827. Paddle the idyllic waters of Te Pukatea Bay. In the sheltered Astrolabe Roadstead, paddle along the picturesque coast of Adele Island, now a predator-free sanctuary ringing with birdsong.
If the wind is with you, your guide will help you hoist a specially designed sail so you can ride the sea breeze. We'll stop for lunch and a rest at any one of the bays along the way, before we continue our journey through azure waters to the famous Kaiteriteri beach, where our driver will be waiting to meet you for the return journey to Motueka or Nelson.
Distance: Sea Kayak Torrent Bay to Kaiteriteri 12km
* The above itinerary includes a sea kayak component but can easily be modified to include walking only. Please ask us for details.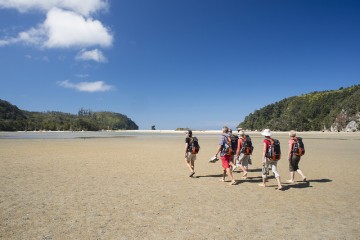 ---
Abel Tasman Coastal Track Accommodations
Enjoy a warm kiwi welcome from the only lodge accommodations right on the beach in the heart of Abel Tasman National Park. Enjoy a wilderness experience without giving up modern conveniences in lodges devoted to the care of the natural and social environment of the park.
Day 1 – Spend your first night in the park at Meadowbank Homestead – Awaroa. Traditional kiwi hospitality welcomes you at the Wilson family's ancestral home, rebuilt to include all modern comforts and insights into early European settlement.
Day 2 – Enjoy an evening at Torrent Bay Lodge for the second night of your journey. This holiday home on the beach has been rebuilt and upgraded, keeping the relaxed character of this nautical retreat.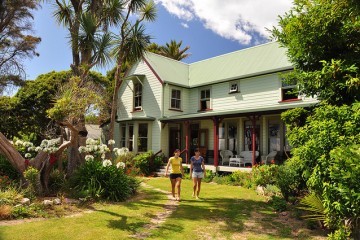 ---
Queen Charlotte Track
The Queen Charlotte Track in the Marlborough Sounds has rapidly become known as one of the finest and most diverse coastal tracks in New Zealand.
It is located at the top of the South Island, near the famous Marlborough wine region and accessed by boat from Picton to its beginning at the scenic and historic reserve of Ship Cove in Queen Charlotte Sound. This is an area steeped in both Maori and European history. Today the stunning Marlborough Sounds are known as a maritime and eco-tour haven – popular all year round with sailors, hikers, trekkers, mountain bikers, adventure seekers and eco-tourists.
This 4 day / 3 night guided walk offers a fantastic Queen Charlotte Track experience. After an exhilarating hike each day, come to rest at iconic lodges – Furneaux Lodge, Punga Cove and either Portage Hotel or Lochmara Lodge – each complete with a restaurant, comfortable accommodation and superb setting. You will be part of a small walking group and enjoy great food and wine, discerning service and the knowledge of local guides. This trip can be easily modified to include a kayak addition.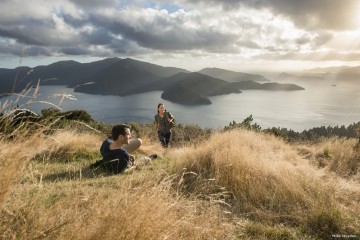 ---
Queen Charlotte Track Itinerary
Day 0: A pre-tour briefing is held the day prior to departure.
Day 2: Ship Cove to Furneaux, Lodge, Endeavor Inlet via Motuara Island
This morning you will be picked up in Picton, introduced to your Wilderness Guide and then depart on the boat trip to Motuara Island for a tour en route to Ship Cove. Learn about the fascinating marine life of this area along the way and, if we are lucky, see dolphins as well! Enjoy a short walk on Motuara Island Bird Sanctuary to the lookout – this affords spectacular 360 degree views of the Marlborough Sounds – and see many of New Zealand's endangered bird species including the South Island Saddleback (Tieke).
Arrive late morning at Ship Cove to begin the Queen Charlotte Track. This scenic and historic reserve was a favorite anchorage for Captain Cook during his explorations in the 1770s as well as being a site of significance for local Maori. Bush is mainly a mixture of stunning podocarp and beech forest with punga ferns and other New Zealand native foliage. This day is regarded as the premier section of the Queen Charlotte Track. Your walk concludes at the historic Furneaux Lodge. NB. The visit to Motuara Island is weather dependent.
Distance: 14km
Day 2: Endeavor Inlet to Camp Nay/Punga Cove
Today's mainly coastal walk takes you from Furneaux Lodge to Punga Cove through mostly regenerating native bush to the call of bellbirds, fantails and other New Zealand native birds. From Furneaux Lodge, the track continues through native bush and over a small swing bridge to the head of Endeavour Inlet. Pause there to learn more about antimony & the mining industry that thrived there in the 1880s. Follow the main track onwards and into Big Bay where pristine native beech forest awaits before working your way towards Camp Bay and, five minutes on from there, your accommodation for the evening at Punga Cove.
Distance: 11.7km
Day 3: Punga Cove to Torea Saddle/Lochmara Lodge
A challenging but rewarding day on the ridgeline between Punga Cove & Torea Saddle. Truly grand views abound around every corner – a wonderful reward indeed. Stare in awe at the sunken river valleys of the Marlborough Sounds from the iconic Eatwell's Lookout. At different times you can see both the Queen Charlotte and Kenepuru Sounds as you walk. This is a truly spectacular section of the track. Those who feel like a day's rest today can opt for a boat ride around the bays' of the Queen Charlotte Sound. At the end of today's walk catch the waiting water taxi to your night's accommodation at Lochmara Lodge or walk from Torea Saddle down to the Portage Hotel.
Distance: 23.6km
Day 4: Lochmara Lodge/Portage Hotel to Anakiwa
Say farewell to Lochmara Lodge or Portage Hotel and ascend to the ridgeline once again, enjoying stunning views back towards Picton as well as into the turquoise waters of the Kenepuru Sound. Open farmland followed by a grand native bush section is a fitting finale after four days of walking. Take time for a photo stop at the picturesque Davies Bay – you won't want the journey to end. Today you return by boat from the Anakiwa Jetty to Picton, arriving back by later afternoon.
Distance: 20.5km
*The above itinerary can easily be modified to include a sea kayak component. If you prefer, consider hiking the first two days of the Queen Charlotte Track and spending the final two days of the journey exploring beautiful Marlborough Sound by sea kayak. Please ask us for details.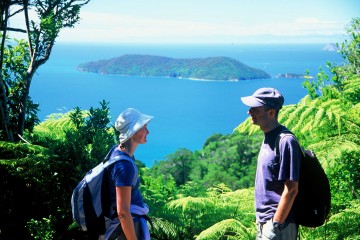 ---
Queen Charlotte Track Accommodations
Four waterfront lodges set amongst the stunning scenery of the Queen Charlotte Track provide the opportunity for rest during your four day walk.
Day 1 – Spend the first night of your journey at the private, waterfront Furneaux Lodge. Enjoy stunning views in accommodations well suited to both individuals and family groups hiking the track.
Day 2 – Spend your second night on the trail at Punga Cove Resort. Set amongst beautiful scenery in the magnificent waterways of New Zealand's Marlborough Sounds, Punga Cove is the perfect retreat for people wanting to relax in style.
Day 3 – For your third night you will have a choice between two accommodations. Lochmara Lodge is set on the tranquil shores of the Queen Charlotte Sound and features a beautiful accommodation as well as aviaries and enclosures with endangered species, an organic vegetable garden and orchard, education signage, a sculpture trail, and an art gallery.
You may choose to walk just a little further down the trail to Portage Hotel.
Portage Hotel is nestled at the narrowest point between Queen Charlotte and Kenepuru sounds with a wonderful view into Kenepuru Sound. This well-established accommodation has a reputation for a fine restaurant and features natural timber chalets.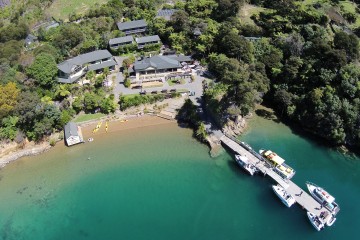 ---
Tongariro Crossing
The Tongariro National Park has Dual World Heritage status and the Northern Circuit is part of the Department of Conservation Great Walks network. Three majestic, active volcanoes dominate the National Park: Mt Tongariro (1967m), Mt Ngauruhoe (2291m) and Mt Ruapehu (2797m). The Tongariro area has grown over the last 300,000 years and was formed from a series of eruptions. Intense volcanic activity and retreating glaciers from the ice age have left amazing textures, colors and landscapes with many stories of fire and ice to tell.
Experience a safe, enjoyable, and memorable adventure in the Tongariro area with experienced and personable guides. The Tongariro Alpine Crossing spans the length of Mt Tongariro (19.4kms) and takes about 7-8 hours to complete. The walk begins at Mangatepopo and concludes at Ketetahi.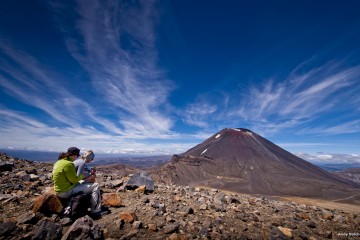 ---
Tongariro Crossing Itinerary
This is a one day alpine hike that spans 19.4km and takes 7-8 hours to complete. The walk starts at Mangatepopo and concludes at Ketetahi.
Portion 1: Mangatepopo to Soda Springs
Grade: Easy – allow 1 to 1.5 hours
This first section of the track is fairly flat. The track is well formed and board walked in damper parts. The main track continues up the valley following the Mangatepopo stream and around the edge of old lava flows. It is interesting to notice the change in plants as you climb in altitude.
Portion 2: Soda Springs to South Crater
Grade: Moderately difficult – allow 40 minutes to 1 hour
This section is steep – climbing from 1400 up to 1600 metres above sea level – and is known as "the devils staircase." Take your time – slow and steady is the best way to conquer this section. On a clear day the view down the valley and out across the surrounding countryside is well worth it! You may even see Mt Taranaki, another volcano on the western horizon. Take care as you are walking over layers of ancient and modern lava flows and other volcanic debits so the track surface is not smooth.
Portion 3: South Crater to Red Crater
Grade: Moderately difficult – allow 1 hour
It is great to be on the flat, but once you have crossed South Crater there is another short climb on an exposed ridge. The track follows the ridge to Red Crater.
If you have plenty of time you can make the decision to summit Tongariro.
The main track continues around Red Crater. There are spectacular views over the Oturere Valley, Rangipo Desert, Kaimanawa Ranges and down to the Emerald Lakes.
Red Crater to Blue Lake
Grade: Moderate – allow 30 minutes
Care is required with the descent from Red Crater, as this part of the track is steep and you will be on loose scoria, which can move under foot. To the left you will see an old lava flow from Red Crater spreading out across the floor of The Tongariro Northern Circuit track to Otureree Hut, which branches off just past the lowest Emerald Lake. The Tongariro Crossing track follows the edge of Central Crater then climbs up to Blue Lake (A cold acidic lake). The lake is tapu (sacred) and it is disrespectful to eat or drink around its shores. To the right are the Emerald Lakes. Minerals leached from the surrounding rock causes the brillant emerald colour. The steam vents above the lake are responsible for the sulphurous smell.
Portion 4: Blue Lake to Ketetaki Hut
Grade: Moderate – allow 1 hour
There is a short easy climb to the edge of North Crater. This crater was once filled with molten lava, which then cooled and solidified providing a level surface more than 1000m wide. In good weather there are spectacular views out over Mt Pihanga and Lake Rotoaira to Lake Taupo. Zigzag your way down to the Ketetahi Hut through a beautiful natural alpine garden.
The track crosses the stream that flows down from Keteahi Hot Springs and the rocks are stained interesting colours from the minerals in the water. Continue through open tussock land to a clearing before dropping steeply to the Mangatetipua Stream and through native forest for about an hour and a half. There is a short sidetrack leading to a waterfall a few minutes before reaching the Ketetahi carpark.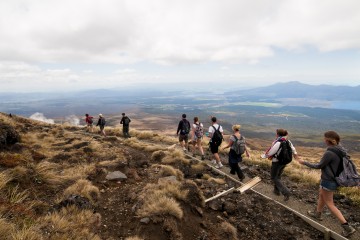 ---
Routeburn Track
Since the 1880's the Routeburn Track has proved to be one of the most accessible and popular journeys into New Zealand's forests and mountains. This iconic walking track passes through two national parks, Fiordland and Mount Aspiring, and is part of Te Wahipounamu, South West New Zealand World Heritage Area. The area is a haven for native birdlife: expect to see robins, fantails, parakeets, bellbirds, and yellowheads – and watch out for the resident Kea at Routeburn Falls! The variety of landscapes will astound you: mountainous peaks, sheer rock faces, alpine basins, pristine lakes, cascading waterfalls, luxuriant forest, turquoise rivers and million dollar views around every corner. This Routeburn Track Guided Walk is a 1-day all-inclusive trek exploring New Zealand's Southern Alps. Pick up and drop off at your Queenstown accommodations is included and trekking is led by expert guides.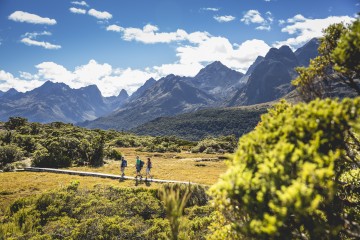 ---
Routeburn Track Itinerary
From Queenstown enjoy one of the most beautiful road journeys in New Zealand to the Western end of Lake Wakatipu where the stunning backdrop of Mt Aspiring National Park surrounded by snow capped mountains lies before you to explore.
The world acclaimed Routeburn Track provides stunning variation in vegetation, birdlife and topography as it starts at Routeburn shelter and climbs 6.5 kms one way, on a moderate fitness trail through gorges and valleys. Walking through ancient Red Beech forest amidst lush ferns lichens and mosses, we follow the turquoise Routeburn River reaching the Flats hut located within a mountain amphitheatre. Time to rest up, soak in the natural beauty and enjoy your picnic lunch at Routeburn Flats while listening for native birdsong.
This trail is well formed, we cater to your level of fitness and there will be no more than 6 people to a group. The duration of the walk, altitude and alpine conditions will determine the distance and time we will walk. Expect 4-7 hours of walking depending on the enthusiasm of the group.
This walk enables you to experience the diversity of natural beauty, lakes, river valleys, waterfalls, mountains views and birdlife with numerous photography opportunities.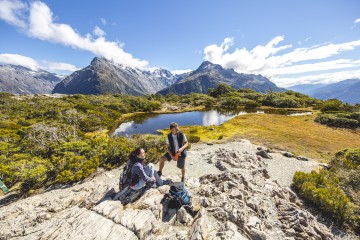 ---
Additional Guided Walk Options
Please contact us for detailed information on the following guided walks and to learn more about options for additional guided walks in New Zealand
---
The Milford Track
 Long described as New Zealand's most famous walk The Milford Track traverses New Zealand's wild fiord country. This 150 year old track travels along valleys carved by glaciers, under cascading waterfalls, and through ancient rainforests. This 4 day / 3 night walk begins at the head of Lake Te Anau and for 53 kilometres travels over suspension bridges, board walks, and a mountain pass to its end at Sandfly Point.   The Fiordland National Park is a key component of the Te Wahipounamu Southwest New Zealand World Heritage Area. This beautiful walking experience allows for close encounters with native birdlife; expect to see keas, wekas, robins, fantails, parakeets and bellbirds.
---
The Hump Ridge Track
Experience stunning beach, forest and mountain views on the Tuatapere Hump Ridge Track. This Track is a 55km, 3 day / 2 night loop walk that takes hikers along the south coast of New Zealand through the pristine Fiordland National Park and over private and Maori land. Hike up to the sub-alpine zone of the Hump Ridge, and over historic viaducts in the heart of native forest. The highlight is a loop track at the top of the Hump Ridge range, which winds around soaring limestone peaks and offers panoramic views of south-west Fiordland, the Southern Ocean, and Stewart Island.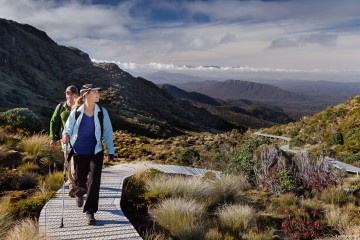 ---
The Rakiura Track
Head South for an island adventure on the Rakiura Track, located on New Zealand's Stewart Island. Located off of the southern tip of New Zealand's South Island, Stewart Island is a haven of peace and solitude, situated in a habitat that has changed very little over thousands of years. While the human population of Stewart Island numbers under 400 the native bird population is abundant. The Rakiura Track is a 3 day / 2 night walk that follows the open coast, climbs over forested ridges and traverses sheltered coastline. Most of the track is board-walked and beautiful wilderness beaches are a special feature of the track.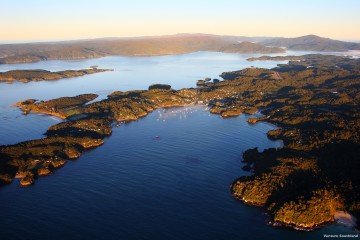 ---
Back to NEW ZEALAND Sample Itineraries
> Walking Tours of New Zealand