Overview
28 Days New Zealand Self Drive
Sample Itinerary
Following is a sample itinerary that can be customized just for you.
---
New Zealand Self Drive in 28 Days offers a complete and classic New Zealand experience in four weeks. Experience the best of both the North and South Islands like a local with enough time to settle in and get a true feel for the New Zealand lifestyle. Start your adventure in the laid-back Bay of Islands, discover Auckland, the "City of Sails," and hop over to the wine mecca of Waiheke Island. Explore the relaxed and unspoiled Coromandel Peninsula before moving on to Rotorua. Fly to Christchurch and spend a day exploring Arthur's Pass National Park. Discover Kaikoura and whale watch in Motueka. Immerse yourself in the natural wonders of Abel Tasman National Park before heading to Punakaiki, then on to Franz Josef's stunning glacier. Experience the natural beauty of Dart River from a jetboat and explore the alpine haven of Queenstown. Enjoy an overnight cruise on Fiordland's Doubtful Sound and discover New Zealand's oldest city, Dunedin.
Trip at a Glance
Day 1: Arrive Auckland, fly to Kerikeri, travel to Paihia, Bay of Islands / 3 nights: Bay of Islands
Day 2: Full day to explore Paihia
Day 3: Full day to explore Paihia
Day 4: Coach Paihia to Auckland / 2 nights: Auckland
Day 5: Full day on Waiheke Island
Day 6: Drive to Coromandel Peninsula / 3 nights: Coromandel
Day 7: Full day to explore The Coromandel
Day 8: Full day to explore The Coromandel
Day 9: Drive to Rotorua / 3 nights: Rotorua
Day 10: Full day to explore Rotorua
Day 11: Full day to explore Rotorua
Day 12: Fly to Christchurch / 2 nights: Christchurch
Day 13: Full day Arthur's Pass National Park
Day 14: Drive to Kaikoura / 2 nights: Kaikoura
Day 15: Full day Kaikoura
Day 16: Whale Watch Tour, drive to Motueka / 3 nights: Motueka
Day 17: Full day to explore Abel Tasman National Park
Day 18: Full day to explore Abel Tasman National Park
Day 19: Drive to Punakaiki / 1 night: Punakaiki
Day 20: Drive to Franz Josef / 2 nights: Franz Josef
Day 21: Full day to explore Franz Josef
Day 22: Drive to Queenstown / 3 nights: Queenstown
Day 23: Full Day Dart River Tour
Day 24: Full day Queenstown
Day 25: Overnight Doubtful Sound Cruise
Day 26: Drive to Dunedin / 2 nights: Dunedin
Day 27: Full day to explore Dunedin
Day 28: Return to U.S.A via Auckland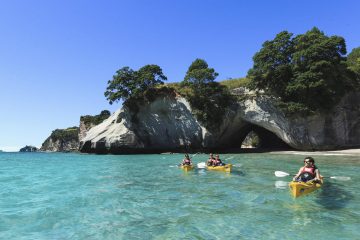 ---
Trip Highlights
Relax and explore in Northland's playground, the Bay of Island
Explore Auckland and Waiheke Island's world-renowned wine scene
Explore the Coromandel Peninsula, Kiwis' much loved holiday destination
Discover Rotorua's rich cultural heritage and outdoor pursuits
Explore the natural beauty of Arthur's Pass National Park
Spend a day discovering Kaikoura's abundant native wildlife
Whale watch in Motueka
Experience Abel Tasman National Park's beautiful coastline and golden beaches
Explore Franz Josef and visit the renowned Franz Josef Glacier
Experience a thrilling jetboat ride on the wonderfully scenic Dart River
Explore the alpine resort of Queenstown
Discover Fiordland aboard an overnight Doubtful Sound Cruise
Experience New Zealand's oldest city, Dunedin; enjoy the local art scene and experience the area's legendary outdoor activities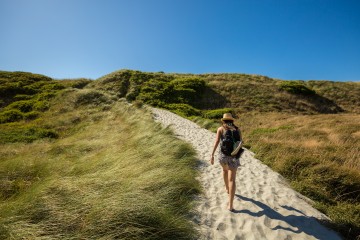 ---
Detailed Itinerary
28 Days New Zealand Self Drive
Sample Itinerary
Following is a sample itinerary that can be customized just for you.
---
Day 1–Arrive Kerikeri, travel to Paihia

Beach near Township of Paihia, New Zealand.
Welcome to New Zealand! On arrival into Auckland, take a brief 45 minute flight north to Kerikeri, then travel on to Paihia in the peaceful Bay of Islands.  Northland and the Bay of Islands are rich in culture and history and are surrounded by a pristine natural environment. Considered the "Birthplace of our Nation," learn about the arrival of the first Maori canoes to New Zealand and the signing of the Treaty of Waitangi. Enjoy golden beaches, tranquil harbors, dramatic coastline and spectacular native bushland. Northland is an aquatic playground and a land of unspoiled natural beauty. 3 nights: Paihia.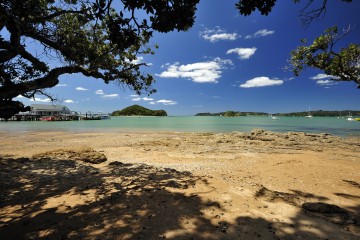 ---
Days 2&3 – Two full days to explore Paihia

Enjoy two full days spent exploring all that Paihia and the surrounding Bay of Islands has to over. Visit the nearby historic village of Russell, a short ferry ride away, explore Northland's beautiful sandy beaches, hike her coastlines, cruise the islands, and enjoy the area's fabulous marine wildlife. Consider a visit to the Treaty of Waitangi Grounds to learn about this seminal event in New Zealand history. We look forward to working with you to tailor your activities in this area to best suit your interests.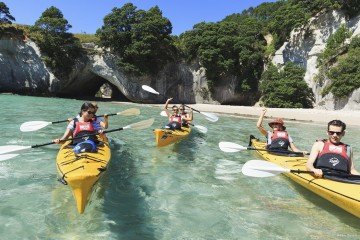 ---
Day4 –Travel by coach from Paihia to Auckland

This morning your will travel by coach to Auckland. Auckland is the most populous urban area in the country, with a population approaching 1.4 million residents. Auckland's harbor-side location and Aucklanders' love of the water has garnered the city it's nickname, "City of Sails." This city has the largest Polynesian population of any city in the world and the melting pot of European, South Pacific and Asian cultures and indigenous Maori heritage brings a wealth of fantastic dining, shopping and touring experiences. This spectacular city is surrounded by rainforest-covered hills, dormant volcanoes and beautiful islands scattered throughout the Hauraki Gulf. / 2 nights: Auckland.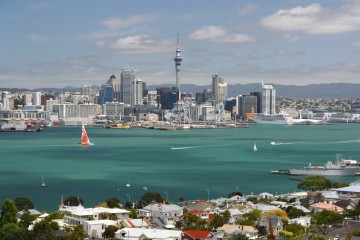 ---
Day 5 – Full day Waiheke Island guided Gourmet Food and Wine Tour

This morning a ferry for the scenic trip to Waiheke Island, a 40 minute ride.  On Arrival on Waiheke you be met by your guide and the tour will commence.  You will visit an award winning olive mill, followed by two vineyards, each offering a range of gourmet tastes to accompany their wines. Your guide will provide entertaining and informative commentary along the way.  Afterwards, enjoy a platter lunch at one of the island's top vineyards.  After you lunch you will be returned to the ferry for the trip back to Auckland.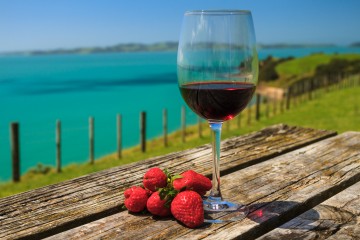 ---
Day 6 – Drive to Coromandel Peninsula

This morning embark on the beautiful drive to the Coromandel Peninsula, where Kiwis go on holiday! Rustic, relaxed and unspoiled, the Coromandel is one of New Zealand's best-loved holiday destinations. Renowned for its natural beauty (think misty rainforests and pristine golden beaches) the Coromandel is blessed with hundreds of natural hideaways, making it an ideal place to explore or just slow down, relax and unwind. 3 nights: Coromandel.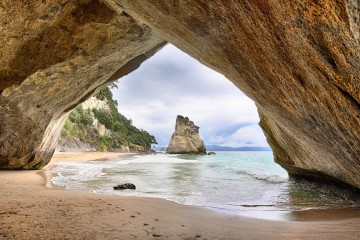 ---
Day 7&8 – Two full days to explore The Coromandel

The Coromandel enjoys the perfect environment for tramping (hiking). You'll find tracks from just 1 hour long to a full day. Accessible only on foot or by boat, famous Cathedral Cove is one of the "must visit" sites on the Coromandel Peninsula. Or for an amazing inland hike, hike to the Pinnacle Hut and the on up to Pinnacle Hills.Enjoy spectacular views of the bush, mountains and coastline of the eastern Coromandel. Kayaking is a wonderful way to explore the park's beautiful coastline and white-sand beaches. Paddling aroundCathedral Cove's iconic cliff face is an unforgettable experience!
The Coromandel is also known for its pioneering arts and crafts people. Discover unique galleries with painting, pottery & more from local artists. The natural beauty and lifestyle of this area has always been popular with many artists. We are excited to work with you to customize your experience on The Coromandel.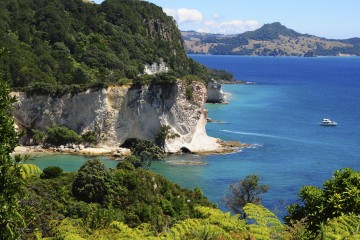 ---
Day 9 – Drive to Rotorua

Today you will make your way to the township of Rotorua. Rotorua is one of New Zealand's most famous destinations, located in the heart of the North Island and nestled against the shores of Lake Rotorua. Rich in Maori culture and situated in a unique volcanic landscape ripe with natural hot springs, Rotorua abounds in outdoor activity and adventure options. Rotorua resides on one of the world's most lively fields of geothermal activity and sits directly over a portion of the Pacific Rim Of Fire. Rotorua is also the ancestral home of the Te Arawa people who settled here more than 600 years ago and their presence offers the visitor numerous cultural experiences. 3 nights: Rotorua.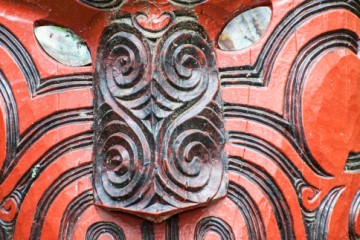 ---
Day 10&11 – Two full days to explore Rotorua

Allow two full days to discover Rotorua. We look forward to working with you to customize your time in Rotorua, ensuring that you experience just the right mix of art, culture, adventure, geothermal activities, and wildlife experiences to suit your interests.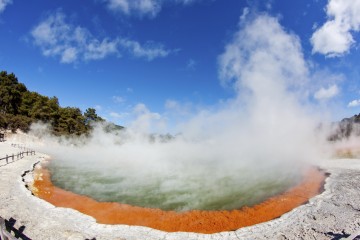 ---
Day 12 – Fly to Christchurch

Today you will board a flight to Christchurch. Known by locals as "The Garden City," Christchurch offers a wonderfully relaxed atmosphere rich in history. Despite the earthquake of 2011, Christchurch remains the gateway to the myriad amazing experiences available in the Canterbury region. While earthquakes have damaged much of the city's heritage architecture, Christchurch's traditional English ambience is still evident. The city's Botanic Gardens and Hagley Park continue to be some of New Zealand's most impressive public spaces. 2 nights: Christchurch.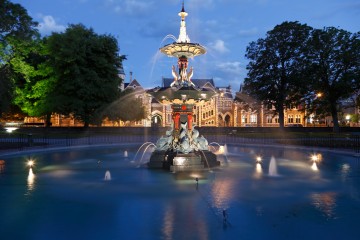 ---
Day 13 – Full Day Arthur's Pass National Park

This morning you will board a train for a day trip to Arthur's Pass. From your carriage take in the fields and farmland of the Canterbury Plains followed by the spectacular gorges and river valleys of the Waimakariri River and the climb into the Southern Alps. On arrival at Arthur's Pass you will travel to Arthur's Pass National Park where a short walk will reveal beautiful alpine forests, rivers, and dramatic mountain vistas. Enjoy your day exploring this beautiful wilderness reserve before returning to Christchurch.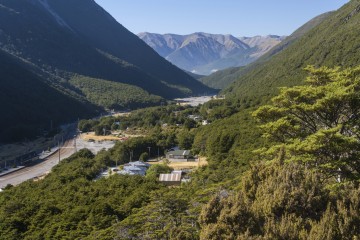 ---
Day 14 – Drive to Kaikoura

Depart today for Kaikoura. The first leg of your journey will take you past a chain of ruggedly beautiful Christchurch beaches then through the Waipara, a region well known for its vineyards and olive groves. Continue north through Cheviot and follow along the edge of the dramatic coastal range to Kaikoura, a haven of New Zealand wildlife. The seaside settlement of Kaikoura is situated midway between Christchurch and Picton on the craggy east coast of New Zealand's South Island, and is overlooked by majestic snowcapped mountains. 2 nights: Kaikoura.
---
Day 15 – Full day to explore Kaikoura

The unique combination of ocean and mountains offers stunning coastal alpine scenery and a host of eco-tourism oriented activities, including whale watching, swimming with dolphins, hikes, and much more. We are excited to help you customize your time in Kaikoura.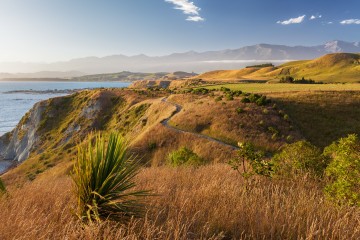 ---
Day 16 – Whale watch tour, drive to Motueka

This morning enjoy a whale watch tour with a conservation-minded local company. See giant sperm whales, the stars of Kaikoura's whale watching experience, who are local year-round residents. Prepare to encounter New Zealand fur seals, pods of dusky dolphins, and the endangered wandering albatross. Depending on the season you may also catch a glimpse of migrating humpback whales, pilot whales, blue whales, and southern right whales. Orcas and Hector's dolphins are common sightings as well.
On completion of your tour depart Kaikoura and travel north through Marlborough wine country. Make your way to Nelson and continue north on the scenic Coastal Highway to the vibrant and free-spirited town of Motueka, which serves as a gateway to Abel Tasman National Park. 3 nights: Motueka.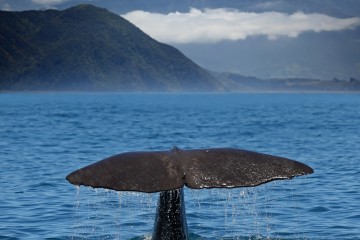 ---
Day 17&18 – Full day to explore Abel Tasman National Park

Enjoy two full days exploring Abel Tasman National Park. Whether you're looking for an active day of tramping (hiking) and kayaking, or a lazy day at the beach (or a combination of both!) Abel Tasman is the perfect destination. This is New Zealand's smallest national park, protecting 23,000 hectares of wild, natural, and easily accessible coastline. Well-loved hiking tracks and pristine, secluded bays for kayaking abound. Opportunities for cultural and outdoor pursuits are plentiful in Abel Tasman and the surrounding area – we looking forward to helping you choose the best combination of activities for your stay.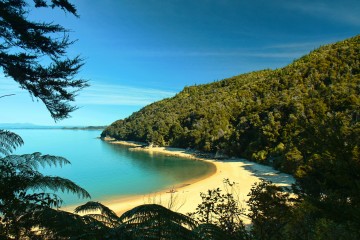 ---
Day 19 – Drive to Punakaiki

This morning depart Motueka for Punakaiki on the South Island's rugged West Coast. This drive takes you over scenic backroads, along winding rivers and through lush rainforests before reaching the coast. Follow the coast south as far as Punakaiki, an area best known for its Pancake Rocks and tidal blowholes, both of which are spectacular. The Pancake Rocks are considered one of New Zealand's most sensational natural landscapes, formed from layer up on layer of water sculpted limestone, and resembling a stack of pancakes. When the tides are right the blowholes are quite remarkable as well. 1 night: Punakaiki.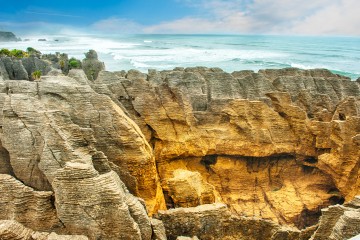 ---
Day 20 – Drive to Franz Josef

Continue your journey down the coast to Franz Josef today. This is a beautiful drive along a coastal road following the ancient Greenstone Trails used by Maori for centuries in search of Pounamu (greenstone). Consider stopping in Hokitika, where local artisans display their crafts – expect to see Pounamu carving and glass blowing as well as wood and copper crafts. Continue south down the coast passing picturesque Mirror Lake and catching glimpses of the Southern Alps before reaching Franz Josef.
New Zealand's West Coast is a long, narrow, rugged stretch of land boasting icy glaciers, clear lakes, wild coastline, and high mountain peaks. This area is fiercely protected, allowing native wildlife and vegetation to thrive. The town of Franz Josef provides an excellent base for exploring the awe inspiring Franz Josef Glacier, which is considered by many to be the most impressive of New Zealand's glaciers. 2 nights: Franz Josef.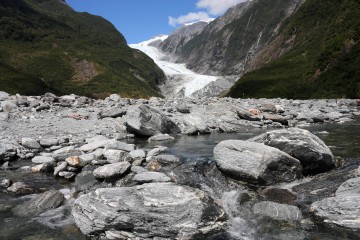 ---
Day 21 – Full day to explore Franz Josef

Enjoy a full day discovering Franz Josef and the surrounding area. Consider a glacier walk, allowing you to view this majestic giant up close while learning about the glacier's history. Many choose to view the glacier from above, opting for a helicopter flight over the area with the option of a snow landing and glacier hike. Learn about the region's abundant native wildlife at the West Coast Wildlife Centre, or take a trip to the Glacier Hot Pools to relax and unwind in this haven of natural tranquility nestled in lush rainforest. Whatever your interests, we look forward to working with you to customize your time in the Franz Josef area.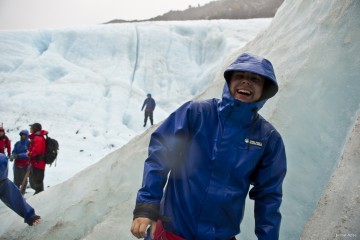 ---
Day 22 – Drive to Queenstown

This morning depart for Queenstown. Travel south through Fox Glacier (consider stopping at the base for a view of this beautiful glacier!) and on to Haast before beginning the climb through Westland National Park and over Haast Pass. Continue trough Wanaka, enjoy spectacular views as you climb over the Crowne Range, and drop down into Queenstown.
Queenstown is consistently rated as one of the world's top tourist destinations and as a mecca for both outdoor enthusiasts and leisure seekers. Nestled in the beautiful Remarkables mountain range, the Southern Hemisphere's premier four-season alpine and lake resort is so named because it was "fit for Queen Victoria." No doubt it has met and exceeded that expectation. 3 nights: Queenstown.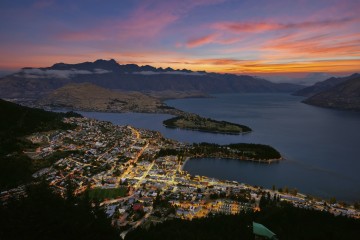 ---
Day 23 – Full day Dart River Tour

Embark today on a full day Dart River Tour. This exhilarating experience combines breathtaking "World Heritage" scenery with athrilling jet boat ride and Maori heritage provided by knowledgeable guides. Enjoy a wilderness jet trip deep into the heart of the world-renowned Mt. Aspiring National Park as you explore the waters of beautiful Dart River.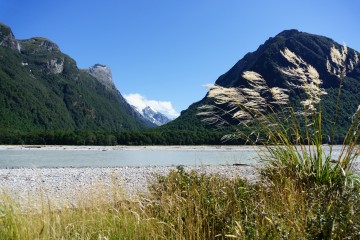 ---
Day 24 – Full day to explore Queenstown

Enjoy a full day exploring Queenstown. This city's charming town center offers boutique shopping, arts and crafts, and lots of fun cafes and restaurants. The town center is small and easily walkable. Situated an easy five minute walk from central Queenstown is a gondola, reputed to be the steepest lift in the Southern Hemisphere, which carries visitors high above Queenstown. Here you will find the best vistas in the region, spread out in a spectacular 220-degree panorama. Adventure and leisure activities abound in Queenstown. We are excited to work with you to plan your time in this beautiful area.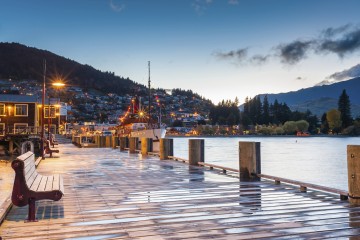 ---
Day 25–Overnight Doubtful Sound Cruise

Depart Queenstown this morning for the beautiful Doubtful Sound and an overnight cruise. Enjoy a short boat trip across lovely and deep Lake Manapouri before boarding a coach for the stunning trip up and over Wilmot Pass and down into Deep Cove where your Doubtful Sound overnight cruise begins. An overnight in one of Fiordland National Park's remarkable sounds is far and away the most spectacular way to experience this world-renowned area. This enormous park is made up of over 1.2 million hectares of mountains, lakes, fiords and rainforests. The scenery in the park is humbling in its stunning array of magnificent waterfalls, raw, untouched wilderness, sandy beaches and abundant wildlife, all viewed against the backdrop of the majestic Cathedral Mountain Range.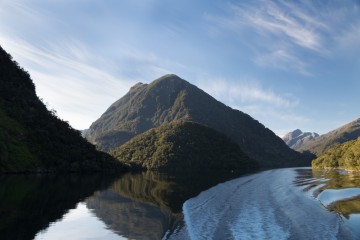 ---
Day 26 – Drive to Dunedin

On completion of your Doubtful Sound Overnight Tour travel east to Dunedin. New Zealand's oldest city boasts impressive historic architecture, a testament to its days as a gold-rush mecca, and a rich cultural heritage. Home to the country's oldest university, Dunedin is also a South Island haven for the arts. Outdoor lovers are spoiled for choice when visiting Dunedin, which provides easy access to the area's beautiful landscapes, unique native wildlife and eco adventure opportunities. The area is home to rare yellow-eyed penguins, fur seals and the world's only mainland albatross colony. 2 nights: Dunedin.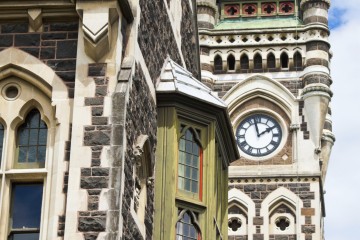 ---
Day 27 – Full day to explore Dunedin

Allow a full day to explore Dunedin and the surrounding area. Whether you feel like hiking, bird watching, cycling, surfing, exploring some of the South Island's beautiful East Coast beaches, or discovering Dunedin's art scene, we look forward to helping you find the perfect activities to complement your stay in Dunedin.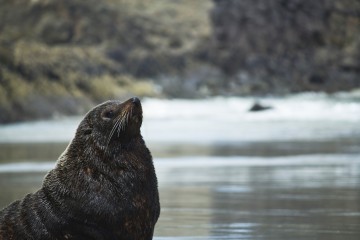 ---
Day 28 – Depart for U.S.A. via Auckland

Regrettably your New Zealand adventure has come to an end. We hope you have enjoyed your time in this beautiful and welcoming country. Depart Dunedin today and return to the U.S.A via Auckland.
---
Accommodation Options
28 Days New Zealand Self Drive
Following is a sample of accommodation options. Uniquely New Zealand has many hidden treasures other than these to share with you.
---
Bay of Islands
Duke of Marlborough – The Duke of Marlborough was New Zealand's first licensed Hotel, Bar & Restaurant. The Duke is located on the waterfront in the historic village of Russell, Bay of Islands. The hotel offers a range of accommodation options, all offering old world charm with updated style. Accommodations range from the hotel's one bedroom apartment, to a standard room, to a waterfront room with views over the bay. Enjoy a drink and a meal at the Duke's iconic restaurant.
Tiki Tiki Ora – Tiki Tiki Ora is an exclusive bed and breakfast near Russell, Bay of Islands. Located 4km outside of town, this property features three tastefully decorated luxury ensuite bedrooms in a unique residence.   This beautiful location is surrounded by native bush and enjoys spectacular mountain and sea views across the bay. See image.
Waterfront Suites – The Waterfront Suites, Paihia, is situated just a short walk away from Paihia's wharf and central downtown area. 30 luxury 1, 2 and 3 bedroom suites are available providing a range of accommodations suitable for both couples and families. Many of the suites offer ocean views and private balconies and all suites feature a relaxed contemporary design for indoor and outdoor entertainment. Enjoy the heated lap pool and outdoor barbeque area.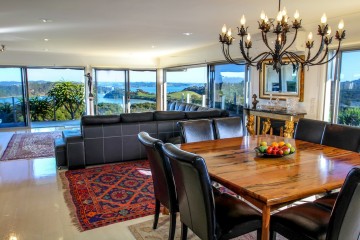 ---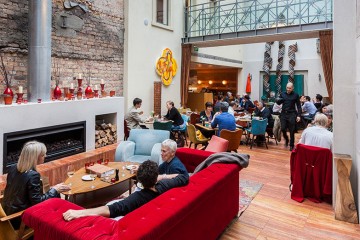 Auckland
Sofitel – Located in the heart of Auckland's thriving waterfront on the Viaduct Harbor, this luxury hotel offers a range of 172 premium room and suite options. Large windows and private balconies in every room provide plenty of light. The hotel also offers luxury spa services, an indoor lap pool and dining options in several in house venues.
Hotel De Brett – Hotel DeBrett's iconic building has been stylishly reinterpreted into a 25-room luxury boutique hotel. Every room is individually designed and complemented with eclectic furniture and New Zealand art and photography. At street level the colorful Cornerbar places an emphasis on local craft beers and boutique wines. See image.
Heritage – Set within one of the city's most recognizable historic landmark buildings, the Heritage offers a luxury hotel experience with a range of accommodation types available including one and two bedroom suites. Hectors Restaurant, located in the hotel's dramatic seven-story atrium, offers a locally sourced menu. Guests enjoy use of the hotel's beautiful rooftop swimming pool.
---
Coromandel
970 Lonely Bay – 970 Lonely Bay Lodge is a boutique luxury lodge nestled in New Zealand native bush close to the seaside town of Whitianga. The lodge boasts stunning water views across Mercury Bay and Cooks Beach and offers just four spacious luxury suites, each with an outdoor terrace and spectacular views. Enjoy the lodge's library, indoor/outdoor solarium and beautiful gardens.
Manawa Ridge – Manawa Ridge Luxury Eco Retreat is situated high on a ridge overlooking the Coromandel Peninsula. This environmentally friendly lodge is an artistic balance of recycled beams, mud brick and straw bale walls, which house three luxury suites, each equipped with its own fireplace. Guests enjoy 360 degree views while relaxing in the lodge's beautifully decorated communal spaces. Dining is offered on site with an emphasis on using homegrown ingredients.
Brenton Lodge – This Whangamata based boutique luxury lodge offers panoramic views to the sea and islands, which are on display from each of the lodge's 3 private suites. Accommodation options include a suite adjacent to the main lodge with a private entrance and two additional tastefully furnished free standing guest cottages. Guests enjoy use of an outdoor pool and an acre of surrounding gardens. See image.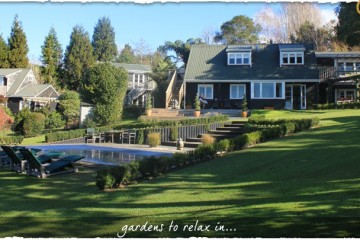 ---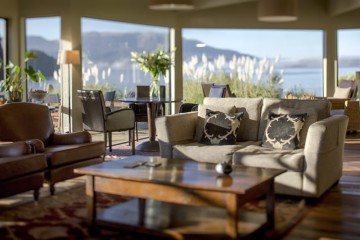 Rotorua
Solitaire – Solitaire Lodge Rotorua offers secluded luxury accommodation and attentive hosting from a spectacular lakeside location. Minutes from this resort you will find myriad activities including secluded hot water beaches, natural thermal hot springs, and world class trout fishing. All 10 luxury suites feature panoramic views of the lake and volcano through large picture windows. Experience luxury massage treatments and enjoy contemporary New Zealand cuisine prepared on site. See image.
Wildwood Lodge – Wildwood Lodge offers lakeside luxury lodging set in five acres of magnificent landscaped gardens on the shores of tranquil Lake Rotoehu. The lodge caters to a maximum of six guests and each of the accommodation options are equipped with private balconies, a waterfront setting and lake views. Enjoy drinks at the bar and fine dining prepared on site.
Regent of Rotorua – This boutique hotel offers stylish accommodation in Rotorua with a restaurant and bar on site. Accommodation options include a range of guest rooms, studio rooms, boutique suites and two bedroom suites (which work well for families). Enjoy an outdoor heated swimming pool, thermal mineral pool and spa.
---
Christchurch
Otahuna Lodge – Set in pastoral surroundings, Otahuna Lodge is an elegant Victorian mansion that offers its guests a unique luxury experience. New Zealand's largest private historic residence has been revitalized into a luxury accommodation. Each of Otahuna's seven suites offers refined comfort complete with ornate fireplaces and lavish bathrooms. Otahuna's cuisine celebrates the best of seasonal New Zealand produce, with an emphasis on fresh Otahuna estate-grown offerings. See image.
The George – This luxury boutique hotel is located in the heart of Christchurch overlooking the picturesque Hagley Park, just steps from the cultural precinct and key attractions. The George boasts two award-winning fine dining restaurants. A range of 53 stylishly designed rooms and suites are available, many of them with views over Hagley Park and the Avon River.
The Classic Villas – This five star boutique hotel accommodation is housed in a beautifully appointed historic villa. Located steps away from some of Christchurch's premier attractions, Classic Villas offers 15 luxury rooms in a variety of styles. Deluxe, super deluxe, and corporate rooms are available. Enjoy relaxing in the luxurious lounge and outdoor garden area.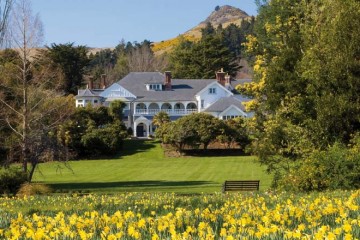 ---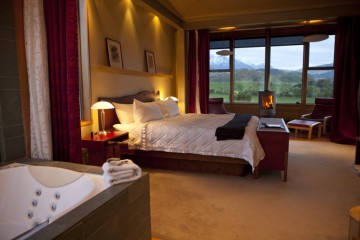 Kaikoura
Hapuku Lodge & Treehouses – Situated on the Kaikoura Peninsula, Hapuku Lodge & Treehouses was designed to be a contemporary country hotel, with handcrafted wooden furniture featured throughout. This luxury Lodge offers accommodation options to suit a variety of needs – the Main Lodge offers four rooms, the Olive House Suite is a spacious self contained apartment with fantastic views, and the Tree Houses, which are nested 30 feet above the ground in the canopy of a native Manuka grove, offer views of Kaikoura's dramatic mountains and the Pacific coastline. Dining is available in the lodge kitchen with an emphasis placed on home grown and locally sourced ingredients. See image.
Kaikoura Boutique Hotel – This historic waterfront boutique hotel is centrally located with easy access to activities, shopping, cafes and restaurants. Kaikoura Boutique Hotel offers waterfront rooms with views of the Kaikoura harbor and courtyard rooms with views of the pretty summer courtyard. Rooms are decorated with unique contemporary style.
Lemon Tree Lodge – Lemon Tree Lodge is set on limestone cliffs above Kaikoura township, just minutes away from downtown Kaikoura. This boutique bed & breakfast offers six rooms, four overlooking the ocean with private balconies and two in a garden setting with private decks. Relax and unwind in an informal B&B atmosphere.
---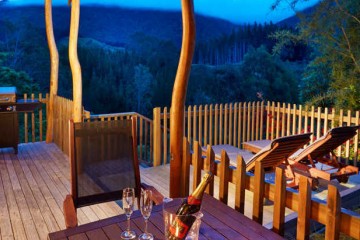 Motueka
Edenhouse Lodge – Edenhouse provides a luxury lodge experience in New Zealand's Nelson/Abel Tasman region. The lodge is situated in the beautiful Orinoco Valley on a 50 acre property complete with extensive gardens, but is still within easy access of the area's highlights. The lodge offers two luxurious suites in the main lodge and a private and beautifully appointed two bedroom garden cottage. Enjoy fine dining on site.
The Resurgence – Set in 50 acres of native bush and on the edge of two national parks, this luxury eco lodge's setting is pure New Zealand with 5km of hiking tracks to explore. Accommodation is in 6 unique "Bush Suites" and 4 boutique Lodge Rooms, all of 5 star standard and with beautiful views. Enjoy the pool and spa services as well as fine on site dining enhanced by fresh local produce and New Zealand wines. See image.
The Foxes – The Foxes Luxury Boutique Bed & Breakfast is located in Ruby Bay, which forms part of Tasman Bay and is ideally central for both the Nelson and Abel Tasman Regions. Enjoy contemporary, architecturally designed accommodations in The Foxe's two luxury suites with views the rural landscape, Tasman Bay and Nelson harbor.
---
Punakaiki
Punakaiki Resort – Situated on New Zealand's wild West Coast, 30 minutes north of Greymouth and 300m south of the famous Pancake Rocks and Blowholes, the Resort is surrounded by the Paparoa National Park and is only a stone's throw from the beach. Two styles of accommodation are available – Standard Resort Rooms and Eco Suites, each with either a garden or ocean view. The resort has both a restaurant and bar. See image.
Havenz – Havenz offers accommodation in a selection of traditional Kiwi hideaways: luxury homes, holiday apartments and batches. These accommodations are self catering and accommodate up to seven people. These holiday retreats are situated in tranquil native forest and offer easy access to beaches, the Paparoa Park and the famous Punakaiki Pancake Rocks and Blowholes.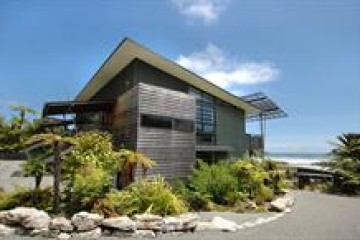 ---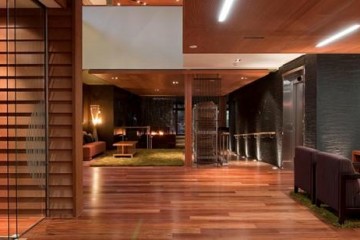 Franz Josef
Te Waonui Forest Retreat, Franz Josef – Te Waonui Forest Retreat is a luxury haven set deep in New Zealand's pristine wilderness. Te Waonui is at the forefront of sustainable accommodation – natural lighting is abundant and sustainable materials have been used wherever possible. Luxury guest rooms are located in four separate accommodation wings, all linked by covered walkways. Enjoy fine dining on site and consider a luxury spa treatment. See image.
Westwood Lodge, Franz Josef – Westwood Lodge B&B is nestled in the heart of New Zealand's spectacular Glacier Country, minutes from the Southern Alps and Westland National Park.   Accommodation is available in luxury guest rooms. Comfortable communal areas offer rainforest and mountain views. Breakfast is available on site and guests enjoy use of the lodge's billiards room.
58 On Cron, Franz Josef – Situated just a short stroll from Franz Josef's main village business hub, 58 On Cron is surrounded by native bush and mountains and provides privacy for guests in a peaceful setting. The complex has 16 self-catering units with studio, one bedroom and two bedroom suites available. Each unit is equipped with a kitchenette and a spacious garden area with BBQ facilities is available for guest use.
---
Queenstown
Matakauri Lodge – Matakauri Lodge is an alpine lakeside retreat situated on Lake Wakatipu and only seven minutes from Queenstown. The main lodge offers accommodation in twelve luxurious guest rooms and suites; four suites are located within the main lodge with the remaining suites located in outlying cottages overlooking the lake. Each suite offers a private porch and open fireplace. The Owner's Cottage features four suites in a freestanding residence – it is ideal for families, couples or friends travelling together. Enjoy fine dining on site, a dip in the infinity pool, and a luxury spa experience.
Queenstown Country Lodge –Queenstown Country Lodge is located in New Zealand's Southern Lakes region, a rural setting close to Queenstown. The Lodge is set on 11 acres of secluded gardens and farmland and surrounded by mountains. Accommodation is available in 5 beautifully appointed guest rooms with pastoral views. Enjoy meals at the lodge and easy access to the area's highlights. See image.
Queenstown Park Hotel – This centrally located 5 star luxury Queenstown boutique hotel offers easy access to the town center and views from every room and suite. 19 stylish rooms are available, each with a kitchenette – choose from a variety of guest rooms and a self-contained penthouse suite. Enjoy breakfasts and pre-dinner drinks and canapés on site.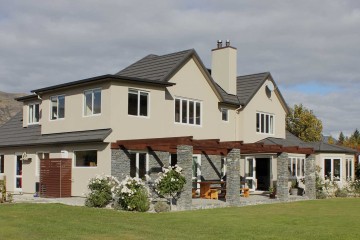 ---
Dunedin
Fletcher Lodge – This bed and breakfast is located just a few minutes walk from the Dunedin City center and is situated in a secluded garden surrounded by many of the city's finest and most popular cafes and restaurants. Accommodations consist of five luxury rooms in the lodge and two additional two bedroom luxury apartments. Enjoy the spa pool and peaceful gardens surrounding the lodge.
Hotel St Clair – This luxury beachfront hotel is situated on Dunedin's St. Clair Esplanade and located only minutes from the city center. Hotel St Clair is a newer hotel offering 26 rooms offering a range of studio and apartment suites, many with balconies and ocean views. Onsite dining is available at Pier 24, the hotel's flagship restaurant. See image.
Roslyn Apartments – Roslyn Apartments, located just outside the city center in Roslyn Village, offers and stylishly decorated modern one and two bedroom apartments with views of the Dunedin city and harbor. Each unit is equipped with a full kitchen and is located near restaurants, cafes and city amenities.
---
Activity Options
28 Days New Zealand Self Drive 
Following are guided touring suggestions that would work with your 28 Days New Zealand Self Drive itinerary on days when activities have not yet been suggested. These options can be private, small group or large group. For a more personalized experience we suggest at least a small group tour, which are usually 12 or fewer people. Some touring options are half day and many require a full day.
---
Bay of Islands
Sailing and Dolphin Cruise, Bay of Islands – Spend the day sailing amongst the islands on a spacious 50ft catamaran. Help to set and trim the sails or relax on deck and watch for ocean birds (penguins, petrels and others). If whether conditions permit, guests are invited to swim with the bottlenose dolphins. Your skipper will find a calm cove to enjoy a range of activities, including snorkeling, scenic walks, or simply relaxing on the beach in the sun.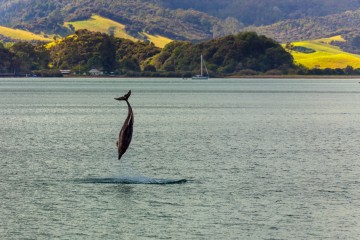 ---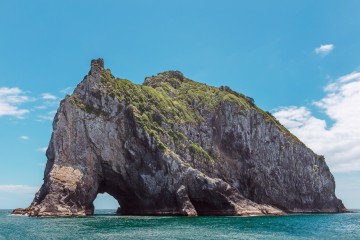 Hole in The Rock Cruise, Bay of Islands – This classic half day Bay of Islands experience includes a cruise to the Cape Brett Lighthouse and the famous 'Hole in the Rock' aboard a comfortable high-speed vessel. Cruise through the 'Hole' and into the majestic Grand Cathedral Cave. On the return journey meander through the inner islands, taking in the scenery and marine life. Stopover on beautiful Urupukapuka Island where you may choose to take a scenic walk, swim, or simply relax on the beach.
---
Cape Reinga Fly/Drive (Half Day), Bay of Islands – This fly/drive tour makes Cape Reinga, at the very northern tip of the North Island, easily accessible from the Bay of Islands. The flight to the Cape takes you over Northland's beautiful harbours, beaches and countryside, and is spectacular. An mini bus will meet you for a 2 ½ hour tour around the Cape of New Zealand including Cape Reinga Lighthouse, where the Tasman Sea meets the Pacific Ocean, 90 Mile Beach, and the giant sand dunes along Te Paki stream. Enjoy the scenic return flight to the Bay of Islands.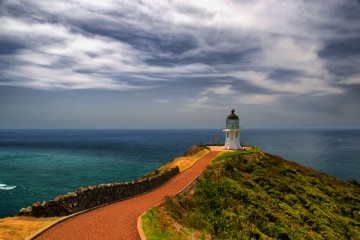 ---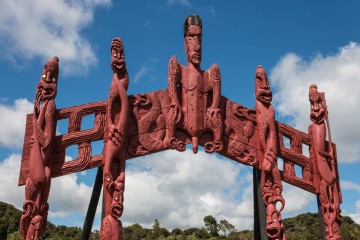 Waitangi Treaty Grounds, Bay of Islands – The Waitangi Treaty Grounds, overlooking the Bay of Islands, is one of New Zealand's premier historic sites. It was here on February 6th, 1840, that the Treaty of Waitangi was first signed between Maori and the British Crown. Enjoy a guided tour of the grounds by a local Maori guide who will give you a unique insight into this special and spiritual place. The tour is followed by a cultural performance of traditional storytelling and music.
---
Coastal Kayaking, Bay of Islands – Enjoy a half or full day guided kayaking tour of the Bay of Islands. Paddle through a fascinating mangrove estuary and visit Haruru falls – at the falls you can test your skills by paddling under the waterfall. On a full day tour you will also paddle out to the deserted Moutumaire Island where you will stop for lunch and a chance to relax swim, snorkel, and relax on the beach.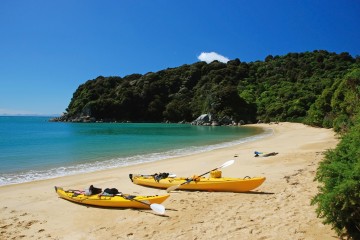 ---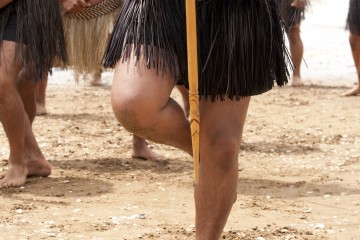 Waitangi Cultural Night Show, Bay of Islands – This show takes place on the historic Waitangi grounds where the treaty was signed. Modern day descendents of both cultures meet and welcome guests to this special place beginning with an authentic Maori welcome and ending with the re-enactment of the story of their forefathers. After the show, guests are invited to meet & mingle with the cast to ask them each their own stories of how their ancestors arrived in this country.
---
Bay of Islands Dinner Cruise – Enjoy a leisurely evening cruise up the Waitangi River to the beautiful Haruru Falls. Enjoy a drink from the bar while taking in the scenery, wildlife and history as you travel up the river towards New Zealand's first inland river port. Your boath, The Ratanui has been purpose built as a floating venue. Appetizers are served on the peaceful cruise up the river, while dinner can be enjoyed before the stunning backdrop of Haruru Falls.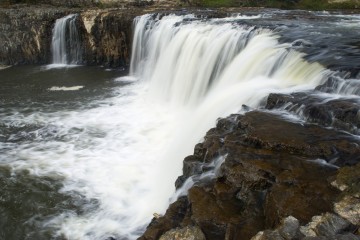 ---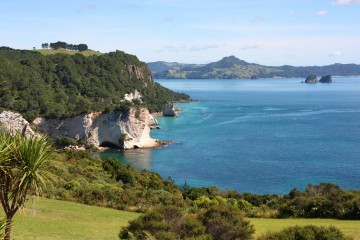 Coromandel
Coromandel Circuit Driving/Walking Tour – This guided tour takes visitors from one side of the peninsula to the other, providing a mix of history and incredible scenery delivered with insightful local knowledge. See giant kauri trees, visit Coromandel township, steeped in gold mining history, and take in incredible harbor, ocean, island, mountain, and pastoral views. Enjoy lunch and a ride on a narrow gauge train.
---
Kayak Cathedral Cove, Coromandel – The Coromandel's Te Whanganui-A-Hei Marine Reserve provides a kayaking paradise full of beaches, islands and rock gardens. Paddle through sea caves, interact with local marine life and discover the thrill of kayak sailing. Land at Cathedral Cove, a New Zealand Icon, to explore and enjoy one of the Coromandel's stunning white sand beaches.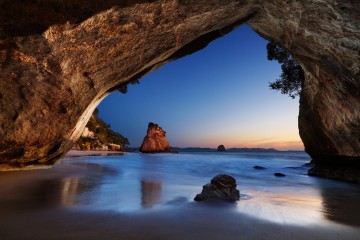 ---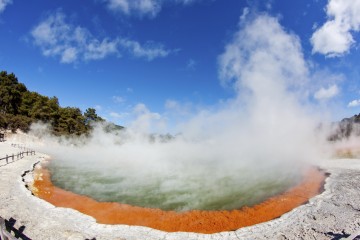 Rotorua
Geothermal & Cultural Tour, Rotorua – Take an in depth tour of Rotorua with a local guide. Discover why Maori and later Europeans were attracted to the warm healing waters of this unique thermal area. Stunning lake and mountain panoramas provide an idyllic setting for lunch. See the destructive forces of the Mount Tarawera eruption at Te Wairoa, the Buried Village, and stroll through the excavated site. Experience the culture of the Maori people and amazing geothermal activity at the NZ Maori Arts and Crafts Institute and Whakarewarewa Thermal Reserve.
---
Air Tours, Rotorua – There is no better way to appreciate this area than to see it from the air. Take a scenic flight via Float Plane or Helicopter with Volcanic Air and get a bird's eye view of the many lakes, rivers, mountains and geothermal activities that make up this area. For an amazing adventure fly out to the very active White Island, New Zealand's most active volcano and one of the only assessable island volcanoes in the world. By helicopter it is possible to land and take a guided tour with your pilot.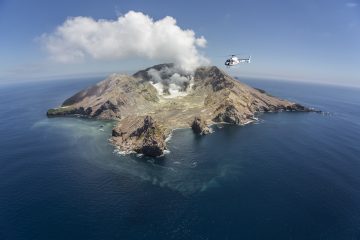 ---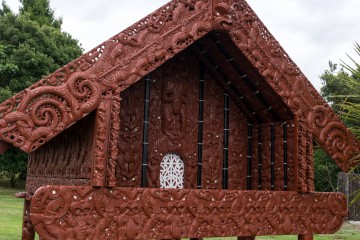 Te Puia, Rotorua – A guided tour of the Maori cultural center of Te Puia includes a visit to the New Zealand national carving and weaving schools where you can watch these disciplines in practice under the guidance of master carvers and weavers. The tour includes a visit to the award winning interactive galleries and Kiwi House, where you can see New Zealand's flightless bird up-close, followed by a visit to Rotorua's famous geothermal mud pools and geysers.
---
Cultural Evening Experiences, Rotorua – We recommend the group Mitai for a Maori evening cultural experience. In this beautiful natural bush setting you will see warriors in traditional dress paddling an ancient warrior canoe (waka) down the Wai-o-whiro stream. Marvel at the crystal clear waters full of eels and trout, flowing directly from the earth at the sacred Fairy Spring. Enjoy a Maori cultural performance, topped with a hangi feast, which you will see lifted from the ground where it has been cooking.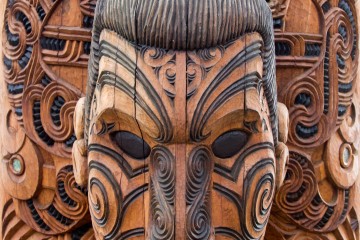 ---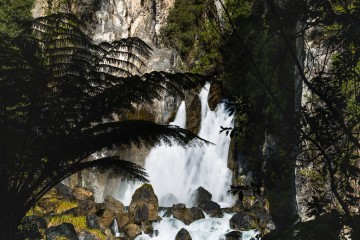 Lake Tarawera Cruise and Waterfall Walk, Rotorua – On the scenic lake cruise take in the stunning panoramas of Lake and Mount Tarawera and enjoy the informative commentary on the 1886 Mount Tarawera eruption and the areas volcanic past. The rainforest walk follows the path of an ancient lava flow through a rainforest rich with ferns, lichens and mosses along the Tarawera River. See the river unexpectedly disappear into subterranean chambers before flowing underground then finally blasting out a sheer cliff face 30m high creating the spectacular Tarawera Falls.
---
Whirinaki Rainforest Adventure Walk, Rotorua – Head out for a full day Whirinaki Forest hiking experience among massive 1000 year old trees in this ancient forest and get face-to-face with rare New Zealand birds. You can hope to see kaka (a North Island parrot), yellow-crowned Kakariki (parakeet) and toutouwai (North Island robin) in their natural habitat. Experience one of New Zealand's best day hikes in Whirinaki, an icon of New Zealand ecology.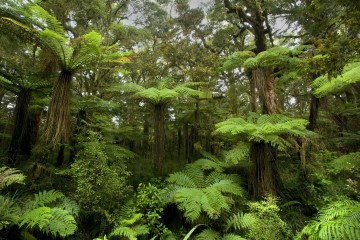 ---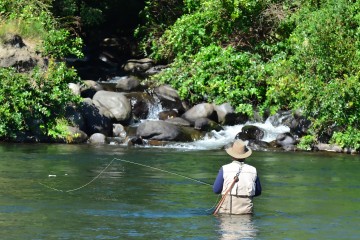 Fly Fishing, Rotorua – Some of the best North Island trout fishing takes place around Rotorua. Take an adventure either by helicopter or 4WD and experience fishing for brown and rainbow trout in the clear rivers and streams of this fisher's paradise. Rods, reels and waders can be supplied and the best time to fish is November to April.
---
New Zealand Riverjet's Thermal Safari – Experience a fantastic geothermal wonderland and a thrilling jet boating experience in this 2 ½ to 3 hour trip.  Jet boat down the Waikato River through the spectacular Tutukau Gorge – see abundant bird life, pine forests, steaming volcanic river banks and trout feeding areas on your way to Orakei Korako, one of New Zealand's most popular geothermal attractions.  This half day tour combines the scenic beauty of the area's natural wonders with the excitement of a high speed jet boat ride.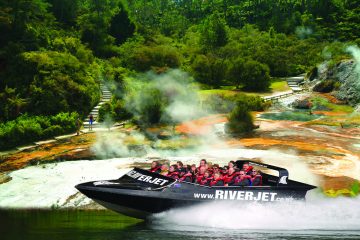 ---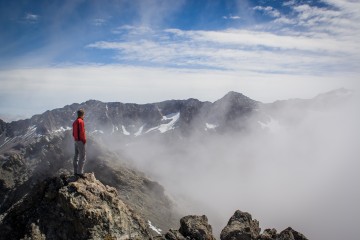 Arthurs Pass
Most Arthur's Pass activities will be booked upon arrival at your Lodge accommodation and cannot be pre-booked. However, many wonderful activities are on offer, including guided hiking, kayaking, mountain biking, and driving tours. Consider fly-casting lessons, trout fishing trips, horse riding tours, scenic flights, golf, and hunting and shooting trips.
---
Franz Josef
Guided Glacier Valley Walk, Franz Josef – Your Glacier Valley Walk will take you up alongside the mighty Waiho River bed following the glaciers path of retreat in this remarkable landscape. Learn about the glacier's history and see what is left behind by this incredible structure. A brief climb will be rewarded with spectacular views of the rapidly changing terminal face of the glacier.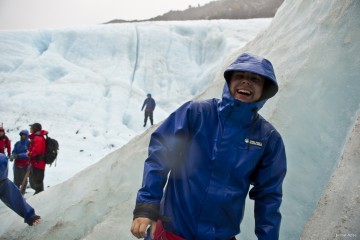 ---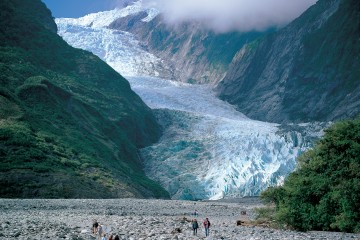 Ice Explorer Tour, Franz Josef – A short helicopter ride from the Franz Josef township takes you into the remarkable Pinnacles area of the Franz Josef glacier. Here your guide will navigate you through a maze of ice and explain the dramatic environmental changes the glacier has undergone over recent years. Hike through this awe-inspiring glacier landscape in this incredible experience. (Reasonable level of fitness required)
---
Heli Hike, Franz Josef – After an exciting scenic flight, land high up on the glacier and undertake a two hour guided hike amongst some of the most pristine and awe-inspiring glacier scenery available. Your guide chooses the route as you go with an eye for the most spectacular ice formations. Enjoy panoramic views of the surrounding mountains as you learn more about this magnificent glacier. (Reasonable level of fitness required)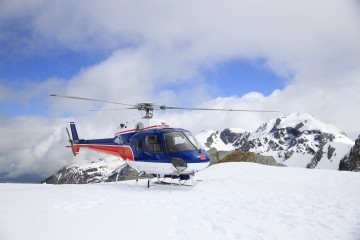 ---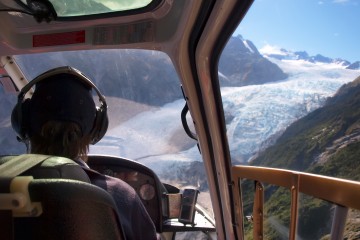 Flightseeing Franz Josef – There really is no better way to experience the beauty of the region than from above. The West Coast has professional operators offering visitors a range of helicopter and scenic flight options. Heli-hiking and snow-landings are two of the activities available.
---
Queenstown
Dart River Wilderness Safaris, Queenstown – This tour takes visitors on an exhilarating 1 ½ hour jet boat journey through the Dart River's braided river system – taking in the dramatic scenery of snow capped mountains, ancient native forest, waterfalls and glacial valleys. Your safari includes an easy 30-minute guided trail walk where you will encounter ancient native beech forests and unique flora and fauna. Journey by 4WD coach via a scenic back-road route and stop to view scenery that has formed the epic backdrop for many international films, including Lord of the Rings.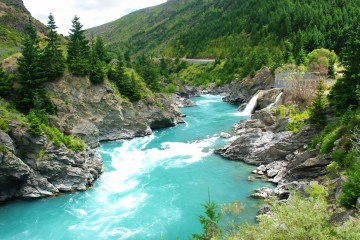 ---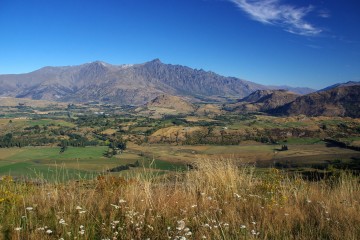 Paradise Tour, Queenstown – This personal small group tour takes you through the spectacular Paradise Valley with opportunities to take short walks in this impressive landscape. The mountain views are outstanding as you travel around the edge of Lake Wakatipu – find out why this tour is called the "Queensland Lord of the Rings Tour." Visit Dart River Valley in Paradise, the ultimate photography location. In the afternoon visit a High Country Station – a true New Zealand experience on a 15000 acre organic sheep and cattle farm. Visitors have the option to experience a jet boat ride returning to Queenstown.
---
High Country Discovery Tour, Queenstown – This half-day 4WD tour provides exclusive access to Mt Earnshaw Station, a 130-year-old working farm set in the spectacular alpine environment of the Paradise Valley. See sheep being shorn at an operational woolshed before moving on to view a number of Lord of the Rings and Hobbit movie locations. A visit to Glenorchy village, established in 1864, completes this tour.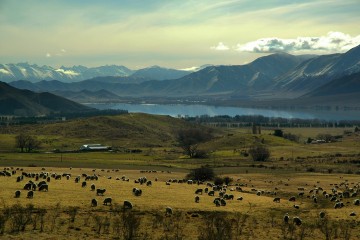 ---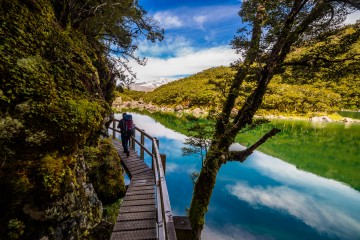 Routeburn Track One-Day Guided Hike, Queenstown – Hike a portion of the world famous Routeburn Track set among towering ancient beech trees and blankets of moss and fern. This portion of the track climbs gradually, skirting the thundering Routeburn River, before arriving at the rich grassland of Routeburn Flats, then continues through more alpine forest and a vast alpine meadow to the Harris Saddle, some 1300 metres above sea level. High up in the clear mountain air a 360-degree view looks out along the Hollyford Valley to the Tasman Sea.
---
Wine Touring, Queenstown – Enjoy full or half day guided wine tours from Queenstown, with great scenery, gourmet food and the finest wine. Visit quieter parts of Central Otago and immerse yourself in the culture of wine, food and beautiful open spaces that people so often miss on a short visit to Queenstown. The principal varieties are Pinot Noir, Riesling, Gewurztraminer, Pinot Gris and Chardonnay, all producing excellent and award winning wines.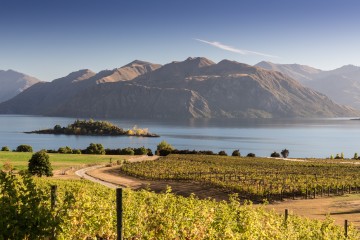 ---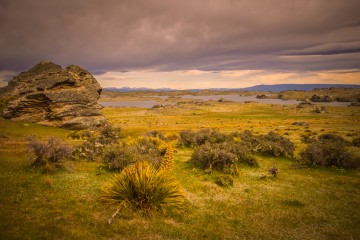 4wd Photograph Safari, Queenstown – Join award-winning photographers for an unforgettable photographic experience of some of the most amazing scenery in the world.   They've scouted out the best "off the beaten track" landscape photography locations and have created four incredible 4WD photo safaris suitable for all levels of photography. From a half-day photographing the lush Paradise Valley (a film maker's favorite) to a full day in the rugged Nevis Valley, your guides will take you to the best locations at the best time of day and provide expert tuition to help you capture incredible images whilst there.
---
Queenstown Scenic Flights – New Zealand is a land of spectacular contrasts, and Queenstown's landscape changes from the woven greens and golds of the plains to jagged, snow-capped Alps in just minutes. There are a wide variety of flights to provide insight into this spectacular region. Fly in the latest helicopters available, with interpretive excursions that incorporate Queenstown, Milford Sound and the Fiords of southern New Zealand.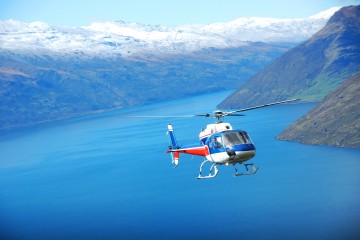 ---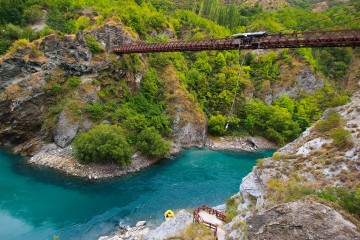 AJ Hackett Bungy, Queenstown – The world's first commercial bungy jump opened at the Kawarau Bridge in Queenstown in 1988. Twenty-eight people that day paid to leap off the 43 metre bridge with a bungy cord attached to their ankles. Now, just over 500,000 people from all around the world have jumped from the four sites AJ Hackett Bungy operates around Queenstown. The latest bungy site, Nevis Highwire opened in July 1999 and is the highest jump in New Zealand.
---
Queenstown Combos – These combos range from sightseeing outdoor experiences to total 'full on' adventure packages and give you far better value than individually purchased trips.
Kawarau River Combos – the mighty Kawarau River is a great place to get an introduction to adventure, Queenstown style. From options of jetboating to rafting to a gondola ride, the Kawarau Combos are a great option for everybody.
Shotover River Combos – Get familiar with the Shotover River. Set amongst the rugged beauty and unspoiled grandeur of Skippers Canyon, this river is famous for its gold and adventure. Options range from jetboating, rafting and canyon swings to Gondola ride.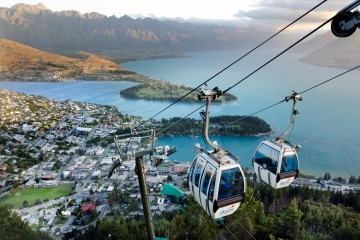 ---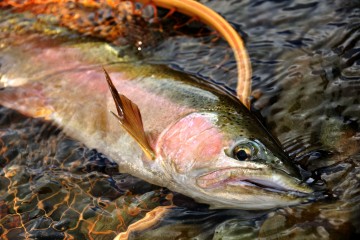 Fly Fishing, Queenstown – Access pristine, out of the way fishing grounds via power boat, 4WD vehicles and helicopter for wilderness fly fishing. The Queenstown area offers some of the world's best dry-fly fishing in unbelievable clear water, which is habitat for brown and rainbow trout. The prime fly fishing season is October through May with spin and troll fishing available in the lakes all year.
---
Dunedin
City Heritage Tour, Dunedin – Enjoy a Dunedin City sights tour, in a restored classic 1960's Jaguar, which will show you the highlights of this city first settled by Scottish immigrants. Enjoy a fully guided tour of Otago Settlers Museum and the Speights Brewery Heritage Tour followed by tasting, and finish with a tour of Olveston Dunedin's wonderful historic mansion.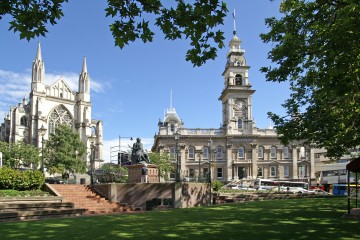 ---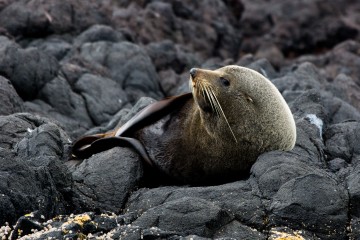 Wildlife Tour and Cruise, Dunedin – This wildlife tour combines tourism and conservation and provides absolutely unrivalled viewing of estuarine and marine wildlife. Knowledgeable guides provide the best possible viewing of Hooker's Sea lions, Yellow-eyed Penguins, Blue Penguins, a breeding colony of New Zealand Fur Seals and Royal Albatross and more. The cruise will take you out to the Albatross Colony for a unique view of these birds and many other seabirds from the water.
---
Back to NEW ZEALAND Sample Itineraries
> 28 Days New Zealand Self Drive – Sample Itinerary
New Zealand Self Drive in 28 Days offers a complete and classic New Zealand experience in four weeks. Experience the best of both the North and South Islands like a local with enough time to settle in and get a true feel for the New Zealand lifestyle. Start your adventure in the laid-back Bay of Islands, discover Auckland, the "City of Sails," and hop over to the wine mecca of Waiheke Island. Explore the relaxed and unspoiled Coromandel Peninsula before moving on to Rotorua. Fly to Christchurch and spend a day exploring Arthur's Pass National Park. Discover Kaikoura and whale watch in Motueka. Immerse yourself in the natural wonders of Abel Tasman National Park before heading to Punakaiki, then on to Franz Josef's stunning glacier. Experience the natural beauty of Dart River from a jetboat and explore the alpine haven of Queenstown. Enjoy an overnight cruise on Fiordland's Doubtful Sound and discover New Zealand's oldest city, Dunedin.Trip at a Glance:
Day 1: Arrive Auckland, fly to Kerikeri, travel to Paihia
Day 2: Full day to explore Paihia
Day 3: Full day to explore Paihia
Day 4: Coach Paihia to Auckland
Day 5: Full day on Waiheke Island
Day 6: Drive to Coromandel Peninsula
Day 7: Full day to explore The Coromandel
Day 8: Full day to explore The Coromandel
Day 9: Drive to Rotorua
Day 10: Full day to explore Rotorua
Day 11: Full day to explore Rotorua
Day 12: Fly to Christchurch
Day 13: Full day Arthur's Pass National Park
Day 14: Drive to Kaikoura
Day 15: Full day Kaikoura
Day 16: Whale Watch Tour, drive to Motueka
Day 17: Full day to explore Abel Tasman National Park
Day 18: Full day to explore Abel Tasman National Park
Day 19: Drive to Punakaiki
Day 20: Drive to Franz Josef
Day 21: Full day to explore Franz Josef
Day 22: Drive to Queenstown
Day 23: Full Day Dart River Tour
Day 24: Full day Queenstown
Day 25: Overnight Doubtful Sound Cruise
Day 26: Drive to Dunedin
Day 27: Full day to explore Dunedin
Day 28: Return to U.S.A via Auckland
Trip Highlights:
– Relax and explore in Northland's playground, the Bay of Island
– Explore Auckland and Waiheke Island's world-renowned wine scene
– Explore the Coromandel Peninsula, Kiwis' much loved holiday destination
– Discover Rotorua's rich cultural heritage and outdoor pursuits
– Explore the natural beauty of Arthur's Pass National Park
– Spend a day discovering Kaikoura's abundant native wildlife
– Whale watch in Motueka
– Experience Abel Tasman National Park's beautiful coastline and golden beaches
– Explore Franz Josef and visit the renowned Franz Josef Glacier
– Experience a thrilling jetboat ride on the wonderfully scenic Dart River
– Explore the alpine resort of Queenstown
– Discover Fiordland aboard an overnight Doubtful Sound Cruise
– Experience New Zealand's oldest city, Dunedin; enjoy the local art scene and experience the area's legendary outdoor activities