Overview
21 Day Luxury New Zealand
Sample Itinerary
Following is a sample itinerary that can be customized just for you.
---
Luxury New Zealand in 21 Days offers an ideal blend of urban cultural experiences, wilderness immersion in New Zealand's remarkable natural landscapes and access to phenomenal regional food and wine. Prepare to experience New Zealand's best with an exceptional level of five star luxury. Begin your adventure in the City of Sails, travel south to the culturally rich and geothermally active Rotorua, and continue on to scenic Hawke's Bay. Fly south to Nelson, and experience Abel Tasman National Park and the Nelson Region. Explore Christchurch and learn about the local food and wine scene. Head to the West Coast and experience Hokitika and the beautifully wild Lake Moeraki. Discover Queenstown and the aptly named Paradise Region and explore the ruggedly beautiful Milford Sound by boat and by plane.
Trip at a Glance
Day 1: Arrive Auckland, lunch cruise / 2 nights: Auckland
Day 2: Zest food tour, explore Auckland
Day 3: Drive to Rotorua via Waitomo Caves / 3 nights: Rotorua
Day 4: Thermal Explorer Floatplane
Day 5: Full day Whirinaki Forest Tour
Day 6: Drive to Hawkes Bay / 3 nights: Hawkes Bay
Day 7: Full day Hawkes Bay Tour
Day 8: Full day Cape Kidnappers
Day 9: Fly to Nelson, drive to Abel Tasman / 3 nights: Abel Tasman
Day 10: Full day Heli Hike
Day 11: Half day Abel Tasman Kayak Tour, explore Abel Tasman
Day 12: Drive to Blenheim, train to Christchurch / 2 nights: Christchurch
Day 13: Full day Christchurch & wine tour
Day 14: Train to West Coast, drive to Hokitika via Punakaiki / 1 night: Hokitika
Day 15: Drive to Lake Moeraki / 2 nights: Lake Moeraki
Day 16: Full day Lake Moeraki Nature Tour
Day 17: Drive to Queenstown / 4 nights: Queenstown
Day 18: Full day Paradise & Jetboat Tour
Day 19: Full day Milford Sound – tour, cruise, fly
Day 20: Full Day Queenstown
Day 21: Return to U.S.A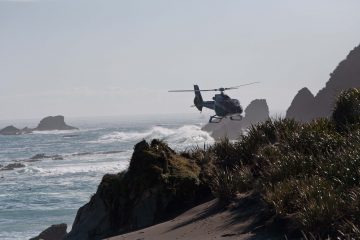 ---
Trip Highlights
Discover Waitomo Caves and their renowned glow worms
Enjoy a floatplane tour of the geothermal park, Orakei Korako
Explore the Whirinaki Forest, an icon of NZ ecology, on a full day guided tour
Learn about and sample Hawke's Bay's world class food and wine
Heli-hike a portion of the world renowned Heaphy Track in the beautiful Kahurangi Mountains
Kayak Abel Tasman with knowledgeable local guides
Traverse the South Island on the scenic Tranz Coastal Pacific Railway
Experience Christchurch with a full day city and wine tour
Discover NZ wilderness at its best with a full day Lake Moeraki Nature Tour
Enjoy a full day tour to the heartland of the South Island's high country complete with a Dart River Jetboat Tour
Experience the best of New Zealand's cosmopolitan urban lifestyle in Auckland, Rotorua, Christchurch and Queenstown in five star luxury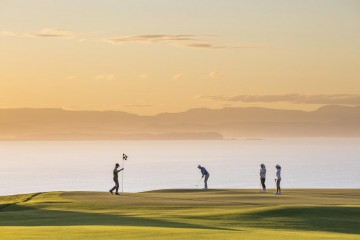 ---
Detailed Itinerary
21 Days Luxury New Zealand
Sample Itinerary
Following is a sample itinerary that can be customized just for you.
---
Day 1 – Welcome to Auckland

Welcome to Auckland!  This cosmopolitan city is a joy to visit.  After checking in at your boutique accommodations, enjoy a lunch cruise on the beautiful Hauraki Gulf.  Your skipper will provide an entertaining commentary as you take in highlights of the beautiful Waitemata Harbour, including the Auckland Harbour Bridge, the seaside suburb of Devonport with its twin lookouts of Mt Victoria and North Head, Bean Rock Lighthouse and Bastion Point. Enjoy a delicious lunch showcasing Auckland's top quality local produce as you cruise past scenic highlights like the famous landmark of Rangitoto Island and adjacent Motutapu. Discover the fascinating history of little Motuihe, with its golden sandy beaches and quiet coves, and cruise past the smooth green hills of Browns Island. You'll return to shore refreshed and rejuvenated by your Hauraki Gulf voyage.
The Auckland metropolitan area is the largest and most populous urban area in the country with a population approaching 1.4 million residents, 31 percent of the country's population.  Auckland has the largest Polynesian population of any city in the world and the melting pot of European, South Pacific and Asian cultures and strong indigenous Maori heritage brings an abundance of unique dining, shopping and touring experiences.  Auckland's waterside location has fostered the locals' love affair with the sea, earning it the nickname "City of Sails".  A cloak of rainforest covers the surrounding hills, dozens of dormant volcanic cones dot the landscape and enchanting islands are scattered throughout the vast Hauraki Gulf. 2 nights: Auckland.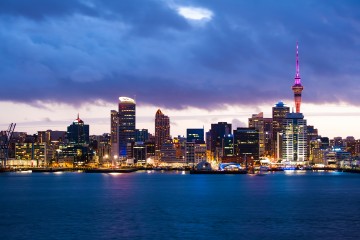 ---
Day 2 – Zest food tour, explore Auckland
Depart this morning on an exploration of the tastes of Auckland.  Auckland's subtropical climate means that fruit and vegetables grow abundantly. And along with excellent local wines, olive oil and being surrounded by a sea rich in shellfish and local fish species, it's all about tasting the freshest of fresh. Combine that with a population made up of many cultures from around the world, including Polynesian, Maori, European and Asian cultures, means that we are spoilt for choice.
Today you will be introduced to three of the city's most vibrant inner city foodie locations. Surrounded by beautiful heritage buildings, the Britomart precinct is full of eclectic cafes, restaurants, cool bars and a fantastic city farmers market (Saturdays only), making it the hippest new district in town. The beautiful Viaduct Harbour features many award winning restaurants and the revitalized Wynyard Quarter shows off its new eateries and bars, open picnic spaces and Auckland's Seafood Market. Tastings include exceptional coffee, baking treats, chocolates, cheeses, ice cream, seafood and produce.
Allow the rest of this day to further explore Auckland.  We look forward to working with you to tailor your time in Auckland to best suit your interest.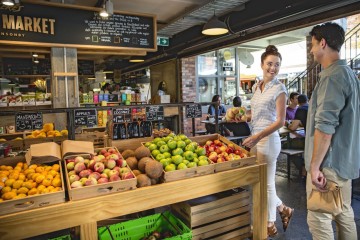 ---
Day 3 – Drive to Rotorua via Waitomo Caves
Depart today for Rotorua, taking a western detour to visit the Waitomo Caves.  Driving south you will travel over the Bombay Hills as you leave the Auckland region into the rich farmland of the Waikato Region, with the Waikato River on your right.  As you near Waitomo, notice the many volcanic features defining the landscape: sharp edged cliffs, rocky outcrops, deep gorges and conical peaks.  On arrival at the Waitomo Caves, enjoy a guided tour through the long galleries and lofty chambers of the caves to view stalactites formed over thousands of years by the constant dripping of water.  Take in the glow worm grotto, illuminated by thousands of tiny lights emitted by glow worms, that lie suspended from the cave ceiling.  On completion of your tour continue driving south to Rotorua, where you will check into your luxury accommodations at Solitaire Lodge.
With its unique volcanic landscape, living Maori culture, natural hot springs and plenty of options for outdoor activities and adventure, Rotorua is one of New Zealand's most famous destinations, located in the heart of the North Island. Rotorua is one place where the turbulent forces that formed New Zealand are most evident. This city, on the Volcanic Plateau, has one of the world's most lively fields of geothermal activity and sits squarely on the Pacific Rim of Fire.  Rotorua is also the ancestral home of the Te Arawa people who settled here more than 600 years ago and their presence offers the visitor numerous cultural experiences. 3 nights: Rotorua.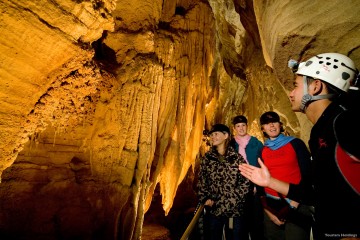 ---
Day 4 – Thermal Explorer Floatplane

This morning depart from the Rotorua waterfront on a spectacular floatplane flight and tour of the OrakeiKorako geothermal park.  There is no better way to appreciate the beauty of the Crater Lakes District and the volcanic rift of Mt Tarawera than to fly over it, taking in the spectacular geothermal and volcanic landscape.  After landing at OrakeiKorako cruise by boat across the lake to explore the bubbling hot springs, gushing geysers and natural beauty of this hidden geothermal wonderland on a guided tour before flying back to Rotorua.
Allow this afternoon to explore Rotorua, where the choices are abundant for Maori cultural experiences and viewing amazing geothermal activities.  Consider taking in one or more of the geothermal areas and Te Puia (an excellent exhibition of Maori arts, crafts, culture, and natural wonders) for a cultural experience.  The Rotorua Museum is another favorite spot, set amongst the beautiful Government Gardens on the edge of Lake Rotorua.  We look forward to working with you to customize your time in Rotorua.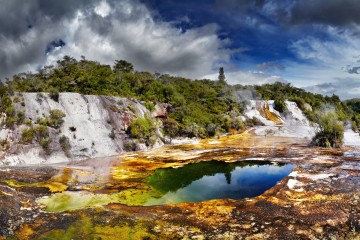 ---
Day 5 – Full day Whirinaki Forest tour

Embark this morning on a full day tour to the wonderful Whirinaki Forest.  Rotorua hiking at its best.Whirinaki is an icon of NZ ecology and was one of New Zealand's most famous conservation battlegrounds. It is simply the best example of lowland podocarp forest left on earth. These forests are renowned for ancient trees, rich biodiversity and stunning scenery. Regarded by many as this country's finest one day rainforest walk, naturalist guides will take you right into the heart of the rainforest where the towering 700 – 800 year old Rimu, Totara, Matai, Miro and Kahikatea – the ancient giants of New Zealandspodocarp tree species reach to 65m. Beneath the forest canopy you willappreciate the rich diversity of native vegetation and bird life amidst the spectacular scenery of rushing rivers and cascading waterfalls.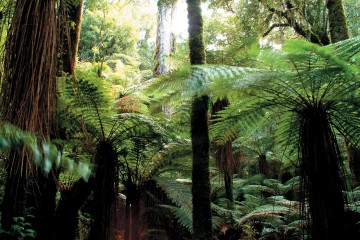 ---
Day 6 – Drive to Hawkes Bay

Depart today travelling through the center of the North island and across to the Hawkes Bay region.  The first part of your journey takes you from Rotorua to Taupo, a resort town sitting on the edge of New Zealand's largest lake, Lake Taupo.  The road to Taupo has unusual volcanic geography and large tracts of plantation pine forest.  From Taupo to Napier the scenery is fantastic and varied; take in rugged hills, beautiful valleys, gentle plains and panoramic vistas.  On arrival in Napier make your way to your luxury, 5-star accommodations at The Farm at Cape Kidnappers.
Hawke's Bay is beautiful scenery, award-winning wines, gourmet experiences, a thriving arts community, unique wildlife, stunning architecture, and rich cultural heritage. A wonderful Mediterranean climate and an enviable setting on New Zealand's East Coast have created a region rich in delicious produce and world-class wines.  Hawkes Bay is the country's oldest wine growing region with over 40 winery-tasting experiences. The famous weekly Hawke's Bay Farmers' Market is a temptation in itself – a delightful showcase of regional gourmet produce.  The Art Deco heritage created after the devastating 1931 earthquake is fascinating to explore with samples all around the city of beautifully restored Art Deco buildings. 3 nights: Hawkes Bay.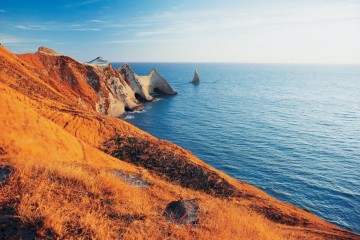 ---
Day 7 – Full day Hawkes Bay Tour

This morning depart on a food and wine focused tour of New Zealand's Hawke's Bay region.  Immerse yourself in the vibrant world of Hawke's Bay wine – talk with local winemakers who are passionate about crafting world-class wines from the regions rich soil.  Visit some of the best local wineries and taste their award winning wines.  Rich soils and warm growing conditions attract innovative epicurean food producers – taste, touch and smell their unique and delicious products and meet the enthusiastic individuals responsible for the area's vibrant food and wine scene.
Hawke's Bay is the oldest wine region in NZ, the 2nd largest, and NZ's leading producer of red wines. Located at 39.4°S, on New Zealand's North Island the climate is maritime and similar to Bordeaux. Red wines dominate with over 80% of New Zealand's plantings of Merlot, Cabernet Sauvignon and Syrah grapes. The area is also known for its rich and complex Chardonnays.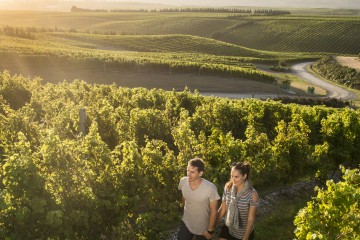 ---
Day 8 – Full day Cape Kidnappers

Enjoy this full day at The Farm.  Try yoga by the pool or join the lodge gardener for a tour of the lodge and vegetable gardens.  And no trip to a New Zealand sheep farm is complete without witnessing dogs at work.  Enjoy some time sampling and discussing some amazing local wines with the lodge's sommelier.  The golf clinic is also a great opportunity if you want to be introduced to the game or simply hone your skills.
Other activities on site include clay target shooting, walking trails, a visit to the Gannet Colony, horse treks, ATV quad biking or mountain biking.  Take a picnic hamper as you explore this wonderful setting.  Your friendly hosts will provide you with plenty of options to entertain you during your stay.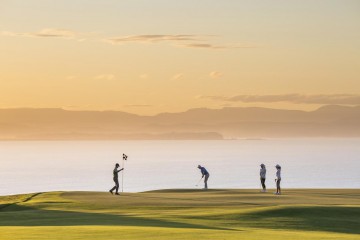 ---
Day 9 – Fly to Nelson, drive to Motueka
Today you will board a flight from Napier bound for Nelson.  On arrival in Nelson drive to Motueka,where you will check in at your luxury country accommodations.
Located at the top northeast corner of New Zealand's South Island, the Nelson Region offers a mild sunny climate year round and magnificent landscape from alpine lakes, and raging rivers, to wide sandy coastlines.  Three National Parks are surrounded by fertile countryside providing fresh produce and fine wines. Travel through rolling hills and coastal landscapes visiting gourmet food producers, boutique wineries, and the studios of an extraordinary artistic community that thrives here. Coastal towns are full of bustling cafes, charming boutiques and funky art galleries, waiting to be explored. 3 nights: Motueka.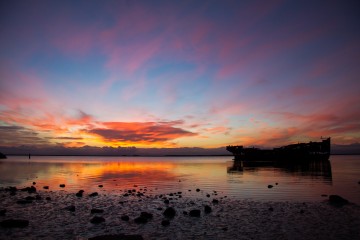 ---
Day 10 – Full day Helicopter Hike
This morning depart on a full day helicopter hike.  Exlore the Heaphy Track within one of New Zealand's most diverse National Parks, the Kahurangi.  The Kahurangi (meaning "Treasured Posession" in Maori) holds the greatest range of landforms, habitats, and communities of plants and wildlife in the country.  Depart in your private helicopter and fly west for a landing high up in the Kahurangi Mountains.  Here your experienced, local guide will lead you on a short walk, identifying and explaining the unique geological features of the area.  During the day you will hike a portion of the world renowned Heaphy Track, experience Wharariki Beach on the rugged West Coast, and take in the stunning aerial views of Farewell Spit and Golden Bay on the flight home.  This is a wonderful day, combining fantastic scenery from the helicopter with frequent opportunities to land and enjoy the wilderness.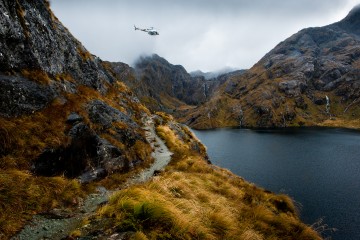 ---
Day 11 – Half day Abel Tasman Kayak Tour, explore Abel Tasman

This morning experience a half day kayak tour in Abel Tasman.  Begin with a scenic ride on a water taxi into the heart of the national park before exploring the surrounding coastline by kayak.  Paddle the short distance to Tonga Island, home of the resident New Zealand Fur Seals.  Spend some time observing the seals' playful antics and keep an eye out for the small blue penguins, who all call the island home.
This afternoon is yours to explore Abel Tasman on your own.  Whether you feel like relaxing on a beach or pursuing a more active activity, we look forward to working with you to tailor your experience in the park to best suit your interests.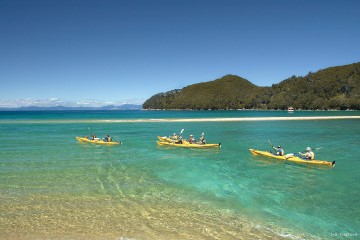 ---
Day 12 – Drive to Blenheim, train to Christchurch
Today you will travel to the east coast city of Christchurch, the largest city on the South Island.  The first part of the journey will be by car and the second part by scenic railway.  Enjoy the picturesque drive between Nelson and Blenheim through Marlborough's beautiful wine country.  On arrival in Blenheim board a train bound for Christchurch along the acclaimed Tranz Coastal Pacific Railway.  Follow the spectacular Kaikoura coast, keeping an eye out for marine life from the comfort of your train carriage.  Enjoy stellar views of the Kaikoura Mountain Range on one side of your train car and the rugged Pacific coastline on the other.  On arrival in Christchurch check into your luxury accommodations.
Known by locals as "The Garden City," Christchurch offers a wonderfully relaxed atmosphere rich in history.  Despite the earthquake of 2011, Christchurch remains the gateway to the myriad amazing experiences available in the Canterbury region.  While earthquakes have damaged much of the city's heritage architecture, Christchurch's traditional English ambience is still evident.  The city's Botanic Gardens and Hagley Park continue to be some of New Zealand's most impressive public spaces. 2 nights: Christchurch.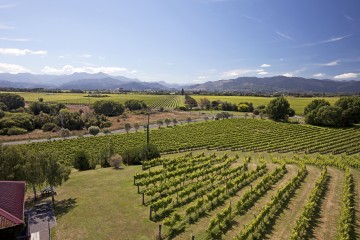 ---
Day 13 – Full day Christchurch & Wine Tour

This morning embark on a full day guided tour of Christchurch and several local wineries.  Your knowledgeable guides will speak about the history of the city and the impact of and rebuild following the 2010/2011 earthquakes.  Explore the beautiful Botanic Gardens while learning about New Zealand's unique flora and fauna.  The Christchurch region is renowned for producing aromatic white wines and pinot noirs.  Visit a selection of boutique vineyards within easy reach of the city for tastings and learn why the Canterbury region prides itself on its local food scene and local produce with lunch at a nearby bistro.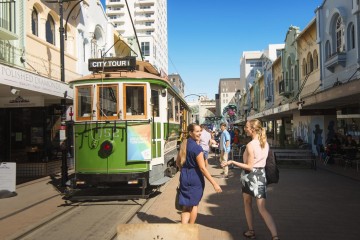 ---
Day 14 – Train to West Coast, drive to Hokitika via Punakaiki

Board a morning train bound for the West Coast.  Enjoy the scenic journey to Greymouth through the Canterbury Plains, lush farmland, and spectacular gorges and river valleys of the Waimakiri River.  Climb through the Southern Alps before descending through lush beech rainforest to Greymouth.  From Greymouth make your way to Punakaiki.  Located just a 30 minute drive north of Greymouth, Punakaiki is best known for its spectacular Pancake Rocks and Blowholes.  The Pancake Rocks are considered one of New Zealand's most spectacular natural landscapes, formed from layer upon layer of water sculpted limestone and resembling stacks of pancakes.  The blowholes are also quite magnificent when the tides are right.  Head back to Greymouth and continue your drive south to the small town of Hokitika, where you will check in to your luxury accommodations.
Hokitika is situated on the wild West Coast of New Zealand's South Island, beside the Tasman Sea with a view to Mount Cook and the Southern Alps. Hokitika is the gateway to the South Westland World Heritage National Park.  In the township of Hokitika visitors have the opportunity to watch pounamu (New Zealand jade) carvers and gold craftsmen at work.Watch glass artists blowing glass creations at the town's renowned glass blowing studio.  A visit to the local museum is a must along with a night time stroll to the Glow Worm Dell where it is possible to see these unique creatures from a distance of only a few metres. 1 night: Punakaiki.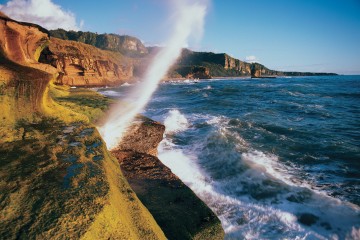 ---
Day 15 – Drive to Lake Moeraki

Depart Hokitika and continue your journey south through West Coast forests and farmlands, with the spectacular Southern Alps rising to the east and vistas of the Tasman Sea to the west.  You will drive by Franz Josef and Fox, homes to two monumental glaciers.  Consider stopping here for a walk to the base of these huge, ancient ice rivers.   When you are ready, continue on to Lake Moeraki, where you will check into your luxury accommodations with a five star nature experience.  2 nights: Lake Moeraki.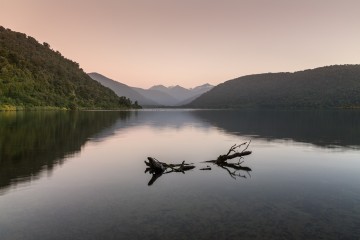 ---
Day 16 – Full day Lake Moeraki Nature Tour
Today you will depart on an exclusive nature discovery tour with a local and knowledgeable nature guide. The program caters to your special interests and fitness levels with breaks for lunch, refreshments and relaxation during the day.
The day could include starting with a walk to the wild Tasman seacoast past dunes, waterfalls, rocky islands and caves where you might get to view dolphins and New Zealand fur seals, search for paua (abalone), green shelled mussels and starfish. Stop for morning tea at a coastal waterfall cave and learn about the coastal ecology. Canoe the Mataketake dune lakes to look for black swan, fernbird and cormorants in an amazing "floating forest". Lunch could be a stop at the Ship Creek ancient rainforest. This afternoon explore the lovely fern forest of the historic gold miners' trail, or wander through the rainforest to a remote beach. Return to your lodge where the final part of the trip is a gentle walk through rainforest to discover and feed the giant eels of the Moeraki Valley.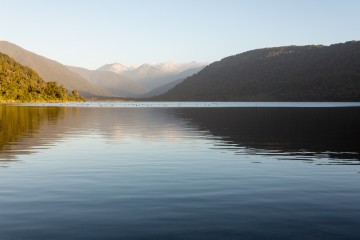 ---
Day 17 – Drive to Queenstown

Depart for Queenstown today, a journey that will take you through some of New Zealand's most spectacular scenery.  Climb through rugged Westland National Park and over Haast Pass.  Continue though Wanaka, before climbing over the Crowne Range (providing spectacular views!) and down into Queenstown.  On arrival in Queenstown, continue along Lake Wakatipu to Matakauri Lodge, your luxury accommodations.
Situated in the heart of the South Island, on the shores of Lake Wakatipu and surrounded by a beautiful mountain range, aptly named The Remarkables, Queenstown has been regularly rated as one of the world's top tourism destinations. It is known as the Southern Hemisphere's premier four-season alpine and lake resort. Queenstown was named because 'it was fit for Queen Victoria.' Certainly it's lived up to that expectation. Today it's an exhilarating alpine resort, perfect for both adventurers and leisure seekers.4 nights: Queenstown.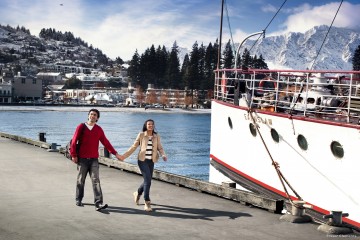 ---
Day 18 – Full day Paradise &Jetboat Tour

This morning embark on a full day guided private tour to the heartland of the South Island's high country.  The goal of this private tour is to introduce you to this unique landscape and to give you an authentic, interactive experience in a unique outdoor environment.  Your guide has extensive knowledge of regional culture and agricultural history.  Enjoy the outstanding mountain views as you travel around Lake Wakatipu on this leisurely tour, with plenty of time built in to explore on foot.  Visit the incredibly picturesque Dart River Valley in Paradise before moving on to a visit at a High Country sheep and cattle station, a true New Zealand experience.  Finally, visit Chinaman's Bluff where you will have the opportunity to jet boat up Dart River before returning to Queenstown.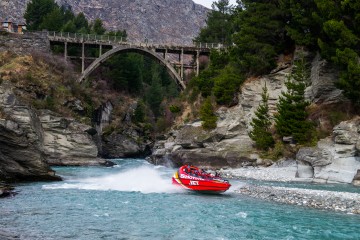 ---
Day 19 – Full day Milford Sound – Tour, Fly, Cruise

Spend the day discovering beautifully rugged Milford Sound with a full day guided tour, flight and cruise.  Learn about this world heritage destination from your knowledgeable guides as you travel from Queenstown through productive northern Southland farmland with sheep, cattle and deer on the route to Te Anau.  On arrival at Milford Sound, enjoy a cruise on the fjord and enjoy your time aboard viewing wildlife and the towering cliffs, peaks, cascading waterfalls and lush rainforest that make the sound famous.  On completion of your cruise, board a small aircraft for an awe-inspiring scenic flight over Fjordland's glacial lakes, waterfalls, deep valleys and cloud-piercing summits.
Justifiably the most famous visitor destination in New Zealand, visitors are drawn to Milford Sound by the spectacular sights of waterfalls cascading from sheer rock faces rising 1,200 metres or more from the sea, lush rain forests clinging precariously to the cliffs, and the seals, penguins and dolphins that frequent the waters. With 182 days of rain every year, Milford Sound is one of the wettest places in New Zealand, however the rain creates stunning treats for visitors with dozens of temporary waterfalls created both at Milford Sound and along the Milford Road.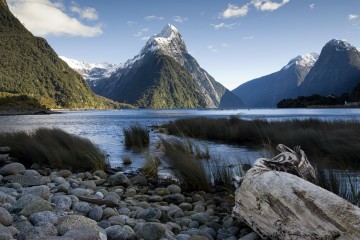 ---
Day 20 – Full day Queenstown
Spend today enjoying the lodge and exploring the region, which has so much to offer. Consider a visit to the lodge's spa, equipped with two stunning treatment rooms, a gym and swimming pool to enjoy.
The Queenstown Township offers boutique shopping, arts and crafts, and many fun cafes and restaurants. The town center is small and easily walkable.  Queenstown's gondola, reputed to be the steepest lift in the Southern Hemisphere, is an easy five minute walk from downtown. The gondola carries visitors high above Queenstown, where you will find the best vistas in the region, spread out in a spectacular 220-degree panorama.  We look forward to working with you to find the perfect blend of leisure and adventure activities to keep you entertained in Queenstown.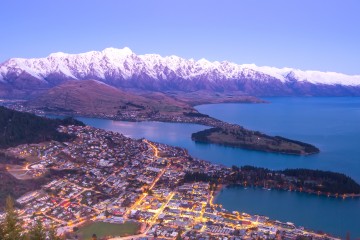 ---
Day 21 – Return to U.S.A.
Your New Zealand adventure comes to an end today.  We hope you have enjoyed your vacation!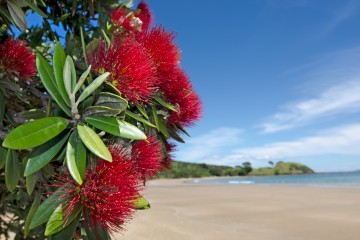 ---
Accommodation Options
21 Days Luxury New Zealand 
Following is a sample of accommodation options. Uniquely New Zealand has many hidden treasures in addition to these to share with you.
---
Auckland
Sofitel – Located in the heart of Auckland's thriving waterfront on the Viaduct Harbor, this luxury hotel offers a range of 172 premium room and suite options. Large windows and private balconies in every room provide plenty of light. The hotel also offers luxury spa services, an indoor lap pool and dining options in several in house venues. See image.
Langham Auckland – Situated near upper Queen Street, this classic hotel is located within walking distance of the city's waterfront, the Auckland Domain and other key attractions. The hotel's 411 guest rooms, suites and club rooms offer luxurious accommodation and the hotel spa provides a full range of services. Enjoy meals in one of the hotel's two on site restaurants.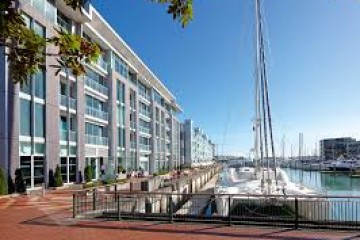 ---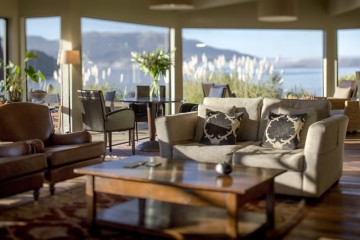 Rotorua
Solitaire – Solitaire Lodge Rotorua offers secluded luxury accommodation and attentive hosting from a spectacular lakeside location. Minutes from this resort you will find myriad activities including secluded hot water beaches, natural thermal hot springs, and world class trout fishing. All 10 luxury suites feature panoramic views of the lake and volcano through large picture windows. Experience luxury massage treatments and enjoy contemporary New Zealand cuisine prepared on site. See image.
Treetops Lodge – Treetops Lodge offers the ultimate in luxury accommodations nestled in 2,500 acres of 800 year old native forest. Accommodations are available in two private and secluded villas, the spacious Lodge accommodation, the lavish and private Owners Retreat, and the luxury boutique Pheasant Cottage. Treetops is a family friendly retreat offering a range of outdoor, spa, and dining experiences.
---
Hawkes Bay
The Farm at Cape Kidnappers – This spectacular luxury lodge is nestled amongst 6,000 acres of farmland set high above the sea in the beautiful Hawke's Bay, New Zealand. Cape Kidnappers offers four beautifully furnished suites with stunning views or fireplaces and a deluxe and spacious owners cottage suitable for up to 8 guests. Guests may enjoy the infinity pool and hot tub, spa treatments, golf course and more at Cape Kidnappers as well as thoughtfully prepared on site dining, which makes the most of local and seasonal ingredients.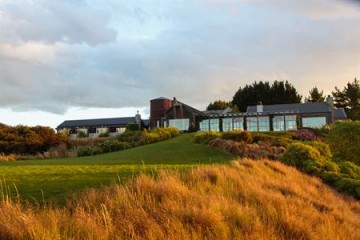 ---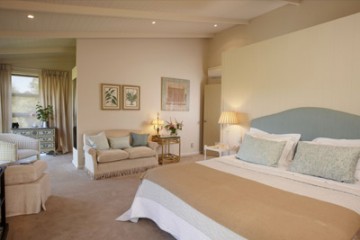 Motueka
Edenhouse Lodge – Edenhouse provides a luxury lodge experience in New Zealand's Nelson/Abel Tasman region. The lodge is situated in the beautiful Orinoco Valley on a 50 acre property complete with extensive gardens, but is still within easy access of the area's highlights. The lodge offers two luxurious suites in the main lodge and a private and beautifully appointed two bedroom garden cottage. Enjoy fine dining on site. See image.
---
Christchurch
Otahuna Lodge – Set in pastoral surroundings, Otahuna Lodge is an elegant Victorian mansion that offers its guests a unique luxury experience. New Zealand's largest private historic residence has been revitalized into a luxury accommodation. Each of Otahuna's seven suites offers refined comfort complete with ornate fireplaces and lavish bathrooms. Otahuna's cuisine celebrates the best of seasonal New Zealand produce, with an emphasis on fresh Otahuna estate-grown offerings. See image.
The George – This luxury boutique hotel is located in the heart of Christchurch overlooking the picturesque Hagley Park, just steps from the cultural precinct and key attractions. The George boasts two award-winning fine dining restaurants. A range of 53 stylishly designed rooms and suites are available, many of them with views over Hagley Park and the Avon River.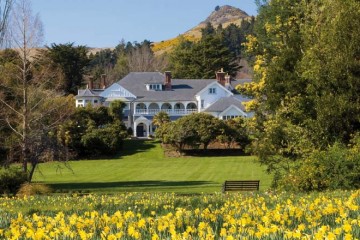 ---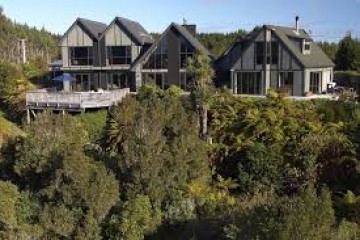 Hokitika
Rimu Lodge, Hokitika – Rimu Lodge is a purpose built luxury boutique lodge situated just ten minutes from Hokitika. Set in surroundings of New Zealand native bush and snow clad mountains, outdoor activities are numerous, as are cultural interests in nearby Hokitika. Each of the Lodge's 4 guest rooms takes maximum advantage of the wonderful views. Guests enjoy breakfast on site. See image.
Kapitea Lodge – Kapitea Lodge is a stylish luxury boutique hotel on the rugged West Coast of the South Island of New Zealand on 8 hectares of prime coastal land with panoramic views over wild beaches and indigenous rainforest. Accommodation is in in 5 unique guest bedrooms, most of them upstairs with sea views and balconies. Enjoy dining on site.
---
Lake Moeraki
Lake Moeraki Wilderness Lodge – This Wilderness Lodge is set in a pristine environment of rainforests, beaches, lakes and rivers in the heart of New Zealand's South West World Heritage Area, Te Wahipounamu. Choose between Riverview, Rainforest, or Garden rooms and enjoy dining in the Riverside Restaurant. Lake Moeraki is a dream destination for nature lovers and those wanting to experience the very best of wild New Zealand. See image.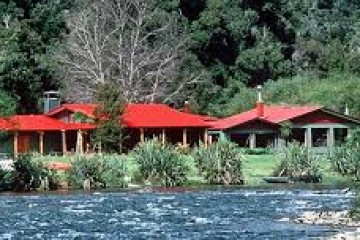 ---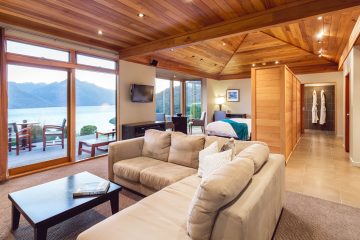 Queenstown
Matakauri Lodge – Matakauri Lodge is an alpine lakeside retreat situated on Lake Wakatipu and only seven minutes from Queenstown. The main lodge offers accommodation in twelve luxurious guest rooms and suites; four suites are located within the main lodge with the remaining suites located in outlying cottages overlooking the lake. Each suite offers a private porch and open fireplace. The Owner's Cottage features four suites in a freestanding residence – it is ideal for families, couples or friends travelling together. Enjoy fine dining on site, a dip in the infinity pool, and a luxury spa experience.
Azur Lodge – The ultimate in luxury lodge accommodation, Azur is located just 5 minutes from downtown Queenstown and sits upon a hilltop with unobstructed views of the mountain ranges and Lake Wakatipu. Each of the lodge's identical villas provides open plan living in the midst of New Zealand's natural environment. Each villa boasts a private sun deck and spectacular views from the bathtub, which is set into a bay window. Enjoy meals in the main lodge building or have them delivered to your private villa.  See image.
---
Activity Options
21 Days Luxury New Zealand 
Following are guided touring suggestions that would work with your 21 Days Luxury New Zealand itinerary on days when activities have not yet been suggested. These options can be private, small group or large group. For a more personalized experience we suggest at least a small group tour, which are usually 12 or fewer people. Some touring options are half day and many require a full day.
---
Queenstown
Paradise Tour – This personal small group tour takes you through the spectacular Paradise Valley with opportunities to take short walks in this impressive landscape. The mountain views are outstanding as you travel around the edge of Lake Wakatipu – find out why this tour is called the "Queensland Lord of the Rings Tour." Visit Dart River Valley in Paradise, the ultimate photography location. In the afternoon visit a High Country Station – a true New Zealand experience on a 15000 acre organic sheep and cattle farm. Visitors have the option to experience a jet boat ride returning to Queenstown.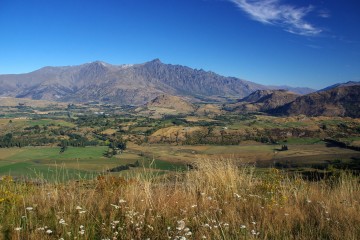 ---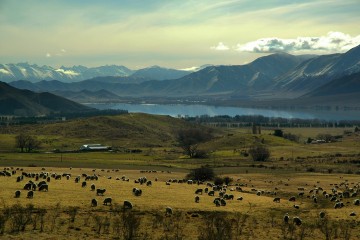 High Country Discovery Tour – This half-day 4WD tour provides exclusive access to Mt Earnshaw Station, a 130-year-old working farm set in the spectacular alpine environment of the Paradise Valley. See sheep being shorn at an operational woolshed before moving on to view a number of Lord of the Rings and Hobbit movie locations. A visit to Glenorchy village, established in 1864, completes this tour.
---
Routeburn Track One-Day Guided Hike – Hike a portion of the world famous Routeburn Track set among towering ancient beech trees and blankets of moss and fern. This portion of the track climbs gradually, skirting the thundering Routeburn River, before arriving at the rich grassland of Routeburn Flats, then continues through more alpine forest and a vast alpine meadow to the Harris Saddle, some 1300 metres above sea level. High up in the clear mountain air a 360-degree view looks out along the Hollyford Valley to the Tasman Sea.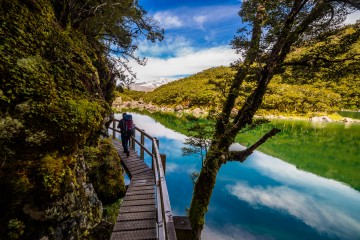 ---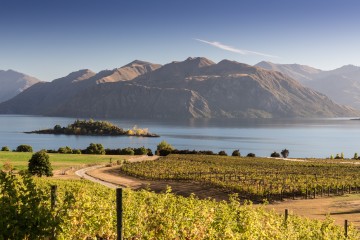 Wine Touring – Enjoy full or half day guided wine tours from Queenstown, with great scenery, gourmet food and the finest wine. Visit quieter parts of Central Otago and immerse yourself in the culture of wine, food and beautiful open spaces that people so often miss on a short visit to Queenstown. The principal varieties are Pinot Noir, Riesling, Gewurztraminer, Pinot Gris and Chardonnay, all producing excellent and award winning wines.
---
4wd Photograph Safari – Join award-winning photographers for an unforgettable photographic experience of some of the most amazing scenery in the world.   They've scouted out the best "off the beaten track" landscape photography locations and have created four incredible 4WD photo safaris suitable for all levels of photography. From a half-day photographing the lush Paradise Valley (a film maker's favorite) to a full day in the rugged Nevis Valley, your guides will take you to the best locations at the best time of day and provide expert tuition to help you capture incredible images whilst there.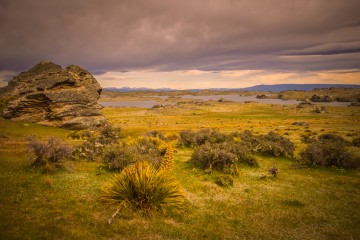 ---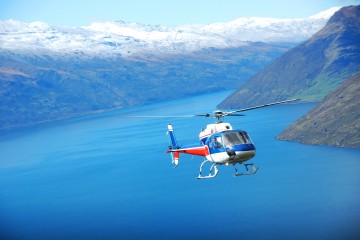 Queenstown Scenic Flights – New Zealand is a land of spectacular contrasts, and Queenstown's landscape changes from the woven greens and golds of the plains to jagged, snow-capped Alps in just minutes. There are a wide variety of flights to provide insight into this spectacular region. Fly in the latest helicopters available, with interpretive excursions that incorporate Queenstown, Milford Sound and the Fiords of southern New Zealand.
---
Back to NEW ZEALAND Sample Itineraries
> 21 Day Luxury New Zealand – Sample Itinerary
Blurb for Photo Box also include as first paragraph in Overview
Luxury New Zealand in 21 Days offers an ideal blend of urban cultural experiences, wilderness immersion in New Zealand's remarkable natural landscapes and access to phenomenal regional food and wine. Prepare to experience New Zealand's best with an exceptional level of five star luxury. Begin your adventure in the City of Sails, travel south to the culturally rich and geothermally active Rotorua, and continue on to scenic Hawke's Bay. Fly south to Nelson, and experience Abel Tasman National Park and the Nelson Region. Explore Christchurch and learn about the local food and wine scene. Head to the West Coast and experience Hokitika and the beautifully wild Lake Moeraki. Discover Queenstown and the aptly named Paradise Region and explore the ruggedly beautiful Milford Sound by boat and by plane.Overview:
Trip at a Glance:
Day 1: Arrive Auckland, lunch cruise
Day 2:Zest food tour, explore Auckland
Day 3: Drive to Rotorua via Waitomo Caves
Day 4: Thermal Explorer Floatplane
Day 5: Full day Whirinaki Forest Tour
Day 6: Drive to Hawkes Bay
Day 7: Full day Hawkes Bay Tour
Day 8: Full day Cape Kidnappers
Day 9: Fly to Nelson, drive to Abel Tasman
Day 10: Full day Heli Hike
Day 11: Half day Abel Tasman Kayak Tour, explore Abel Tasman
Day 12: Drive to Blenheim, train to Christchurch
Day 13: Full day Christchurch & wine tour
Day 14: Train to West Coast, drive to Hokitika via Punakaiki
Day 15: Drive to Lake Moeraki
Day 16: Full day Lake Moeraki Nature Tour
Day 17: Drive to Queenstown
Day 18: Full day Paradise &Jetboat Tour
Day 19: Full day Milford Sound – tour, cruise, fly
Day 20: Full Day Queenstown
Day 21: Return to U.S.A
Trip Highlights:
– Discover Waitomo Caves and their renowned glow worms
– Enjoy a floatplane tour of the geothermal park, OrakeiKorako
– Explore the Whirinaki Forest, an icon of NZ ecology, on a full day guided tour
– Learn about and sample Hawke's Bay's world class food and wine
– Heli-hike a portion of the world renowned Heaphy Track in the beautiful Kahurangi Mountains
– Kayak Abel Tasman with knowledgeable local guides
– Traverse the South Island on the scenic Tranz Coastal Pacific Railway
– Experience Christchurch with a full day city and wine tour
– Discover NZ wilderness at its best with a full day Lake Moeraki Nature Tour
– Enjoy a full day tour to the heartland of the South Island's high country complete with a Dart River Jetboat Tour
– Experience the best of New Zealand's cosmopolitan urban lifestyle in Auckland, Rotorua, Christchurch and Queenstown in five star luxury