Overview
19 Days Off the Beaten Path in New Zealand
Sample Itinerary
Following is a sample itinerary that can be customized just for you.
---
Off The Beaten Path in New Zealand in 19 Days offers an unparalleled experience of many of New Zealand's most iconic natural wonders and an introduction to several of her most beloved cities. Start in Auckland, the "City of Sails," travel to Waitomo for a unique and breathtaking cave experience, then head to Taupo, situated on the lake shore. Travel to Napier in celebrated Hawkes Bay and on to Blenheim and an exploration of Queen Charlotte Sound. Enjoy your time in the world-renowned Marlborough wine region then on to Christchurch, followed by the Mt. Cook area. Experience an overnight cruise in Fiordland'sDoudbtful Sound then on to Te Anau for a trek on the iconic Routeburn Track. Finish your adventure in adventure-laden Queenstown before returning to the U.S.A.
Trip at a Glance
Day 1: Arrive in Auckland / 2 nights: Auckland
Day 2: Full Day Auckland
Day 3: Drive to Taupo via Waitomo Caves / 3 nights: Taupo
Day 4: Full day Taupo
Day 5: Full day guided fishing
Day 6: Drive to Napier / 2 nights: Napier
Day 7: Full day self guided winery cycle tour
Day 8: Fly to Blenheim / 3 nights: Blenheim
Day 9: Full day guided kayak and walk
Day 10: Full day Marlborough Tour
Day 11: Train to Christchurch / 1 nights: Christchurch
Day 12: Drive to Mt Cook/Aoraki / 1 night: Mt Cook/Aoraki
Day 13: Glacier Cruise, Drive to Queenstown / 2 nights: Queenstown
Day 14: Full day Paradise Discovery Tour
Day 15: Overnight Doubtful Sound
Day 16: Drive to Te Anau / 2 nights: Te Anau
Day 17: Full day Routeburn Track
Day 18: Drive to Queenstown / 1 night: Queenstown
Day 19: Depart Queenstown, return to U.S.A.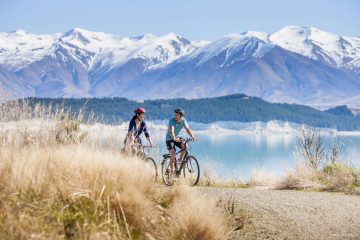 ---
Trip Highlights
Discover the rich cultural melting pot that is Auckland, the "City of Sails"
Explore New Zealand's famed and unique Waitomo Caves
Fly fish Lake Taupo's pristine waters
Experience Hawke's Bay's famed wine country by bike
Explore the beautiful Queen Charlotte Sound afoot and by kayak
Take a full day tour of the world renowned wine mecca, Marlborough
Enjoy a scenic train ride to Christchurch
Visit Mount Cook and enjoy a cruise around the Tasman Glacier
Learn about the regional agriculture, history, and culture of the South Island's heartland on a full day Paradise Discovery Tour
Experience Fiordland's Doubtful Sound on a scenic overnight cruise
Spend a day hiking the world-renowned Routeburn track with experienced guides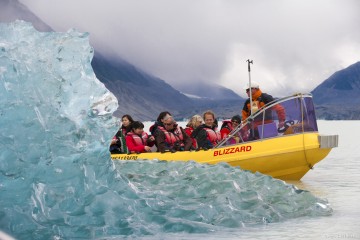 ---
Detailed Itinerary
19 Days Off The Beaten Path in New Zealand
Sample Itinerary
Following is a sample itinerary that can be customized just for you.
---
Day 1 – Welcome to Auckland
Welcome to Auckland! The largest and most populous city in the country, Auckland is home to 31 percent of the country's population. This rich cultural melting pot shows influences of European, South Pacific and Asian cultures as well as strong indigenous Maori heritage, providing for an abundance of unique dining, shopping, and touring experience. Auckland's waterside location has fostered the locals' love affair with the sea, earning it the nickname "City of Sails." Native rainforest covers the surrounding hills, dozens of dormant volcanic cones dot the landscape and enchanting islands are scattered throughout the vast Hauraki Gulf. Spend the afternoon exploring this beautiful city. 2 nights: Auckland.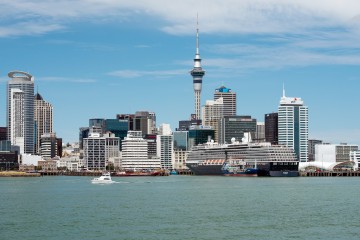 ---
Day 2 – Full Day Auckland
Allow this full day to enjoy and discover the City of Sails. We look forward to working with you to customize your experience in Auckland.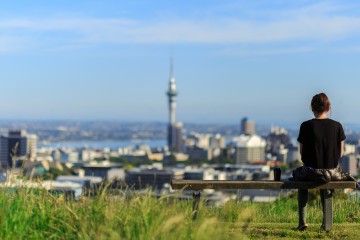 ---
Day 3 -Drive to Taupo via Waitomo Caves
This morning you will depart Auckland making your way south to Taupo. Driving south you will travel over the Bombay Hills as you leave the Auckland region into the rich Waikato farmland. Stop in Waitomo for a visit to the iconic and world-renowned Waitomo Caves where you will take a guided tour through the long galleries and lofty chambers of the caves to view stalactites formed over thousands of years by the constant dripping of water. Take in the mesmerizing and unique glow-worm grotto that is illuminated by thousands of tiny lights emitted by glow-worms, suspended from the cave ceiling, and learn about the Caves historical and geological significance.
Your journey from Waitomo Caves will take you through a beautiful mixture of scenic farmland, lake land and forest. Continue on until you reach Taupo. 3 nights: Taupo.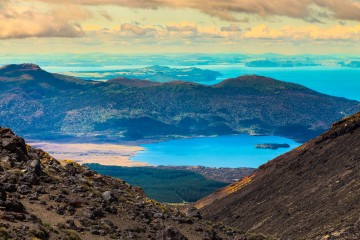 ---
Day 4 – Full day Taupo
Spend the day exploring beautiful Taupo. This resort town sits on the edge of New Zealand's largest lake, which is actually a volcano without a top resulting from one of the largest eruptions ever seen on the planet. Clear blue waters and a tranquil setting make Taupo a great lake for many watersports as well as for amazing trout fishing; Taupo is home to one of the largest natural trout fisheries in the world. Close by is the Hidden Valley of OrakeiKorako Cave and Thermal Park, possibly one of the best thermal areas in New Zealand. We are excited help tailor your activities in Taupo to best suit your interests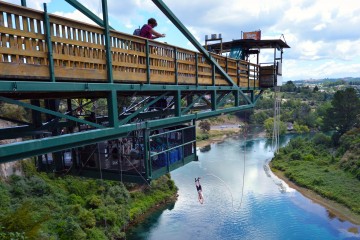 ---
Day 5 – Full day guided fishing
Today you will embark on a full day guided fly fishing adventure. Allow experienced guides with extensive local knowledge and expertise to show you how and where to catch Lake Taupo's prized rainbow and brown trout. The lake offers excellent fishing year round and the opportunity to fish the world-renowned Tongariro River.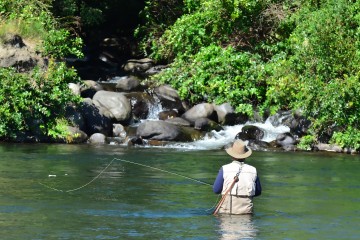 ---
Day 6 – Drive to Napier
Depart this morning for the Hawkes Bay region. The drive between Taupo and Napier in the Hawke's Bay region is filled with fantastic scenery – rugged hills, beautiful valleys, gentle plans and huge vistas. Hawke's Bay is known for its beautiful landscape, award-winning wines, gourmet experiences, a thriving arts community, unique wildlife, stunning architecture, and rich cultural heritage. The Art Deco heritage created after the devastating 1931 earthquake is fascinating to explore with samples all around the city of beautifully restored Art Deco buildings. 2 nights: Napier.
---
Day 7 – Full day self guided winery cycle tour
This morning you will set off on a self guided day trip through some fabulous Hawke's Bay wineries. Enjoy a scenic cycle and experience some of the regions favorite wineries in this truly great day out. A wonderful Mediterranean climate and enviable setting on New Zealand's East Coast have created a region rich in delicious produce and world-class wines. Hawke's Bay is the country's oldest wine growing region offering myriad winery-tasting experiences.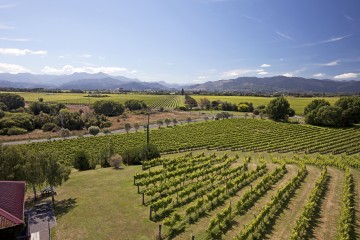 ---
Day 8 – Fly to Blenheim
This morning you will board a flight bound for Blenheim. Blenheim is a town in the Marlborough region, in the northeast of New Zealand's South Island. The area which surrounds the town is well known as the center of New Zealand's white wine industry. It enjoys one of New Zealand's sunniest climates, with hot, relatively dry summers and crisp winters. The relaxed lifestyle and the flourishing wine and gourmet food industry in Marlborough is enjoyed by both locals and visitors alike. 3 nights: Blenheim.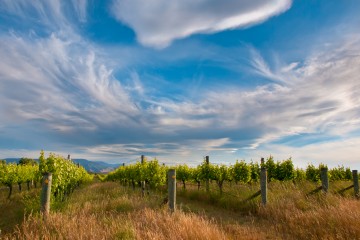 ---
Day 9 – Full day guided kayak and walk
Today you will set off on a full day guided tour which will allow you to explore this beautiful area both afoot and afloat. Spend the morning paddling the Queen Charlotte Sound in a kayak before heading ashore in the afternoon to hike a portion of the renowned Queen Charlotte Track.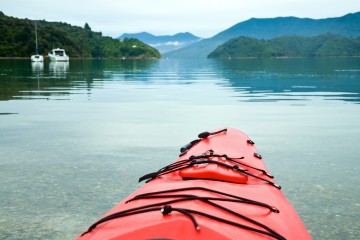 ---
Day 10 – Full day Marlborough Tour
Today enjoy a full day Marlborough tour, taking in the food, wine, arts and gardens of this remarkable area. We look forward to working with you to tailor your time in the area to best suit your interests.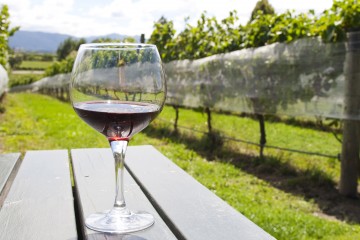 ---
Day 11 – Train to Christchurch
Catch a train today for the scenic ride to Christchurch. Christchurch City – "The Garden City" – has a truly relaxed pace and heritage heart. Despite the earthquake of 2011, Christchurch remains the gateway to the amazing experiences that are on offer in the Canterbury region. While earthquakes have damaged much of the city's heritage architecture, Christchurch's traditional English ambience is still in evidence. Local students punt visitors languidly along the slow-moving Avon River, and the Botanic Gardens and Hagley Park remain some of NZ's most impressive public spaces. 1 night: Christchurch.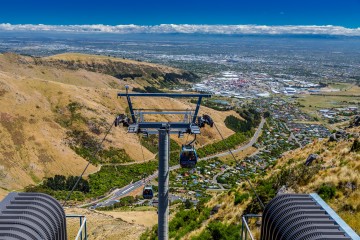 ---
Day 12 – Drive to Mt. Cook
Depart Christchurch today to travel to the Mt. Cook region. Take time to explore the picturesque Canterbury Plains region, travelling through fields and farms dotted with small towns. As you ascend take in the big, open landscape of the Mackenzie Country. You will drive by the magnificent Lake Tekapo and through high country tussock to the brilliant turquoise waters Lake Pukaki. Hug the edge of the lake for most of the trip up the Tasman Valley to Mt. Cook Village. Enjoy a clear starry night sky in the world's largest International Dark Sky Reserve in the presence of New Zealand's highest peak, Mt Cook, or Aoraki, as the native Maoris call this majestic mountain. 1 night: Mt Cook.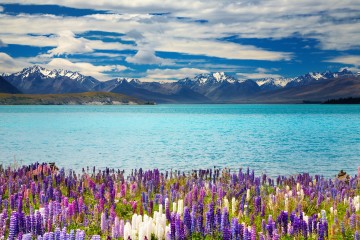 ---
Day 13 – Glacier Cruise, drive to Queenstown
This morning you will enjoy a short alpine walk in the Tasman National Park to the Tasman Glacier Terminal Lake where you will board a glacier boat for a memorable up close encounter with the Tasman Glacier. Explore, learn, and discover the ever-changing glacial landscape while your experienced guide provides information on the geology, history, mechanics, and formation of New Zealand's largest glacier. Watch and listen to the ice melt before your eyes in this tranquil lake nestled in the Southern Alps.
On completion of your cruise depart Mount Cook National Park and head for Queenstown. Enjoy the scenery of the fruit growing region of Cromwell and the historic gold mining region of the rugged Kawarau Gorge before arriving in Queensland. 2 nights: Queenstown.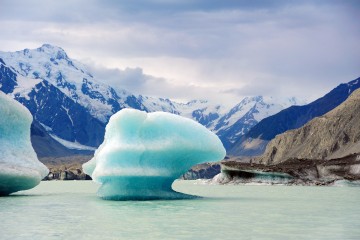 ---
Day 14 – Full day Paradise Discovery Tour
Today you will embark on a full day tour, which will be an interactive immersion in the unique outdoor environment that is the heartland of the South Island. Your experienced guide will discuss regional agriculture, history and culture as you travel around the edge of Lake Wakatipu, explore the Glenorchy region, and visit Dart Rivery Valley in Paradise. You will visit a High Country Station, a true New Zealand experience on a 15,000 acre sheep and cattle organic farm.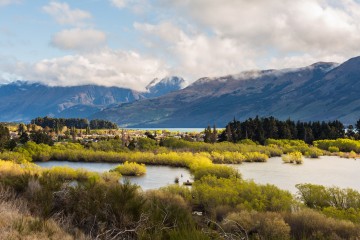 ---
Day 15 – Overnight Doubtful Sound
Depart Queenstown this morning for the township of Manapouri. Enjoy the scenic drive, climbing to the edge of Lake Wakatipu before travelling through lush farmlands to arrive at your destination. From Manapouri you will take a small boat cruise across the very scenic Lake Manapouri then will board a coach for a short and stunning traverse up and over the Wilmot Pass and down into Deep Cove on Doubtful Sound. At Deep Cove board the Fiordland Navigator to begin your overnight cruise. There really is no better way to experience a Sound in the Fiordland National Park, than to spend a night on it. The park is vast, encompassing over 1.2 million hectares, mountains, lakes, fiords and rainforests. The sound is rich in flora and fauna, home to several outstanding waterfalls, and humbling in its grandeur.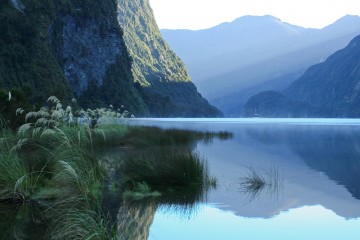 ---
Day 16 – Drive to Te Anau
Begin this day with further fiord exploration before you return to Deep Cove for the trip back to Manapouri. Upon completion of your overnight cruise make the brief drive into the township of Te Anau, where you will spend two nights. The quaint and peaceful township of Te Anau sits on the edge of Lake Te Anau, situated on the border of Fiordland National Park. 2 nights: Te Anau.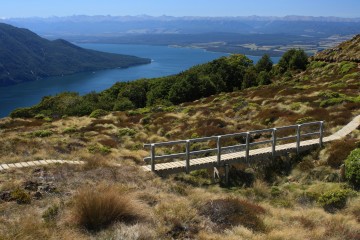 ---
Day 17 – Full day hike Routeburn Track
This morning embark on a full day guided hike along the renowned Routeburn Track. The walk ascends through lush, temperate rainforest on a well-maintained track. As you steadily climb, learn about the natural and human heritage of Fiordland from your knowledgeable guides. As you near your destination, emerge from the forest into the alpine environment, enjoying panoramic views of high snowy peaks, alpine lakes, and deep bush clad valleys. Note the abundant native bird life as you discover natural New Zealand at its finest.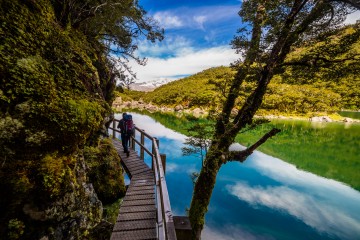 ---
Day 18 – Drive to Queenstown
Make your way to Queenstown today, enjoying the spectacular scenery along the Milford Road. Situated in the heart of the South Island, on the shores of Lake Wakatipu and surrounded by a beautiful mountain range, aptly named The Remarkables, Queenstown has been regularly rated as one of the world's top tourism destinations. It is known as the Southern Hemisphere's premier four-season alpine and lake resort. Today it's an exhilarating alpine locale, perfect for both adventurers and leisure seekers. We are excited to work with you customize your time in the area. 1 night: Queenstown.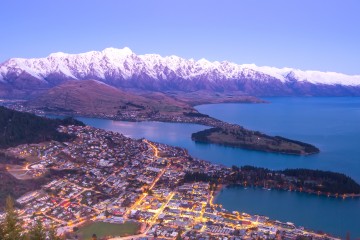 ---
Day 19 – Depart Queenstown and New Zealand for U.S.A.
Sadly your adventure has come to an end and it is time to say goodbye to New Zealand and depart for home. We hope you enjoyed your vacation!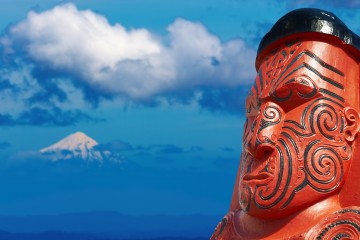 ---
Accommodation Options
19 Days Off the Beaten Path in New Zealand 
Following is a sample of accommodation options. Uniquely New Zealand has many hidden treasures in addition to these to share with you.
---
Auckland
Hotel De Brett – Hotel DeBrett's iconic building has been stylishly reinterpreted into a 25-room luxury boutique hotel. Every room is individually designed and complemented with eclectic furniture and New Zealand art and photography. At street level the colorful Cornerbar places an emphasis on local craft beers and boutique wines. See image.
Sofitel – Located in the heart of Auckland's thriving waterfront on the Viaduct Harbor, this luxury hotel offers a range of 172 premium room and suite options. Large windows and private balconies in every room provide plenty of light. The hotel also offers luxury spa services, an indoor lap pool and dining options in several in house venues.
Heritage – Set within one of the city's most recognizable historic landmark buildings, the Heritage offers a luxury hotel experience with a range of accommodation types available including one and two bedroom suites. Hectors Restaurant, located in the hotel's dramatic seven-story atrium, offers a locally sourced menu. Guests enjoy use of the hotel's beautiful rooftop swimming pool.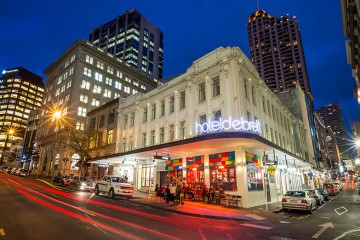 ---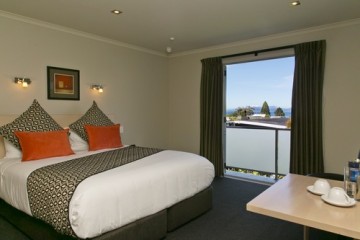 Taupo
Tauhara Sunrise Lodge – Tauhara is a boutique lodge accommodation situated above Lake Taupo with stunning lake and mountain views. The lodge offers two suite accommodations in addition to a luxury cottage for two. All accommodations boast lake views. Enjoy breakfast and happy hour on site.
Beechtree Suites – Beachtree Suites offers modern, self-contained boutique accommodation with easy access to Taupo's lakefront, restaurants, cafes and shops. 39 rooms are available, including luxury studios and two and three bedroom suites. Each room is equipped with a kitchenette and the yard is equipped with a guest BBQ. Beachtree is well suited to families and offers an outdoor play area with a trampoline and swings. Breakfast is available on site. See image.
---
Napier
The Farm at Cape Kidnappers – This spectacular luxury lodge is nestled amongst 6,000 acres of farmland set high above the sea in the beautiful Hawke's Bay, New Zealand. Cape Kidnappers offers four beautifully furnished suites with stunning views or fireplaces and a deluxe and spacious owners cottage suitable for up to 8 guests. Guests may enjoy the infinity pool and hot tub, spa treatments, golf course and more at Cape Kidnappers as well as thoughtfully prepared on site dining, which makes the most of local and seasonal ingredients. See image.
Breckenridge Lodge – Breckenridge Lodge offers luxury five star accommodation in a garden setting in Hawke's Bay. Each of Breckenridge Lodge's private guest rooms has a spectacular view overlooking a vineyard and rural landscape. Guests enjoy seasonal, local fare on site. The lodge's indoor and outdoor communal spaces provide a beautiful and relaxing environment.
Art Deco Masonic Hotel – This boutique Art Deco jewel is situated on the Napier waterfront with panoramic views of the Pacific Ocean. Centrally located, the hotel offers a choice of guestrooms, studios, suites and apartments to accommodate a variety of travelers' needs. The stylish Art Deco Masonic Hotel offers a choice of bar and dining options at the Emporium Eatery and Bar.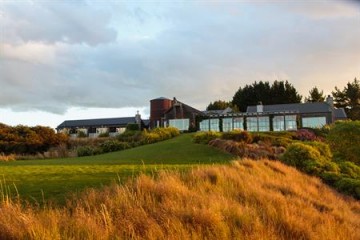 ---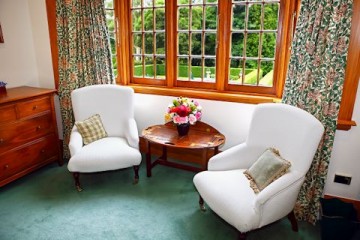 Blenheim
Lake Timara Lodge – Hidden away in New Zealand's most prestigious wine region, flanked by stunning hills and beautiful clear Sounds, Lake Timara Lodge offers a haven of tranquility and relaxation. This luxury lodge is nestled in 600 acres of pasture, a romantic lake, a beautiful English style park with beautiful lawns, native and exotic trees, a historic arboretum and extensive rose garden. So relax by the pool, stroll through the gardens or play a game of tennis. The lodge's own winery, Spa Valley Vineyard, is only a short stroll away for wine tasting. The lodge offers four beautifully furnished rooms, each with a picturesque view. See image.
French Fields Bed and Breakfast – This boutique accommodation is just five minutes from Blenheim and resides in fields of lavender and olives amongst Marlborough's renowned vineyards and wineries. Choose from three well appointed guest rooms and enjoy breakfasts made with homegrown produce as well as light evening platters and local wine. Enjoy a swim in the heated pool during a summer visit.
St. Leonards Vineyard Cottages – This historic homestead is a classic New Zealand farmhouse built and was once the focal point of a large farm complex. The views are wonderful and the settings private. The property's five lovingly restored, fully self-contained character cottages, are each positioned in their own private setting of gardens and trees. Guests enjoy use of the heated outdoor pool, lawn tennis court and petanque court.
---
Christchurch
Otahuna Lodge – Set in pastoral surroundings, Otahuna Lodge is an elegant Victorian mansion that offers its guests a unique luxury experience. New Zealand's largest private historic residence has been revitalized into a luxury accommodation. Each of Otahuna's seven suites offers refined comfort complete with ornate fireplaces and lavish bathrooms. Otahuna's cuisine celebrates the best of seasonal New Zealand produce, with an emphasis on fresh Otahuna estate-grown offerings. See image.
The George – This luxury boutique hotel is located in the heart of Christchurch overlooking the picturesque Hagley Park, just steps from the cultural precinct and key attractions. The George boasts two award-winning fine dining restaurants. A range of 53 stylishly designed rooms and suites are available, many of them with views over Hagley Park and the Avon River.
Orari B&B – This boutique B&B is ideally located in the heart of Christchurch within easy walking distance of Christchurch's cultural highlights. Featuring 10 beautifully appointed suites, this heritage listed grand Victorian home has been fully restored and refurbished. Queen and King suites are available and guests enjoy use of the elegant private lounge.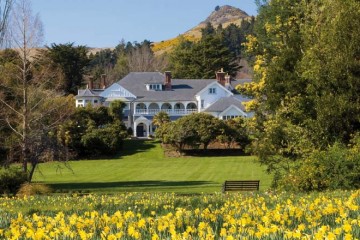 ---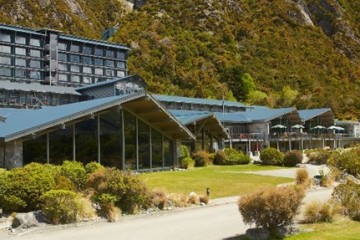 Mt. Cook, Aoraki
Hermitage Hotel – The Hermitage, located within Aoraki Mt Cook National Park, has a range of accommodation types available. Choose from premium hotel rooms or cozy chalets. The main hotel complex contains 164 rooms, while 20 Chalet self-contained units are located 200m away towards the village. The Hermitage Hotel offers in house dining options. Sww image.
---
Queenstown
Matakauri Lodge – Matakauri Lodge is an alpine lakeside retreat situated on Lake Wakatipu and only seven minutes from Queenstown. The main lodge offers accommodation in twelve luxurious guest rooms and suites; four suites are located within the main lodge with the remaining suites located in outlying cottages overlooking the lake. Each suite offers a private porch and open fireplace. The Owner's Cottage features four suites in a freestanding residence – it is ideal for families, couples or friends travelling together. Enjoy fine dining on site, a dip in the infinity pool, and a luxury spa experience. See image.
The Rees – This 5 star hotel sits on the shores of Lake Wakatipu and is just a short walk from Queenstown's town center. With panoramic lake and alpine views, the Rees offers a variety of luxurious and spacious accommodation options including 60 hotel rooms and 90 luxurious apartments, all with private balconies to take advantage of the spectacular views. Enjoy fine dining in the hotel's dining room or bar and enjoy a personalized spa service.
Queenstown Country Lodge –Queenstown Country Lodge is located in New Zealand's Southern Lakes region, a rural setting close to Queenstown. The Lodge is set on 11 acres of secluded gardens and farmland and surrounded by mountains. Accommodation is available in 5 beautifully appointed guest rooms with pastoral views. Enjoy meals at the lodge and easy access to the area's highlights.
The Dairy Hotel – This private luxury hotel is a quiet escape located in the center of Queenstown. Situated just a one minute walk from the Queenstown town center, The Dairy greets guests with an open fire in the communal lounge, an outdoor spa, delicious cooked breakfasts and home made afternoon teas. 13 guest rooms are available, each with a different view of Queenstown and the surrounding area.
---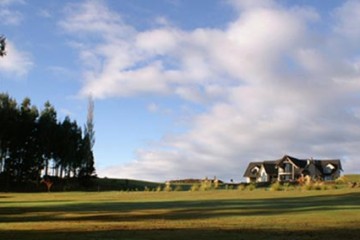 Te Anau
Fiordland Lodge – Situated only five kilometers from the township of Te Anau, the lodge has commanding views across Lake Te Anau and provides a luxurious base from which to explore Milford and Doubtful Sounds and Fiordland National Park. 10 luxurious guest rooms in the lodge and two separate self-contained loft-style log cabins provide accommodation for a maximum of 29 guests. Each room features views of the surrounding Fiordland landscape. Enjoy fine dining on site.
Dock Bay Lodge – This luxury Lodge is locate just five minutes from Te Anau, and an easy walk to the Fiordland National Park and the Kepler Track. Guests enjoy spacious and comfortable communal areas with spectacular lake and mountain views. The five well appointed guest suites are soundproofed to ensure peace and privacy. See image.
Dunluce B&B – This luxury Te Anau B&B offers four guest rooms overlooking Lake Te Anau and the mountains of Fiordland National Park. Each room has been designed to maximize the view. Breakfast is available on site.
---
Activity Options
19 Days Off The Beaten Path in New Zealand 
Following are guided touring suggestions that would work with your 19 Days off the Beaten Path itinerary on days where activities have not yet been suggested. These options can be private, small group or large group. For a more personalized experience we suggest at least a small group tour, which are usually 12 or fewer people. Some touring options are half day and many require a full day.
---
Auckland
Auckland City Sightseeing – Learn about the City's history and discover a variety of scenery on an introductory half or full day, private, small group or coach tour. See Auckland's highlights before driving across the Auckland Harbor Bridge to visit Devonport, the picturesque old North Shore village with wonderful views back to the city. A full day tour includes a trip the Waitakere Ranges, an ancient rainforest home to rare native flora, fauna, and towering native trees.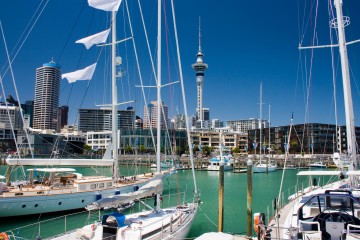 ---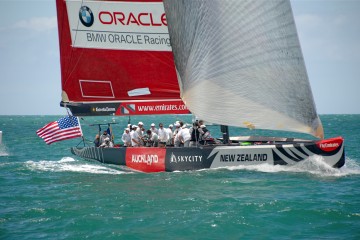 Sailing or Cruising on the Waitemata Harbour, Auckland – The Auckland America's Cup Sailing Experience is a unique opportunity to participate as crew on an actual America's Cup yacht. Take the helm, man the grinders or simply sit back and enjoy the ride as you sail the beautiful Waitemata Harbour.   Or simply cruise onboard a comfortable vessel showcasing the highlights of the harbor and beyond.
---
City Walking Tours, Auckland – Enjoy a walking tour of the city, with a culinary twist, as locals show you the vibrant side of the city. You will be introduced to three of the city's most vibrant inner city foodie locations: the eclectic Britomart precinct, the beautiful Viaduct Harbor and the revitalized Wynyard Quarter.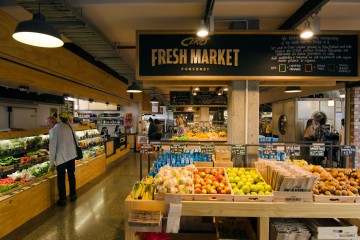 ---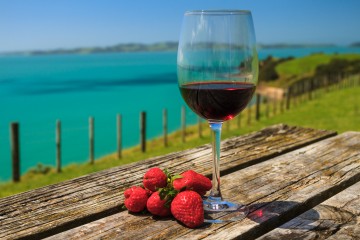 Waiheke Island, Auckland – A trip to Waiheke showcases this magnificent island in the Hauraki Gulf. Art, wine, and scenic beauty allow Waiheke's idyllic surroundings to deliver the perfect environment for the ultimate wine tasting experience. Start with a picturesque 35-minute ferry ride to Waiheke to meet your local guide. Choose from a range of tours, which can include wineries, visiting artists or taking in the scenic highlights of the island.
---
Auckland Wilderness Experience – Just 30 minutes from downtown Auckland brings you to the Arataki Centre. Absorb the local history and admire the traditional Maori carvings that stand guard there, before heading west to experience the black sand of the West Coast beneath your feet as you stroll along some of the most awe-inspiring beaches. With experienced guides your eco-tour continues on to lush rainforest where you will hear native birdsong as you walk amongst New Zealand's famous kauri trees and giant tree ferns.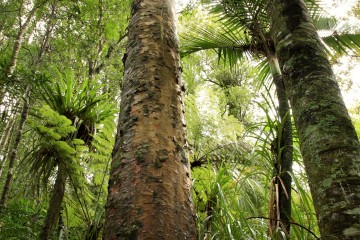 ---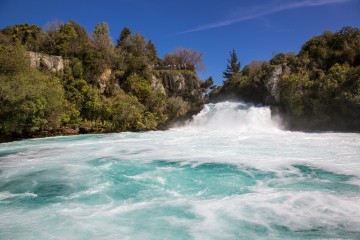 Taupo
The Huka Falls, Taupo – At the Huka Falls, the Waikato River, which is normally 100m wide, is squeezed through a 20 metre wide gorge and over a 20m drop. Every second up to 220,000 litres of water gushes through the gorge and shoots out over 8 metres beyond to create a beautiful blue/green pool. The name Huka is the Maori word for 'foam', which is appropriate as the falling water and rapids certainly resembles foam, especially under flooding conditions.
---
Lake Taupo Maori Carvings, Taupo – Take a boat cruise around the northern bays of Lake Taupo to visit Maori Rock Carvings. The tour will explore Lake Taupo's beautiful coastline while learning about the region's incredible volcanic creation and the area's local history and Maori mythology. The Maori Rock Carvings are over 10 meters high and are only accessible by boat. Sea Kayaking will allow you to get up close to the carvings to study their detail.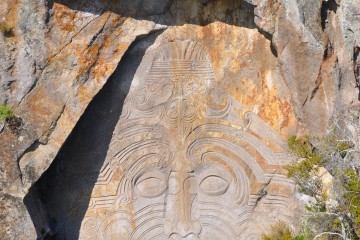 ---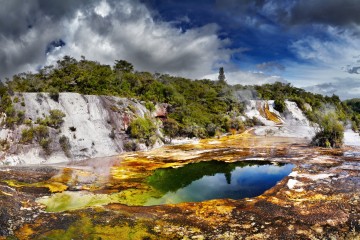 Hidden Valley of Orakei Korako Cave/Thermal Park, Taupo – Situated 20 minutes north of Rotorua and nestled on the shores of Lake Ohakuri lies "The Hidden Valley" of Orakei Korako Cave and thermal park. This isolated wilderness attraction is a valley of unbelievable color, bubbling hot springs and gushing geysers preserved by its isolation from the outside world. Orakei Korako boasts the most active geyers of any thermal park in New Zealand.
---
Taupo Sights – This half day tour provides an excellent 'snapshot' of the attractions and sights around Taupo.  You will hear the story of Taupo's volcanic history, Taupo town and the lake and the mountains of Tongariro National Park. Attractions visited include: Taupo's lake front and marina, Huka Falls, Craters of the Moon, Honey Hive, Geothermal Borefield, and the Aratiatia Rapids.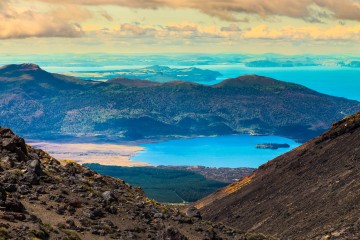 ---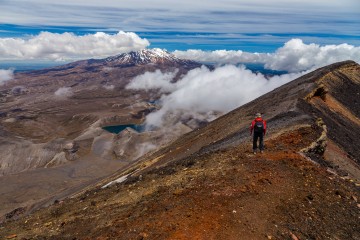 Tongariro Crossing Full Day Guided Hike, Taupo – The scenic Tongariro Alpine Crossing leads visitors up to the Mt Tongariro and Mr Ngauruhoe Saddle and then up the side of Tongariro to the famous Red Crater Summit before descending through emerald green alpine lakes and native forest. This beautiful hike, which takes about 7 hours, requires a reasonably good level of fitness but no alpine experience is necessary.
---
Back to NEW ZEALAND Sample Itineraries
> 19 Days Off the Beaten Path in New Zealand – Sample Itinerary
Highlights of 19 Days Off the Beaten Path in New Zealand:
Auckland, Waitomo Caves, Taupo, Napier and Hawke's Bay, Blenheim, Marlborough, Christchurch, Mount Cook, Tasman Glacier, Doubtful Sound, Te Anau &QueenstownBlurb for photo box and include as first paragraph in Overview:
Off The Beaten Path in New Zealand in 19 Days offers an unparalleled experience of many of New Zealand's most iconic natural wonders and an introduction to several of her most beloved cities. Start in Auckland, the "City of Sails," travel to Waitomo for a unique and breathtaking cave experience, then head to Taupo, situated on the lake shore. Travel to Napier in celebrated Hawkes Bay and on to Blenheim and an exploration of Queen Charlotte Sound. Enjoy your time in the world-renowned Marlborough wine region then on to Christchurch, followed by the Mt. Cook area. Experience an overnight cruise in Fiordland'sDoudbtful Sound then on to Te Anau for a trek on the iconic Routeburn Track. Finish your adventure in adventure-laden Queenstown before returning to the U.S.A.Trip at a Glance:
Day 1: Arrive in Auckland
Day 2: Full Day Auckland
Day 3: Drive to Taupo via Waitomo Caves
Day 4: Full day Taupo
Day 5: Full day guided fishing
Day 6: Drive to Napier
Day 7: Full day self guided winery cycle tour
Day 8: Fly to Blenheim
Day 9: Full day guided kayak and walk
Day 10: Full day Marlborough Tour
Day 11: Train to Christchurch
Day 12: Drive to Mt Cook
Day 13: Glacier Cruise, Drive to Queenstown
Day 14: Full day Paradise Discovery Tour
Day 15: Overnight Doubtful Sound
Day 16: Drive to Te Anau
Day 17: Full day Routeburn Track
Day 18: Drive to Queenstown
Day 19: Depart Queenstown, return to U.S.A.Trip Highlights:
Discover the rich cultural melting pot that is Auckland, the "City of Sails"
Explore New Zealand's famed and unique Waitomo Caves
Fly fish Lake Taupo's pristine waters
Experience Hawke's Bay's famed wine country by bike
Explore the beautiful Queen Charlotte Sound afoot and by kayak
Take a full day tour of the world renowned wine mecca, Marlborough
Enjoy a scenic train ride to Christchurch
Visit Mount Cook and enjoy a cruise around the Tasman Glacier
Learn about the regional agriculture, history, and culture of the South Island's heartland on a full day Paradise Discovery Tour
Experience Fiordland's Doubtful Sound on a scenic overnight cruise
Spend a day hiking the world-renowned Routeburn track with experienced guides