Overview
14 Days New Zealand North to South
Sample Itinerary
Following is a sample itinerary that can be customized just for you.
---
North to South in 14 Days offers the best of the North and South Islands in two weeks while experiencing New Zealands' most prized natural experiences. Begin in the vibrant cultural melting pot of Auckland, travel to Matamata to immerse yourself in Lord of the Rings with a Hobbiton Movie Set Tour, then continue on to Rotorua. Explore White Island, an active volcano, by helicopter and afoot, then take a walk through the ancient native Whirinaki Forest. Discover the mountain village of Arthurs Pass and spend a day exploring the iconic Franz Josef Glacier by helicopter and by foot. Enjoy the wild beauty of Lake Moeraki and Discover the Routeburn Track, Milford Sound, and classic Queenstown.
Trip at a Glance
Day 1: Arrive Auckland / 1 night: Auckland
Day 2: Drive to Matamata, Hobbiton Movie Set Tour, Drive to Rotorua / 3 nights: Rotorua
Day 3: White Island and Mount Tarawera Heli Tour
Day 4: Full day Whirinaki Forest Walk
Day 5: Fly to Christchurch, Drive to Arthurs Pass / 2 nights: Arthurs Pass
Day 6: Full day Arthurs Pass
Day 7: Drive to Franz Josef / 2 nights: Franz Josef
Day 8: Helicopter Hike, Drive to Lake Moeraki / 2 nights: Lake Moeraki
Day 9: Full day Lake Moeraki
Day 10: Drive to Queenstown / 4 nights: Queenstown
Day 11: Full day Routeburn Track Walk
Day 12: Full day Milford Sound Tour, cruise & fly
Day 13: Full day Queenstown
Day 14: Return to U.S.A.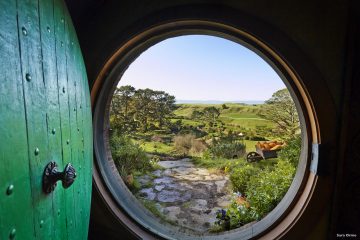 ---
Trip Highlights
Explore the waterfront city of Auckland, the "City of Sails"
Immerse yourself in in The Lord of the Rings with an in depth guided tour of the Hobbiton Movie Set Tour
Take a helicopter ride to New Zealand's only permanently active volcano, White Island, and explore on foot
Explore the ancient and magical Whirinaki native forest
Spend a day experiencing mountainous Arthurs Pass
Enjoy a helicopter hike of the prized Franz Josef glacier
Immerse yourself in Lake Moeraki's native wonderland
Enjoy a full day guided trek on the famously scenic Routeburn Track
Take a full day guided tour of Milford Sound including a cruise and scenic flight, all showcasing the natural beauty and drama of the sound and fjord.
Explore the exhilarating alpine resort of Queenstown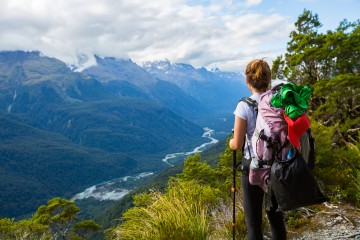 ---
Detailed Itinerary
14 Days New Zealand North to South
Sample Itinerary
Following is a sample itinerary that can be customized just for you.
---
Day one – Arrive Auckland

Kia Ora and welcome to Auckland! This "City of Sails," nestled up to the harbor and surrounded by native rainforest, is the most populous city in the country. European, South Pacific and Asian cultural influences as well as strong indigenous Maori heritage contribute to the rich melting pot that shapes Auckland's fantastic dining, shopping, and touring experience.  We look forward to helping you customize your Auckland experience. 1 night: Auckland.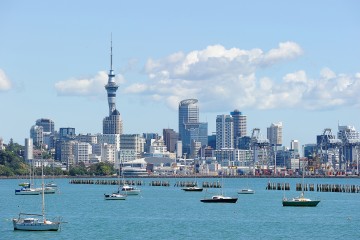 ---
Day two – Drive to Matamata – Hobbiton Movie Tour Set, Drive to Rotorua

This morning you will leave Auckland heading south to Matamata and the Hobbiton Movie set. Matamata is the quiet dairy town, which shot to stardom as Hobbiton in Peter Jackson's famous film, Lord of the Rings. Enjoy a Hobbiton tour, which will show you the original Hobbitopn movie set and recount fascinating details of how the 10 acre site was created. Structures created for The Lord of the Rings and The Hobbit film can be viewed as you learn how this beautiful piece of farmland was transformed into The Shire. From Middle Earth, continue the scenic drive south to Rotorua.
With its unique volcanic landscape, living Maori culture, natural hot springs and plenty of options for outdoor activities and adventure, Rotorua is one of New Zealand's most famous destinations, located in the heart of the North Island. Rotorua is one place where the turbulent forces that formed New Zealand are most evident. This city, on the Volcanic Plateau, has one of the world's most lively fields of geothermal activity and sits squarely on the Pacific Rim of Fire. Rotorua is also the ancestral home of the Te Arawa people who settled here more than 600 years ago and their presence offers the visitor numerous cultural experiences. 3 nights: Rotorua.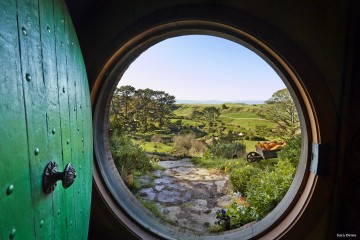 ---
Day 3 – White Island Helicopter Tour
Today you will experience the thrill of a helicopter tour of White Island. Upon leaving the Rotorua city lakefront and experiencing a scenic flight north over the lakes district, you will actually land on White Island, New Zealand's only permanently active volcano, and enjoy a leisurely guided tour of the island's crater floor to view active steam vents, hot streams, vibrant sulphur formations, and the steaming crater itself.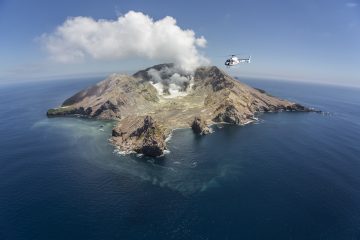 ---
Day 4 – Full day Whirinaki Forest Walk
Enjoy a full day guided walk through the wonderful Whirinaki native forest. Amazingly tall trees, rushing rivers, a wide variety of wild habitants and a fascinating past combine to create Whirinaki Te Pua-a-Tāne Conservation Park. This was one of New Zealand's most famous conservation battlegrounds, where people actively fought to save a magnificent native podocarp forest. Today Whirinaki's beauty is protected for everyone to enjoy.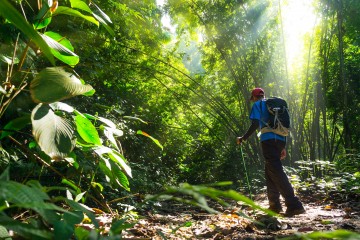 ---
Day 5 – Fly to Christchurch, Drive to Arthurs Pass
This morning you will catch a flight to Christchurch, then continue your journey by car to Arthurs Pass, the highest pass over New Zealand's Southern Alps. The scenic drive through the expansive Canterbury Plains and up into the foothills of the Southern Alps is truly breathtaking as you travel over a mountain pass, across a river, past lakes, ski fields and unique geological features. Arthur's Pass Village is your halfway point to the West Coast. 2 nights: Arthurs Pass.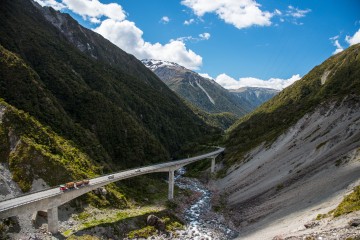 ---
Day 6 – Full Day Arthurs Pass
This day is free to relax and explore the beautiful Arthurs Pass area. We are excited to help you tailor your activities to best suit your interests.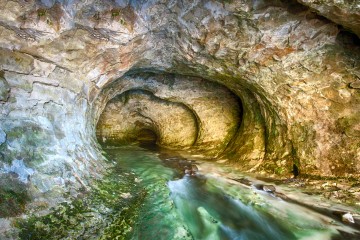 ---
Day 7 – Drive to Franz Josef

Depart Arthurs Pass and travel west and south to the glacier township of Franz Josef. Stop in Hokitika along the way to watch Maori artisans carve Pounamu (Jade) into Maori artifacts and jewelry. Continue the scenic route to Franz Josef on the South Island's West Coast.
West Coast – New Zealand's longest region – is a narrow 600km stretch of wild coastline, mountain peaks, glaciers, clear lakes and sparsely populated towns. This immense untamed natural environment is New Zealand's most protected region. Native wildlife and vegetation flourishes along the coastline, in rain forests and up onto the icy slopes of the Southern Alp. The magnificent Franz Josef Glacier is widely regarded as the gem of New Zealand's West Coast Glaciers, and the town of Franz Josef is the perfect spot to explore both the glacier and further afield. 1 night: Franz Josef.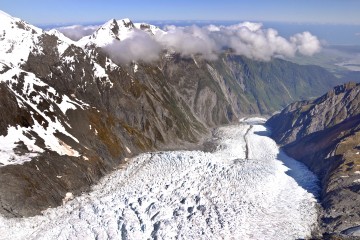 ---
Day 8 – Helicopter Hike, Drive to Lake Moeraki

This morning enjoy a helicopter hike on the spectacular Franz Josef Glacier. After an exciting scenic flight, you will land high up on the glacier and undertake a two hour guided hike amongst some of the most pristine and awe-inspiring glacier scenery available. Make your way through a wonderland of towering pinnacles and brilliantly blue ice. Enjoy panoramic views of the surrounding mountains while learning about this magnificent glacier from your knowledgeable guides.
On completion of your helicopter hike depart Franz Josef and continue south along the West Coast through old growth rainforests and past bush fringed lakes. Lake Moeraki's remote location is one of its best features, allowing for full immersion in in one of New Zealand's most pristine natural settings. 2 nights: Lake Moeraki.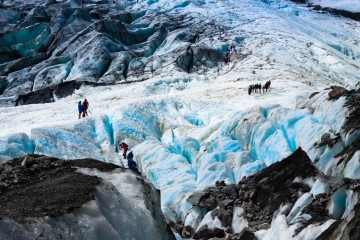 ---
Day 9 – Full day Lake Moeraki
Enjoy a full day exploring and experiencing all that Lake Moeraki has to offer. We look forward to working with to find the right mix of nature, adventure, and leisure activities to enhance your stay.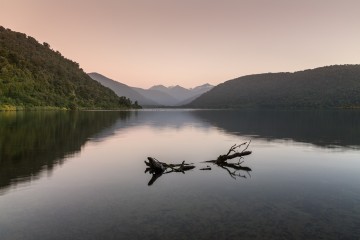 ---
Day 10 – Drive to Queenstown
Depart for Queenstown today and enjoy the spectacular scenery on this beautiful drive. Take in the sensational views atop Haast Pass and through the Crowne Range before dropping into Queenstown. Situated in the heart of the South Island, on the shores of Lake Wakatipu and surrounded by a beautiful mountain range, aptly named The Remarkables, Queenstown has been regularly rated as one of the world's top tourism destinations. It is known as the Southern Hemisphere's premier four-season alpine and lake resort. Queenstown was named because "it was fit for Queen Victoria." Certainly it's lived up to that expectation. Today it's an exhilarating alpine locale, perfect for both adventurers and leisure seekers. 4 nights: Queenstown.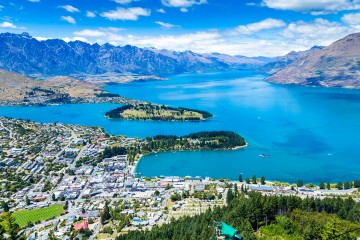 ---
Day 11 – Full day Routeburn Track Walk

This morning embark on a day-long guided walk on the renowned Routeburn Track. This great walk in Mount Aspiring National Park leads you through a 130 million-year-old magical world of ferns, mosses, lichens and beech forest. Immerse yourself in the grandeur of alpine meadows, meandering streams and majestic snow capped mountains. Note the abundant native bird life as you discover natural New Zealand at its finest.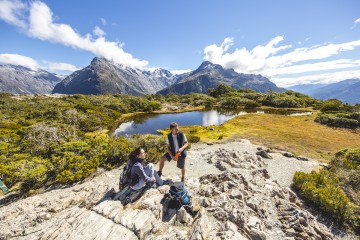 ---
Day 12 – Full Day Milford Sound Tour, Cruise, Fly
Spend the day discovering beautifully rugged Milford Sound with a full day guided tour and cruise. Learn about this world heritage destination from your knowledgeable guides as you travel from Queenstown through productive northern Southland farmland with sheep, cattle and deer on the route to Te Anau. On arrival at Milford Sound, enjoy a cruise on the fjord and enjoy your time aboard viewing wildlife and the towering cliffs, peaks, cascading waterfalls and lush rainforest that make the sound famous. On completion of your cruise, board a small aircraft for an awe-inspiring scenic flight over Fjordland's glacial lakes, waterfalls, deep valleys and cloud-piercing summits.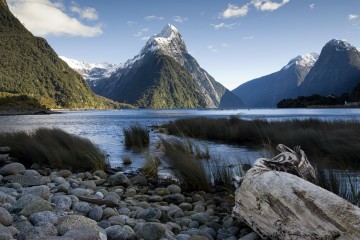 ---
Day 13 – Full day Queenstown
Spend today relaxing and exploring the region, which has so much to offer. We are excited to customize your Queenstown activities to best suit your interests.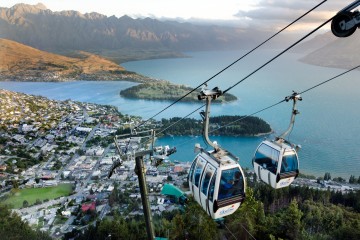 ---
Day 14 – Depart Queenstown and New Zealand for U.S.A.
Your New Zealand adventure has come to an end. We hope you enjoyed your time in this beautiful country!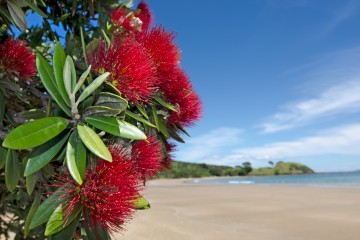 ---
Accommodation Options
14 Days New Zealand North to South
Following is a sample of accommodation options. Uniquely New Zealand has many hidden treasures in addition to these to share with you.
---
Auckland
Sofitel – Located in the heart of Auckland's thriving waterfront on the Viaduct Harbor, this luxury hotel offers a range of 172 premium room and suite options. Large windows and private balconies in every room provide plenty of light. The hotel also offers luxury spa services, an indoor lap pool and dining options in several in house venues.
Hotel De Brett – Located in Central Auckland, Hotel DeBrett's iconic building has been stylishly reinterpreted into a 25-room luxury boutique hotel. Every room is individually designed and complemented with eclectic furniture and New Zealand art and photography. The famous Housebar has been meticulously restored and a glass roofed atrium and courtyard form the central focal point for guests and diners at DeBrett's Kitchen. At street level the colorful Cornerbar, with a touch of NZ retro has an emphasis on local craft beers and boutique wines. See image.
Heritage – Set within one of the city's most recognizable historic landmark buildings, the iconic Farmers department store building, the Heritage offers a luxury hotel experience with a range of accommodation types available including one and two bedroom suites. Hectors Restaurant, located in the hotel's dramatic seven-story atrium, offers a locally sourced menu. Guests enjoy use of the hotel's beautiful rooftop swimming pool.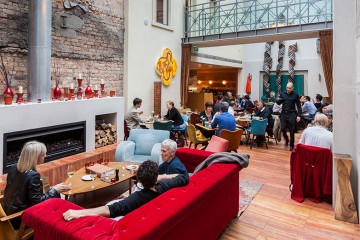 ---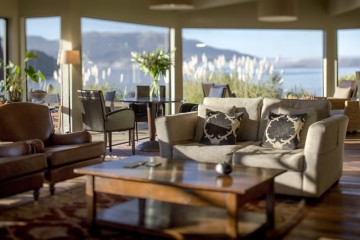 Rotorua:
Solitaire – Solitaire Lodge Rotorua offers secluded luxury accommodation and attentive hosting from a spectacular lakeside location. Minutes from this resort you will find myriad activities including secluded hot water beaches, natural thermal hot springs, and world class trout fishing. All 10 luxury suites feature panoramic views of the lake and volcano through large picture windows. Experience luxury massage treatments and enjoy contemporary New Zealand cuisine prepared on site. See Image.
Wildwood Lodge – Wildwood Lodge offers lakeside luxury lodging set in five acres of magnificent landscaped gardens on the shores of tranquil Lake Rotoehu. The lodge caters to a maximum of six guests and each of the accommodation options are equipped with private balconies, a waterfront setting and lake views. Enjoy drinks at the bar and fine dining prepared on site.
Regent of Rotorua – This boutique hotel offers stylish accommodation in Rotorua with a restaurant and bar on site. Accommodation options include a range of guest rooms, studio rooms, boutique suites and two bedroom suites (which work well for families). Enjoy an outdoor heated swimming pool, thermal mineral pool and spa.
---
Arthurs Pass
Arthurs' Pass Wilderness Lodge – Midway between Christchurch and the South Island's West Coast, the Wilderness Lodge Arthur's Pass is set on a 6000 acre sheep farm and nature reserve surrounded by the mountains of Arthur's Pass National Park. Stylish accommodation, excellent food and a fascinating program of nature discovery combine to create the very special Wilderness Lodge experience. With a total of 24 rooms available, guests may choose either an Alpine View Mountain View room. Rooms with interconnecting doors are available for families. Enjoy on site dining with care taken to highlight local and seasonal ingredients. See image.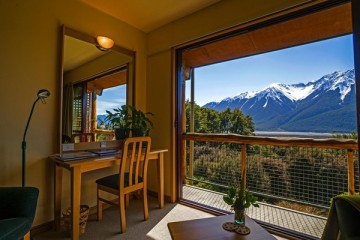 ---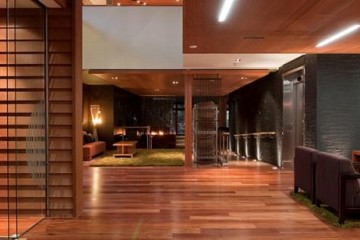 Franz Josef
Te Waonui Forest Retreat, Franz Josef – Te Waonui Forest Retreat is a luxury haven set deep in New Zealand's pristine wilderness. Te Waonui is at the forefront of sustainable accommodation – natural lighting is abundant and sustainable materials have been used wherever possible. Luxury guest rooms are located in four separate accommodation wings, all linked by covered walkways. Enjoy fine dining on site and consider a luxury spa treatment. See Image
Westwood Lodge, Franz Josef – Westwood Lodge B&B is nestled in the heart of New Zealand's spectacular Glacier Country, minutes from the Southern Alps and Westland National Park. Accommodation is available in luxury guest rooms. Comfortable communal areas offer rainforest and mountain views. Breakfast is available on site and guests enjoy use of the lodge's billiards room.
Holly Homestead B&B, Franz Josef – Built using native Rimu timber, Holly Homestead is an excellent example of beautifully refurbished "Arts & Crafts" architecture mixed with casual country chic. Choose from a selection of four well-appointed guest rooms and enjoy breakfast in a country kitchen with views of the Southern Alps and the Franz Josef Glacier Neve. No children under 12.
---
Lake Moeraki
Lake Moeraki Wilderness Lodge – This Wilderness Lodge is set in a pristine environment of rainforests, beaches, lakes and rivers in the heart of New Zealand's South West World Heritage Area, Te Wahipounamu. Choose between Riverview, Rainforest, or Garden rooms and enjoy dining in the Riverside Restaurant. Lake Moeraki is a dream destination for nature lovers and those wanting to experience the very best of wild New Zealand.
Mahitahi Lodge – This boutique lodge is located approximately 500 metres from the beautiful Bruce Bay Beach, and just 40 minutes from Fox Glacier. Accommodation is available in three guest rooms, one of which has a sofa bed and can be used as a family unit. Enjoy breakfast at the lodge and, if you choose, also enjoy a dinner experience. Guests may choose to enjoy a soak in the hot tub after a day spent exploring. See image.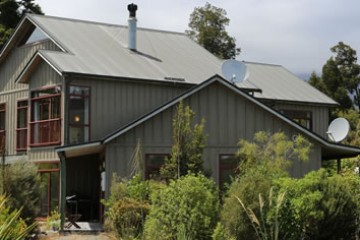 ---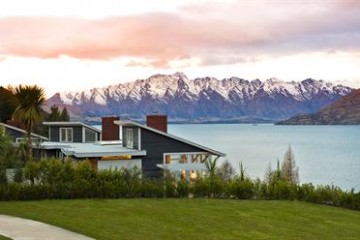 Queenstown
Matakauri Lodge – Matakauri Lodge is an alpine lakeside retreat situated on Lake Wakatipu and only seven minutes from Queenstown. The main lodge offers accommodation in twelve luxurious guest rooms and suites; four suites are located within the main lodge with the remaining suites located in outlying cottages overlooking the lake. Each suite offers a private porch and open fireplace. The Owner's Cottage features four suites in a freestanding residence – it is ideal for families, couples or friends travelling together. Enjoy fine dining on site, a dip in the infinity pool, and a luxury spa experience. See image.

Queenstown Country Lodge –Queenstown Country Lodge is located in New Zealand's Southern Lakes region, a rural setting close to Queenstown. The Lodge is set on 11 acres of secluded gardens and farmland and surrounded by mountains. Accommodation is available in 5 beautifully appointed guest rooms with pastoral views. Enjoy meals at the lodge and easy access to the area's highlights.

Queenstown Park Hotel – This centrally located 5 star luxury Queenstown boutique hotel offers easy access to the town center and views from every room and suite. 19 stylish rooms are available, each with a kitchenette – choose from a variety of guest rooms and a self-contained penthouse suite. Enjoy breakfasts and pre-dinner drinks and canapés on site.
The Rees – This 5 star hotel sits on the shores of Lake Wakatipu and is just a short walk from Queenstown's town center. With panoramic lake and alpine views, the Rees offers a variety of luxurious and spacious accommodation options including 60 hotel rooms and 90 luxurious apartments, all with private balconies to take advantage of the spectacular views. Enjoy fine dining in the hotel's dining room or bar and enjoy a personalized spa service.
---
Activity Options
14 Days New Zealand North to South 
Following are guided touring suggestions that would work with your 14 Days New Zealand North to South itinerary on days when activities have not yet been suggested. These options can be private, small group or large group. For a more personalized experience we suggest at least a small group tour, which are usually 12 or fewer people. Some touring options are half day and many require a full day
---
Arthurs Pass
Most Arthur's Pass activities will be booked upon arrival at your Lodge accommodation and cannot be pre-booked. However, many wonderful activities are on offer, including guided hiking, kayaking, mountain biking, and driving tours. Consider fly-casting lessons, trout fishing trips, horse riding tours, scenic flights, golf, and hunting and shooting trips.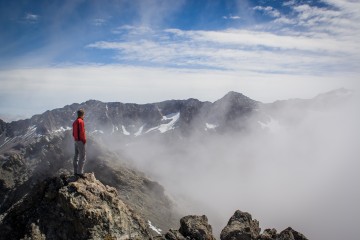 ---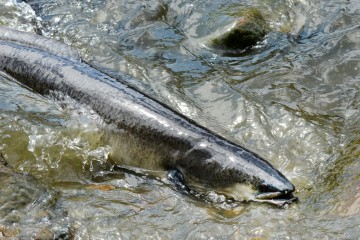 Lake Moeraki
Many wonderful activities are on offer at Lake Moeraki including private or small group trips. At Lake Moeraki some trips are timed to fit around weather conditions and tides. Consider guided coastal walks to view fur seals, penguins and Hectors dolphins. A Moeraki Rainforest Walk allows visitors to view unique birdlife and orchids. A kayak and coast discovery tour is a great way to experience this wild and unique coastline. See glowworms in the rainforest and hand feed freshwater eels in the Moeraki River.
---
Queenstown
Dart River Wilderness Safaris, Queenstown – This tour takes visitors on an exhilarating 1 ½ hour jet boat journey through the Dart River's braided river system – taking in the dramatic scenery of snow capped mountains, ancient native forest, waterfalls and glacial valleys. Your safari includes an easy 30-minute guided trail walk where you will encounter ancient native beech forests and unique flora and fauna. Journey by 4WD coach via a scenic back-road route and stop to view scenery that has formed the epic backdrop for many international films, including Lord of the Rings.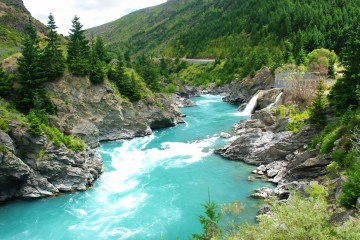 ---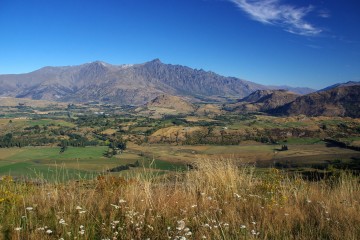 Paradise Tour, Queenstown – This personal small group tour takes you through the spectacular Paradise Valley with opportunities to take short walks in this impressive landscape. The mountain views are outstanding as you travel around the edge of Lake Wakatipu – find out why this tour is called the "Queensland Lord of the Rings Tour." Visit Dart River Valley in Paradise, the ultimate photography location. In the afternoon visit a High Country Station – a true New Zealand experience on a 15000 acre organic sheep and cattle farm. Visitors have the option to experience a jet boat ride returning to Queenstown.
---
High Country Discovery Tour, Queenstown – This half-day 4WD tour provides exclusive access to Mt Earnshaw Station, a 130-year-old working farm set in the spectacular alpine environment of the Paradise Valley. See sheep being shorn at an operational woolshed before moving on to view a number of Lord of the Rings and Hobbit movie locations. A visit to Glenorchy village, established in 1864, completes this tour.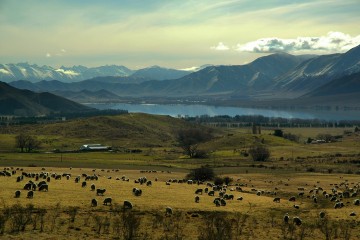 ---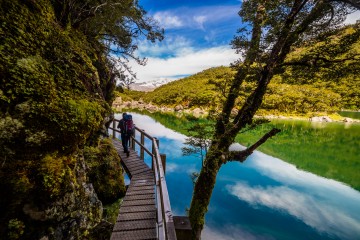 Routeburn Track One-Day Guided Hike, Queenstown – Hike a portion of the world famous Routeburn Track set among towering ancient beech trees and blankets of moss and fern. This portion of the track climbs gradually, skirting the thundering Routeburn River, before arriving at the rich grassland of Routeburn Flats, then continues through more alpine forest and a vast alpine meadow to the Harris Saddle, some 1300 metres above sea level. High up in the clear mountain air a 360-degree view looks out along the Hollyford Valley to the Tasman Sea.
---
Wine Touring, Queenstown – Enjoy full or half day guided wine tours from Queenstown, with great scenery, gourmet food and the finest wine. Visit quieter parts of Central Otago and immerse yourself in the culture of wine, food and beautiful open spaces that people so often miss on a short visit to Queenstown. The principal varieties are Pinot Noir, Riesling, Gewurztraminer, Pinot Gris and Chardonnay, all producing excellent and award winning wines.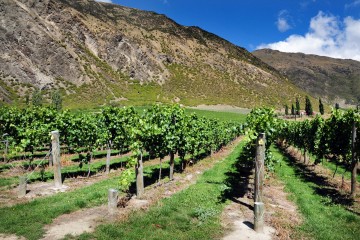 ---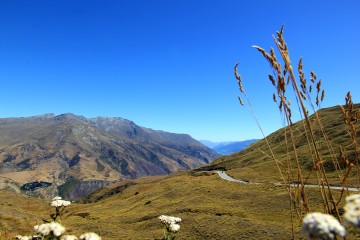 4wd Photograph Safari, Queenstown – Join award-winning photographers for an unforgettable photographic experience of some of the most amazing scenery in the world.   They've scouted out the best "off the beaten track" landscape photography locations and have created four incredible 4WD photo safaris suitable for all levels of photography. From a half-day photographing the lush Paradise Valley (a film maker's favorite) to a full day in the rugged Nevis Valley, your guides will take you to the best locations at the best time of day and provide expert tuition to help you capture incredible images whilst there.
---
Queenstown Scenic Flights – New Zealand is a land of spectacular contrasts, and Queenstown's landscape changes from the woven greens and golds of the plains to jagged, snow-capped Alps in just minutes. There are a wide variety of flights to provide insight into this spectacular region. Fly in the latest helicopters available, with interpretive excursions that incorporate Queenstown, Milford Sound and the Fiords of southern New Zealand.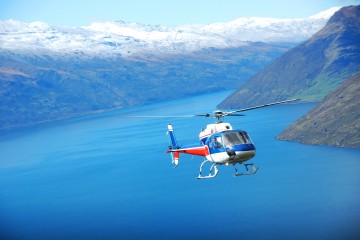 ---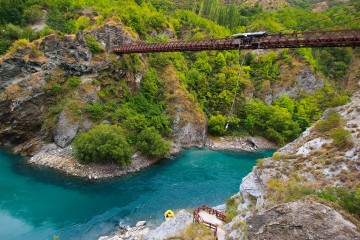 AJ Hackett Bungy, Queenstown – The world's first commercial bungy jump opened at the Kawarau Bridge in Queenstown in 1988. Twenty-eight people that day paid to leap off the 43 metre bridge with a bungy cord attached to their ankles. Now, just over 500,000 people from all around the world have jumped from the four sites AJ Hackett Bungy operates around Queenstown. The latest bungy site, Nevis Highwire opened in July 1999 and is the highest jump in New Zealand.
---
Queenstown Combos – These combos range from sightseeing outdoor experiences to total 'full on' adventure packages and give you far better value than individually purchased trips.
Kawarau River Combos – the mighty Kawarau River is a great place to get an introduction to adventure, Queenstown style. From options of jetboating to rafting to a gondola ride, the Kawarau Combos are a great option for everybody.
Shotover River Combos – Get familiar with the Shotover River. Set amongst the rugged beauty and unspoiled grandeur of Skippers Canyon, this river is famous for its gold and adventure. Options range from jetboating, rafting and canyon swings to Gondola ride.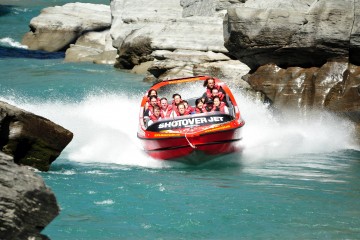 ---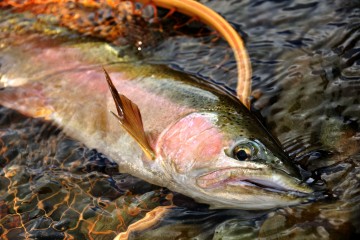 Fly Fishing, Queenstown – Access pristine, out of the way fishing grounds via power boat, 4WD vehicles and helicopter for wilderness fly fishing. The Queenstown area offers some of the world's best dry-fly fishing in unbelievable clear water, which is habitat for brown and rainbow trout. The prime fly fishing season is October through May with spin and troll fishing available in the lakes all year.
---
Back to NEW ZEALAND Sample Itineraries
> 14 Days New Zealand North to South – Sample Itinerary