Overview
14 Day New Zealand Family Adventure
Sample Itinerary
Following is an overview of the above itinerary. We look forward to working with you to create a customized trip.
---
Experience New Zealand's highlights in an action packed itinerary designed for families. Begin your journey in America's Cup style on Auckland's waterfront before heading south to Waitomo for a caving and rafting experience, then on to Rotorua for more eco adventures and cultural interaction. Travel to the South Island for outdoor exploration at Abel Tasman and Kaikoura then on to Christchurch followed by the wild West Coast and Franz Josef Glacier. Continue on to Queenstown for more exhilarating eco adventure and urban exploration.
Trip at a Glance
Day 1: Arrive Auckland, America's Cup sailing experience / 1 night: Auckland
Day 2: Drive to Rotorua via Waitomo, black water rafting / 2 nights: Rotorua
Day 3: Rotorua canopy experience, wet zorbing, cultural experience & hangi
Day 4: Fly to Nelson, Drive to Abel Tasman / 2 nights: Abel Tasman
Day 5: Full day kayak & walk trip
Day 6: Drive to Kaikoura / 2 nights: Kaikoura
Day 7: Dolphin encounter, Kaikoura discovery walk
Day 8: Drive to Christchurch / 1 night: Christchurch
Day 9: Train to West Coast, drive to Franz Josef / 2 nights: Franz Josef
Day 10: Glacier helicopter hike
Day 11: Drive to Queenstown / 3 nights: Queenstown
Day 12: Jetboat ride, canyon swing-jump, gondola and luge ride
Day 13: Full day Queenstown
Day 14: Return to U.S.A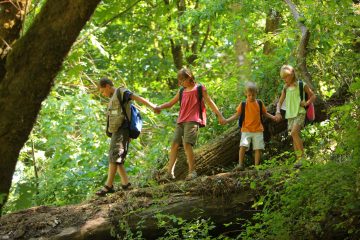 ---
Trip Highlights
Embrace New Zealand's yachting culture with an America's Cup sail on Auckland's Waitemata Harbor
Raft through the black waters of Waitomo's caves – keep an eye on the ceiling for glow worms!
Experience New Zealand's beautiful native bush from above with a canopy and zip lining tour
Get wet with a wet zorb adventure in Rotorua, zorbing's birthplace
Immerse yourself in Maori culture with a Maori cultural performance and traditional hangi
Enjoy a full day guided kayak and walking tour of Abel Tasman National Park
Swim with Kaikoura's dusky dolphins (or view them from aboard the boat if you prefer)
Discover the Kaikoura Peninsula's scenic coastline and history with a guided walk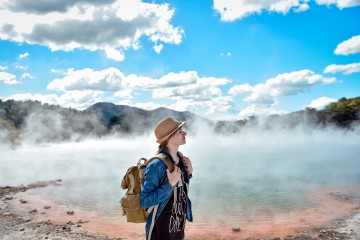 ---
Detailed Itinerary
14 Day New Zealand Family Adventure
Sample Itinerary
The following itinerary contains suggestions that will be tailored to suit your interests.  We look forward to working with you to create your personalized vacation.
---
Day 1 – Arrive Auckland, America's Cup Sailing Experience

Kia Ora and welcome to Auckland! On arrival in Auckland check into your accommodations before heading down to the waterfront for a two hour America's Cup sailing experience on Auckland's Waitemata Harbor.
The America's Cup is the world's oldest and most prestigious sporting trophy and the ultimate yachting regatta. Usually the domain of billionaires and elite professional yachties, former America's Cup yachts NZL 40 and NZL 41 offer the unique opportunity for everyone to participate while sailing on these grand prix-racing machines. Passengers become the crew and are encouraged to take the helm, exert energy on the grinders or simply sit back and enjoy the action as you sail down the Auckland Harbour.
The Auckland metropolitan area is the largest and most populous urban area in the country with a population approaching 1.4 million residents, or 31 percent of the country's population. Auckland has the largest Polynesian population of any city in the world and the melting pot of European, South Pacific and Asian cultures and strong indigenous Maori heritage brings an abundance of unique dining, shopping and touring experiences. Auckland's waterside location has fostered the locals' love affair with the sea, earning it the nickname "City of Sails". A cloak of rainforest covers the surrounding hills, dozens of dormant volcanic cones dot the landscape and enchanting islands are scattered throughout the vast Hauraki Gulf. 1 night: Auckland.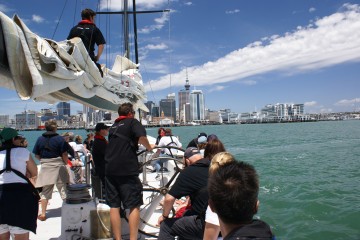 ---
Day 2 – Drive to Rotorua via Waitomo, Black Water Rafting

This morning depart Auckland and make your way south to Rotorua, travelling via the Waitomo Caves. Enjoy the scenic drive over the Bombay hills and through the rich farmland of the Waikato region. As you get closer to Waitomo, notice the sharp volcanic features, rock outcrops and deep gorges that define the landscape.
Today you will experience the best Waitomo has to offer with a unique guided Black Water Rafting experience through the caves. This original Waitomo subterranean adventure will have you climbing, black water tubing, leaping and floating through the waters of Ruakuri cave. Take note of the glow worm show on the vaulted limestone ceiling above you. Learn about the spectacular history and geology of Waitomo's subterranean wonderland from experienced and knowledgeable guides throughout this breathtaking caving tour.
On leaving Waitomo continue on to Rotorua. With its unique volcanic landscape, living Maori culture, natural hot springs and plenty of options for outdoor activities and adventure, Rotorua is one of New Zealand's most famous destinations, located in the heart of the North Island. Rotorua is one of the places where the turbulent forces that formed New Zealand are most evident. This city, on the Volcanic Plateau, has one of the world's most lively fields of geothermal activity and sits squarely on the Pacific Rim of Fire. Rotorua is also the ancestral home of the Te Arawa people who settled here more than 600 years ago and their presence offers the visitor numerous cultural experiences. 2 nights: Rotorua.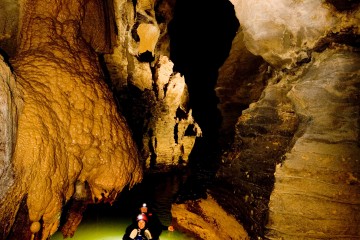 ---
Day 3 – Rotorua Canopy Experience, Wet Zorbing, Cultural Experience & Hangi

Head deep into beautiful native forest this morning for a canopy tour adventure. Reach the forest canopy via an incredible network of walking trails, treetop platforms, zip lines, and canopy swing bridges. This guided experience is a wonderful nature encounter that mixes thrills and excitement with an opportunity for forest observation and environmental appreciation.
This afternoon embark on a unique zorb adventure. Slip, slide, and spin your way down a hill specially designed for this purpose in a wet, human sized bubble. Rotorua is the birthplace of the zorb experience – this is definitely a thrill ride!
Early this evening enjoy an unforgettable evening cultural experience at Mitai. This authentic introduction to Maori culture will leave you in awe. Set in a beautiful, natural bush setting, see warriors in traditional dress paddle an ancient war canoe (waka) before witnessing a Maori cultural performance and experiencing a hangi (traditional Maori feast). Enjoy the opportunity to walk through Rainbow Springs, a wildlife sanctuary, at night.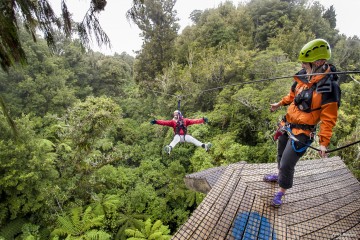 ---
Day 4 – Fly to Nelson, Drive to Abel Tasman Region
Board a flight this morning bound for Nelson. Travel west from Nelson, following the Coastal Highway from Nelson to Motueka. Continue on, taking in the rugged coastline and beautiful beaches in your way.
Located at the top northeast corner of New Zealand's South Island, the Nelson Region offers a mild sunny climate year round and magnificent landscape from alpine lakes, and raging rivers, to wide sandy coastlines. Three National Parks are surrounded by fertile countryside providing fresh produce and fine wines. Travel through rolling hills and coastal landscapes visiting gourmet food producers, boutique wineries, and the studios of an extraordinary artistic community that thrives here. The coastal towns are full of bustling cafes, charming boutiques and funky art galleries, waiting to be explored. 2 nights: Abel Tasman.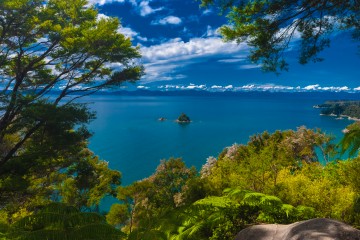 ---
Day 5 – Full day Kayak & Walk Trip

Depart this morning on a full day kayak and walking tour of beautiful Abel Tasman National Park. The day begins with a half-day guided kayaking trip exploring the Kaiteriteri coastline. Take a short break on one of Abel Tasman's famous golden-sand beaches before returning to Kaiteriteri for the second half of your tour. After lunch swap out your kayak for walking shoes and take the short boat ride to the Tonga Island Marine Reserve and walk the stunning coastal track to Medlands Beach. Upon completion of your hike, take the boat ride back to Kaiteriteri.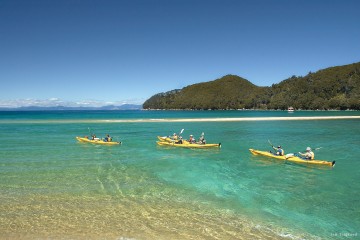 ---
Day 6 – Drive to Kaikoura
Travel to Kaikoura today via the Nelson Lakes National Park. Enjoy a beautiful mixture of landscapes including forest, farmland, hill country and wine country. As you near Kaikoura, take in the awesome beauty of the Pacific Coast and the rugged allure of the Kaikoura mountain range.
The seaside settlement of Kaikoura, situated midway between Christchurch and Picton on the East Coast of New Zealand's South Island, is overlooked by majestic mountains, which are snow-capped for many months of the year. This unique combination of ocean and mountains offers stunning coastal alpine scenery and a host of eco-tourism oriented activities, including Whale watching, Dolphin swimming, walks, and much more! 2 nights: Kaikoura.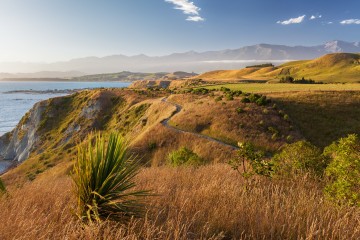 ---
Day 7 – Dolphin Encounter, Kaikoura Discovery Walk

This morning depart the Kaikoura Harbor on a Dolphin Encounter experience. If you so choose, during this dolphin encounter you will have the opportunity to swim with the local dusky dolphins in their natural environment of the Kaikoura coast. Dusky dolphins are resident in the coastal waters of Kaikoura all year round and are renowned for their acrobatic an interactive behavior.
In the afternoon embark on a guided bush track walk along the Kaikoura peninsula. Learn about the unique Kaikoura canyon and its location. Discover one of the most biologically diverse locations on the South Island's east coast and visit the oldest house in Kaikoura, built on the grounds of an old whaling station. Enjoy commentary, whaling history and local lore provided by your knowledgeable local guides.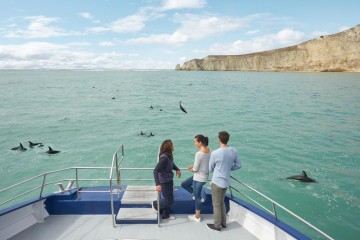 ---
Day 8 – Drive to Christchurch

Depart Kaikoura this morning heading south. Continue along the spectacular coastline and through the Balmoral Forest before arriving in the farmland, vineyards and olive grove, which characterize the Waipara Region, known for its wine and food. The last leg of your journey takes you through small coastal towns and past surf beaches as you head into Christchurch.  We look forward to working with you to tailor your time in Christchurch to best suit your interests.
Christchurch City – "The Garden City" – has a truly relaxed pace and heritage heart. Despite the earthquake of 2011, Christchurch remains the gateway to the amazing experiences available in the Canterbury region. While earthquakes have damaged much of the city's heritage architecture, Christchurch's traditional English ambience is still evident. Christchurch's Botanic Gardens and Hagley Park remain some of NZ's most impressive public spaces. 1 night: Christchurch.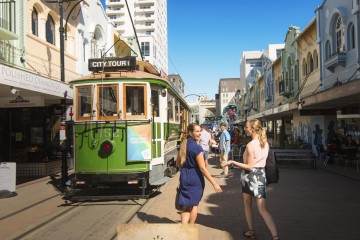 ---
Day 9 – Train to West Coast, drive to Franz Josef

Begin the day with a train journey on the famous Tranz Alpine Railway. This spectacular journey is between Christchurch and Greymouth, from one coast of New Zealand to the other. From your carriage you will see the fields and farmland of the Canterbury Plains, followed by the spectacular gorges and river valleys of the Waimakiriri River. Climb through the Southern Alps before descending into lush beech rainforest and on to the West Coast town of Greymouth. After disembarking your train in Greymouth hit the road heading south to Franz Josef. The road between Greymouth and Hokitika provides great views of the wild West Coast. Consider a stop in Hokitika to watch Maori artisans carve Pounamu (New Zealand jade) into Maori artifacts and jewelry. Further along, just 20 minutes before Franz, Josef you may like to take a side-trip to visit the peaceful seaside village of Okarito, home to New Zealand's largest natural lagoon and over 70 species of birds. Eco-enthusiasts will be delighted with the tremendous ecological diversity present around wild Tasman Sea beaches and the bird paradise of the lagoon and surrounding rainforest. Continue southbound to Franz Josef.
The West Coast – New Zealand's longest region – is a narrow 600km stretch of wild coastline, mountain peaks, glaciers, clear lakes and sparsely populated towns. This immense untamed natural environment is New Zealand's most protected region. Native wildlife and vegetation flourishes along the coastline, in rain forests and up onto the icy slopes of the Southern Alps, where renowned Fox and Franz Josef glaciers are among the region's biggest attractions. The magnificent Franz Josef Glacier is widely regarded as the gem of New Zealand's West Coast Glaciers, and the town of Franz Josef is the perfect spot to explore both the glacier and further afield.
The Fox and Franz Josef Glaciers are the most low-lying of their type in the world. Huge, ancient ice rivers creak and creep their way all the way to the rain forests and visitors can step on to the ice just minutes from the towns that take the glacier's names. Explore ice caves, heli-hike their heights, land on the snow by sightseeing plane, hike rainforests and take a million photos of some of the most stunning scenery to be found. 2 nights: Franz Josef.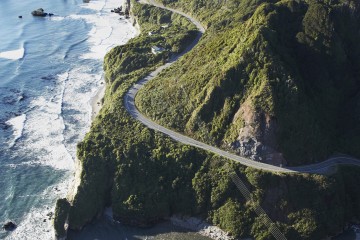 ---
Day 10 – Helicopter Hike

Begin the day with a helicopter hike on the majestic Franz Josef Glacier. This glacier is widely regarded as the gem of New Zealand's West Coast Glaciers and a helicopter hike is a fantastic way to experience the glacier. After a scenic helicopter flight, you will land high up on the glacier and undertake a two hour guided hike amongst some of the most pristine and awe-inspiring glacier scenery in the world. Your guide will lead you through spectacular ice formations and towering pinnacles of brilliantly blue ice. Enjoy panoramic views of the surrounding mountains while you learn about the glacier's history.
The remainder of the day is free to explore the area on your own. Consider a trip to the Glacier Hot Pools and the West Coast Wildlife Center. There are also a number of walks and hikes based in the township. We look forward to working with you to customize your time in this beautiful area of New Zealand.
---
Day 11 – Drive to Queenstown
Depart for Queenstown this morning, a journey that will take you through some of New Zealand's most spectacular scenery. Travel through Fox Glacier, and consider a detour to beautiful Lake Matheson, which is a short walk in from the car park. Travel through Westland National Park and over the dramatic Haast Pass. Climb over the Crowne Range, allowing for spectacular views, and down into Queenstown.
Situated in the heart of the South Island, on the shores of Lake Wakatipu and surrounded by a beautiful mountain range, aptly named The Remarkables, Queenstown has been regularly rated as one of the world's top tourism destinations. It is known as the Southern Hemisphere's premier four-season alpine and lake resort. Queenstown was named because 'it was fit for Queen Victoria.' Certainly it's lived up to that expectation. Today it's an exhilarating alpine resort, perfect for both adventurers and leisure seekers. 3 nights: Queenstown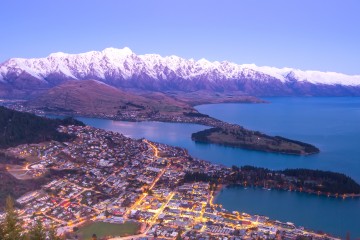 ---
Day 12 – Jetboat ride, Canyon Swing – Jump, Gondola and Luge Ride

This morning embark on a classic Queenstown experience: a jetboat ride. This jetboat ride is exhilarating and unique, skimming past rocky outcrops at close range and twisting and turning through narrow canyons at high speeds. After your jetboat ride, experience a thrilling giant swing ride through the Shotover River Canyon. Leap from the cliff edge and accelerate as you speed toward a vertical cliff face, before your swings cruises smoothly past the rock face.
On your return to Queenstown, ride the Skyline Gondola, based in the center of the township, up and above the city of Queenstown. Enjoy breathtaking views of the city, The Remarkables and Lake Wakatipu before enjoying a fun filled gravity luge ride.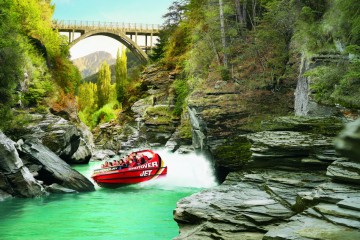 ---
Day 13 – Full day Queenstown

Enjoy a full day exploring Queenstown on your own today. The city's town center is very walkable and offers boutique shopping, arts and crafts, and lots of fun cafes and restaurants. Endless activities for all energy levels are on offer in Queenstown – we look forward to working with you to tailor your time in the area to best suit your interests.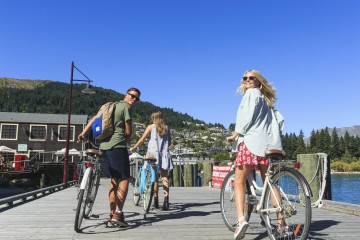 ---
Day 14 – Return to U.S.A.

Sadly, your New Zealand adventure has come to an end. Relax or explore Queenstown this morning before making your way to the airport to return to the U.S.A.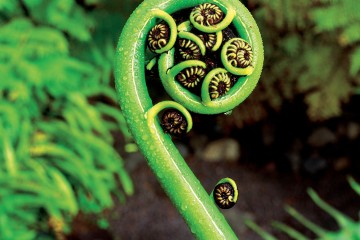 ---
Accommodation Options
14 Day New Zealand Family Adventure 
Following is a sample of accommodation options. Uniquely New Zealand has many hidden treasures in addition to these to share with you.
---
Auckland
Heritage – Whether for one night or an extended stay, Heritage Auckland provides every guest with a home away from home. Set within one of the city's most recognizable historic landmark buildings, the iconic Farmers department store building, it's an unparalleled Auckland hotel accommodation experience. The hotel offers a range of accommodation options to suit every need and budget. Choose from two accommodation wings, the Hotel or the Tower. Both provide a luxurious level of comfort. At the end of the day, when you want to unwind, the hotel features an outdoor rooftop swimming pool and a floodlit tennis court. Hectors Restaurant is charmingly positioned under a canopy of palms in the dramatic seven-story atrium and offers a delicious, locally sourced menu. See image.
Waldorf Apartments – Waldorf Apartments offer stylish, self-contained, serviced apartments in Auckland City. With accommodation in six locations throughout Auckland Central Business District, Waldorf offers an alternative to traditional hotels in the city. The apartments feature private balconies and are fully self-contained with kitchen and laundry services. A range of rooms are available, from the premium 4.5 star Waldorf Stadium to more budget friendly 1 or 2 bedroom or studio apartments in 3.5 star properties.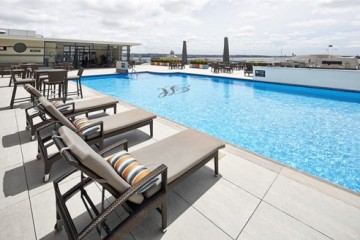 ---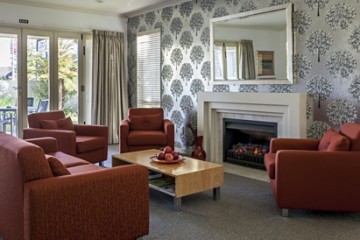 Rotorua
Quest – This 36 unit Apartment Hotel in the heart of Rotorua hosts a range of apartment types including studio, one bedroom and two bedroom interconnecting apartments. Nine executive apartments are also available, which offer a balcony and private hot tub. All apartments are equipped with full cooking and laundry facilities.
Regal Palms 5 Star City Resort – Regal Palms is located in the heart of Rotorua and offers a modern and well-equipped range of suites and apartments well suited for couples, families and groups. Each suite and apartment features a spacious spa pool while the resort features a tennis court, heated swimming pool and cozy guest lounge. See image.
---
Abel Tasman Region
Bronte Country Estate – This estate, situated on a coastal orchard, is located approximately half way between Nelson city and Abel Tasman National Park. With several architecturally designed apartment-style villas available, the Estate has an option to suit everyone's needs – each villa features a private patio and sea views. Enjoy the heated pool, use of the tennis courts, or a visit to the spa. See image.
Abel Tasman Ocean View Chalets – Located at the southern entrance to Abel Tasman National Park, Ocean View Chalets offers private, comfortable accommodations nestled along the bush line above the beach with wonderful ocean views. Studio, one bedroom and two bedroom chalet options are all available to guests. The chalets are self contained and self catering. Breakfast is served in the main building and restaurants are within easy walking distance.
Marahau Lodge – Just 400m from the famed Abel Tasman National Park, restaurants, cafes, water taxis and kayaking, this B&B accommodation provides the perfect base for exploring Abel Tasman. The lodge offers 12 spacious and private chalets set amongst bush. Studio, one bedroom and two bedroom chalets are available. Enjoy breakfast delivered to your room and packed lunches for each days' activities.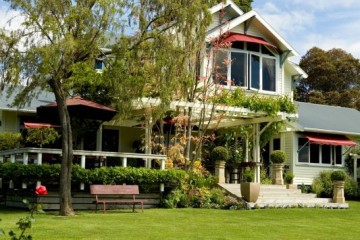 ---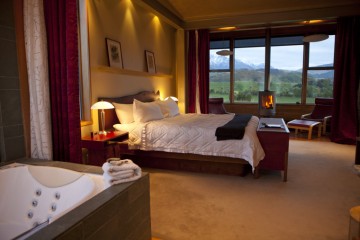 Kaikoura
Hapuku Lodge & Treehouses – Situated on the Kaikoura Peninsula, Hapuku Lodge & Treehouses was designed to be a contemporary country hotel, with handcrafted wooden furniture featured throughout. This luxury Lodge offers accommodation options to suit a variety of needs – the Main Lodge offers four rooms, the Olive House Suite is a spacious self contained apartment with fantastic views, and the Tree Houses, which are nested 30 feet above the ground in the canopy of a native Manuka grove, offer views of Kaikoura's dramatic mountains and the Pacific coastline. Dining is available in the lodge kitchen with an emphasis placed on home grown and locally sourced ingredients. See image.
Kaikoura Waterfront Apartments – Kaikoura Waterfront Apartments offer modern one and two bedroom apartments on Kaikoura's ocean front. On offer are one and two bedroom apartment well suited to groups and families. Enjoy sea and mountain views from apartments equipped with full kitchens, laundry facilities and private balconies, all within a 2 minute walk to Kaikoura's fabulous cafes and restaurants.
---
Christchurch
Hotel Montreal – The Hotel Montreal is a luxury boutique hotel situated in the heart of Christchurch abutting Hagley Park. This hotel provides a mix of refined elegance and modern sophistication in its 25 rooms (junior suites, family suites and a luxury penthouse), each with its own private balcony. The Polo Bar and Restaurant offers fine dining and the hotel gardens offer a peaceful escape after a busy day in the city.
Terra Vive Luxury Suites and Apartments – Terra Vive is a luxury apartment accommodation located in the heart of Christchurch City within walking distance to the city center. Terra Vive offers 13 studio, one bedroom and two bedroom apartments, as well as a number of luxury suites. Apartments are equipped with luxury spa baths, sunny private courtyards or balconies, kitchens and in-room laundry facilities. See image.
Heritage Christchurch – The historic Heritage Christchurch, located in the center of the city, was designed with the opulence of an Italian Renaissance Palazzo. This luxury hotel offers one, two, and three bedroom suites and is perfectly appointed for travelling with family or friends. The suites are fully self-contained apartments with a full kitchen and laundry facilities. Breakfast is available on site in Maddison's Restaurant and the Heritage Health Club boasts a gym, spa pool, sauna, and heated indoor lap pool.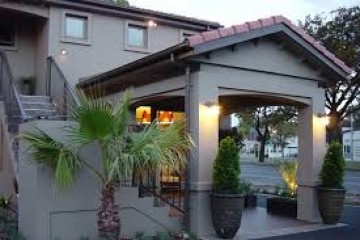 ---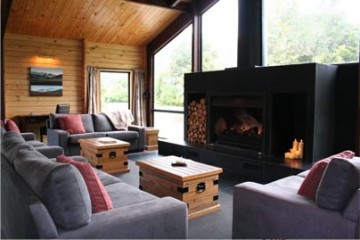 Franz Josef
Westwood Lodge, Franz Josef – Westwood Lodge B&B is nestled in the heart of New Zealand's spectacular Glacier Country, seconds away from the Southern Alps and Westland National Park. Accommodation is available in luxury guest rooms. Comfortable communal areas offer rainforest and mountain views. Breakfast is available on site and guests enjoy use of the lodge's billiards room. See image.
58 On Cron, Franz Josef – Situated just a short stroll from Franz Josef's main village business hub, 58 On Cron is surrounded by native bush and mountains, providing privacy for guests in a peaceful setting. The complex has 16 self-catering units with studio, one bedroom and two bedroom suites available. Each unit is equipped with a kitchenette and a spacious garden area with BBQ facilities is available for guest use.
---
Queenstown
The Rees – This 5 star hotel on the shores of Lake Wakatipu, just a short walk from Queenstown's town center, offers panoramic lake and alpine views. The Rees offers a variety of luxurious and spacious accommodation options including 60 hotel rooms and 90 luxurious apartments, all with private balconies to take advantage of the spectacular views. Enjoy fine dining in the hotel's dining room or bar and enjoy a personalized spa service.
The Glebe – The Glebe offers luxurious apartments and penthouse suites in a downtown Queenstown location. Choose from a variety of accommodation options, including one, two, three, and four bedroom apartments. The eight Penthouse Suites are spacious and luxurious, many featuring balconies and sunny terraces with views over the lake and village.
Blue Peaks Apartments – This quiet, central location is ideal for families and located just a two minute walk from lake beachfront and a playground and park, all located in the town center. Blue Peaks offers luxury 2 and 3 bedroom serviced apartments, which are completely self-contained and fully equipped. Enjoy full designer kitchens, laundry facilities, private patios and balconies that overlook landscaped gardens. See image.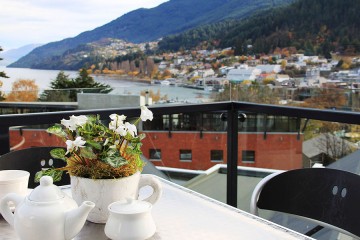 ---
Activity Options
 14 Day New Zealand Family Adventure 
Following is a sample of guided touring suggestions that would work with your 14 Day New Zealand Family Adventure itinerary on days when activities have not yet been suggested. We have many more ideas that we look forward to sharing with you.  These options can be private, small group or large group. For a more personalized experience we suggest at least a small group tour, which are usually 12 or fewer people. Some touring options are half day and many require a full day.
---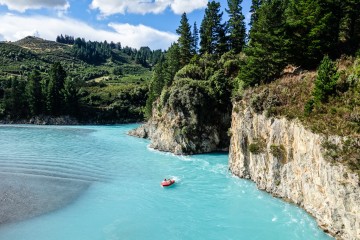 Queenstown
The Funyak Safari, Queenstown – Travel an exciting 1 -1⁄4 hours up the Dart River by Jet Boat with all the thrills of braided shallow river Jet Boating and world famous jet spins; then, disembark to begin a Funyak rafting journey in a unique inflatable 'Funyak' canoe. Canoe and drift (under the watchful eye of your professional guide) for a spectacular 2 hours downstream, taking in the awe-inspiring sights. Stop amongst the ancient beech forest to enjoy lunch and explore hidden side streams, rock pools and dramatic chasms, before canoeing downstream to Paradise, where you travel by 4WD coach to Glenorchy, stopping to view the stunning scenery that has inspired films the world over. For kids 5 years and older.
---
Family Adventures Rafting, Queenstown – Join this group who specialize in family rafting trip on the upper reaches of the famous Shotover River. The trip kicks off with the drive into the famous Skippers Canyon. The Road through Skippers Canyon is quite possibly the most spectacular drives in New Zealand. Once off the main road and following the old gold mining trail you travel further into the backcountry, winding along the cliff face 100m above the Shotover River in places. On arrival you will be kitted out, before you take to the water and head down the grade 2 rapids in either guided rafts or inflatable kayaks.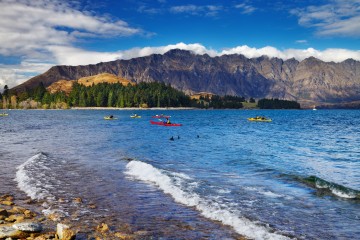 ---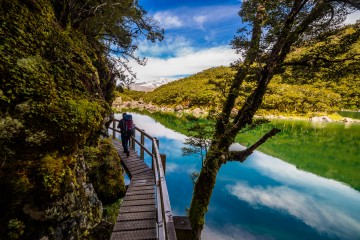 Routeburn Track One-Day Guided Hike, Queenstown – Hike a portion of the world famous Routeburn Track set among towering ancient beech trees and blankets of moss and fern. This portion of the track climbs gradually, skirting the thundering Routeburn River, before arriving at the rich grassland of Routeburn Flats, then continues through more alpine forest and a vast alpine meadow to the Harris Saddle, some 1300 metres above sea level. High up in the clear mountain air a 360-degree view looks out along the Hollyford Valley to the Tasman Sea.
---
TSS Earnslaw & High Country Farm, Queenstown – Relive the elegance of turn-of-the-century travel with a cruise aboard the vintage steamship TSS Earnslaw, the only coal fired passenger carrying vessel still operating in the southern hemisphere. Affectionately known as the "Lady of the Lake", the TSS Earnslaw has been transporting goods to remote settlements and conveying passengers on beautiful Lake Wakatipu since 1912. What better way to view the magnificent scenery & gain a charming insight into New Zealand high country life than by taking a cruise to Walter Peak High Country Farm, on the western shores.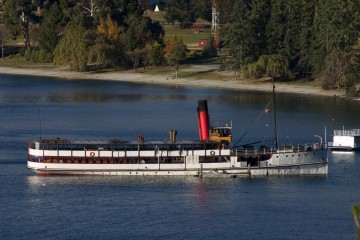 ---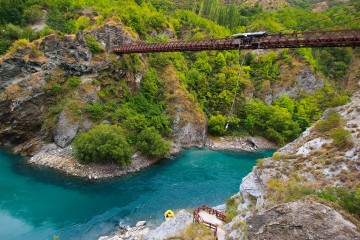 AJ Hackett Bungy, Queenstown – The world's first commercial bungy jump opened at the Kawarau Bridge in Queenstown in 1988. Twenty-eight people that day paid to leap off the 43 metre bridge with a bungy cord attached to their ankles. Now, just over 500,000 people from all around the world have jumped from the four sites AJ Hackett Bungy operates around Queenstown. The latest bungy site, Nevis Highwire opened in July 1999 and is the highest jump in New Zealand.
---
Queenstown Combos – These combos range from sightseeing outdoor experiences to total 'full on' adventure packages and give you far better value than individually purchased trips.
Kawarau River Combos – the mighty Kawarau River is a great place to get an introduction to adventure, Queenstown style. From options of jetboating to rafting to a gondola ride, the Kawarau Combos are a great option for everybody.
Shotover River Combos – Get familiar with the Shotover River. Set amongst the rugged beauty and unspoiled grandeur of Skippers Canyon, this river is famous for its gold and adventure. Options range from jetboating, rafting and canyon swings to Gondola ride.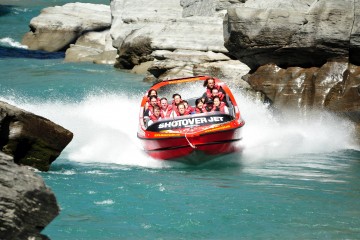 ---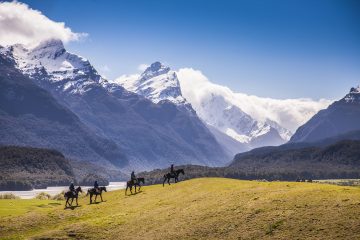 Ben Lomond Horse Treks, Queenstown – Take children as young as 4. These treks have it all – stunning lake and mountain views, splashing through rivers and plenty of flat terrain if you want have a canter! No experience necessary – our family-friendly treks are suitable for children/adults of all abilities and younger children can have their own guide to lead them. Treks depart just 15 minutes from Queenstown but you'll find yourself in another world!
---
Back to NEW ZEALAND Sample Itineraries
> 14 Day New Zealand Family Adventure – Sample Itinerary
Auckland, Waitomo, Rotorua, Abel Tasman National Park, Kaikoura, Christchurch, Franz Josef, Queenstown
Experience New Zealand's highlights in an action packed itinerary designed for families. Begin your journey in America's Cup style on Auckland's waterfront before heading south to Waitomo for a caving and rafting experience, then on to Rotorua for more eco adventures and cultural interaction. Travel to the South Island for outdoor exploration at Abel Tasman and Kaikoura then on to Christchurch followed by the wild West Coast and Franz Josef Glacier. Continue on to Queenstown for more exhilarating eco adventure and urban exploration.
Trip at a Glance:
Day 1: Arrive Auckland, America's Cup sailing experience
Day 2: Drive to Rotorua via Waitomo, black water rafting
Day 3: Rotorua canopy experience, wet zorbing, cultural experience & hangi
Day 4: Fly to Nelson, Drive to Abel Tasman
Day 5: Full day kayak & walk trip
Day 6: Drive to Kaikoura
Day 7: Dolphin encounter, Kaikoura discovery walk
Day 8: Drive to Christchurch
Day 9: Train to West Coast, drive to Franz Josef
Day 10: Glacier helicopter hike
Day 11: Drive to Queenstown
Day 12: Jetboat ride, canyon swing-jump, gondola and luge ride
Day 13: Full day Queenstown
Day 14: Return to U.S.A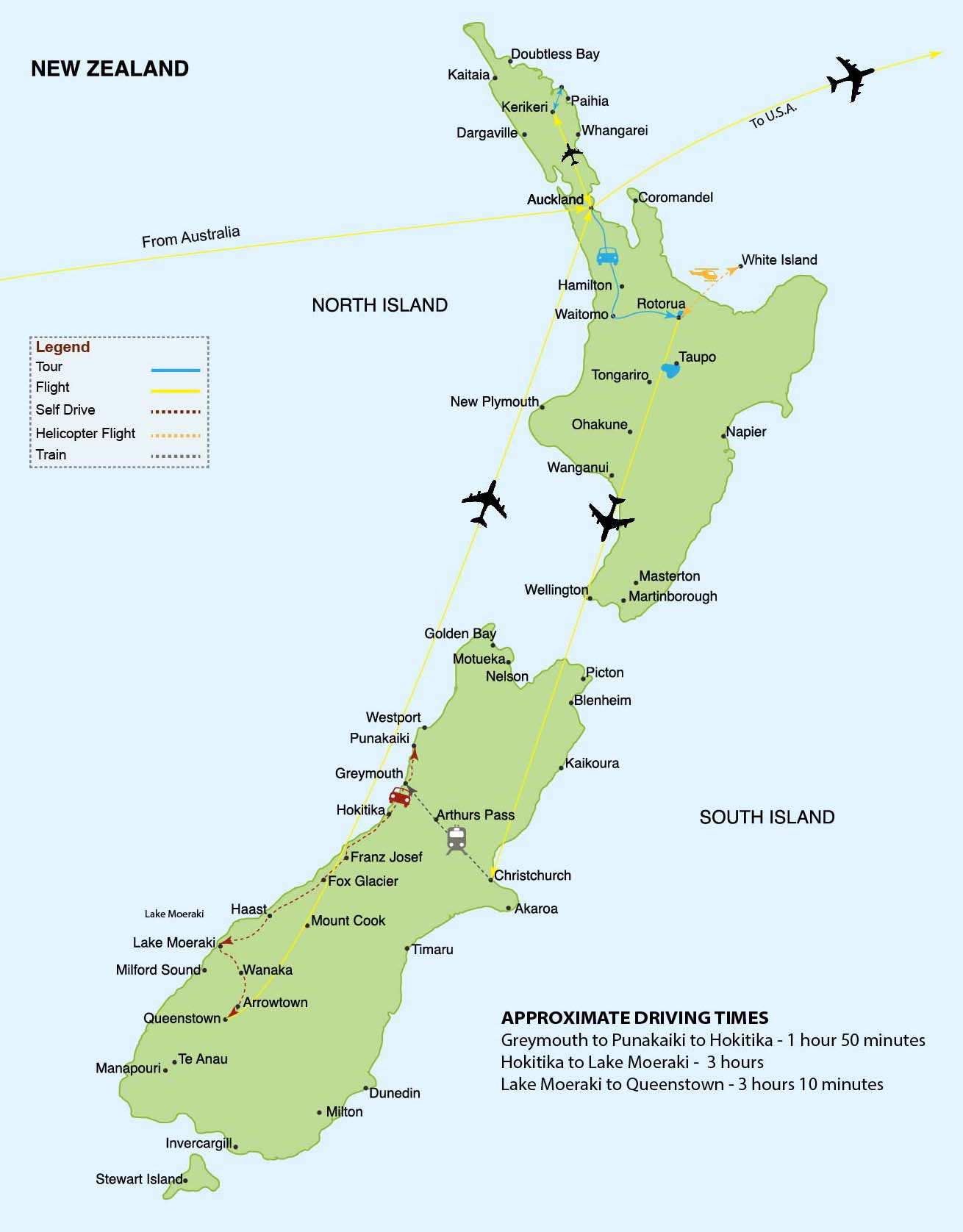 Trip Highlights:
Embrace New Zealand's yachting culture with an America's Cup sail on Auckland's Waitemata Harbor
Raft through the black waters of Waitomo's caves – keep an eye on the ceiling for glow worms!

Experience New Zealand's beautiful native bush from above with a canopy and zip lining tour

Get wet with a wet zorb adventure in Rotorua, zorbing's birthplace
Immerse yourself in Maori culture with a Maori cultural performance and traditional hangi
Enjoy a full day guided kayak and walking tour of Abel Tasman National Park
Swim with Kaikoura's dusky dolphins (or view them from aboard the boat if you prefer)
Discover the Kaikoura Peninsula's scenic coastline and history with a guided walk
Transverse the South Island on the iconic TranzAlpine railway
Discover Franz Josef Glacier with an unbeatable helicopter hike
Experience a thrilling jet-boat ride and an equally exhilarating canyon swing