About Fiji Islands
Located in the heart of the South Pacific, Fiji is home to 333 tropical islands and some of the happiest people on Earth. "Bula,"  a word you will hear often in Fiji, means "hello" and is always pronounced with a smile.
Fiji is renowned for its stunning beaches, beautiful warm climate, and its unique relaxed island atmosphere. You won't be able to escape the friendliness of the Fijian people or the sheer natural beauty – swaying palms and warm, clear water. Known for its luxurious private-islands, all-inclusive resorts, top spas, culinary destinations and outdoor adventures, Fiji is most widely celebrated for its culture, which welcomes visitors.
Fiji is the ideal vacation destination for those looking to relax and get away from it all.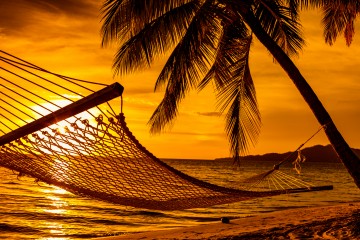 ---
Suggested Itinerary
7 Day Fiji Island Getaway 
The following sample itinerary is fully customizable. We look forward to working with you to tailor your time in Fiji to best suit your interests.
---
Day 1 – Welcome to Fiji
Bula and welcome to Fiji! Upon arrival in Nadi on VitiLevu, Fiji's main island, enjoy a short helicopter flight to your island resort destination where you will check in for a 6-night stay.Prepare yourself for an idyllic week of white sand beaches, crystal clear waters, tropical rainforests, and pristine coral reefs. Welcome to paradise.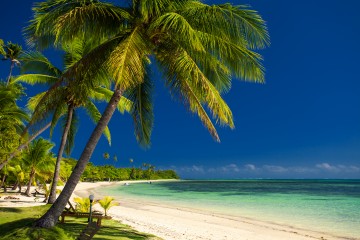 ---
Day 2 through 6 – Five full days at leisure
Today and the next 4 days are yours to do with as you please. Enjoy relaxing at your resort accommodations or lounging on the white sand beaches. If your energy level allows for it, there are endless activities on offer in this tropical playground. Consider partaking in the following activities:
Snorkeling
Scuba diving
Stand-up paddle boarding
Kayaking
Fishing
Surfing
Kite surfing
Sailing
Glass bottom boat tours
Wakeboarding
Beach volleyball
Bush hikes and coastal walks
Guided walks
Island tours
Kava sessions
Spa services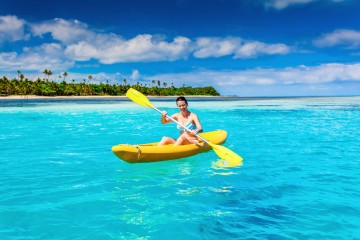 ---
Day 7 – Depart Fiji
Your wonderful Fiji vacation has come to an end. Today you will return to the main island where you will board your flight for home, or the next leg of your journey.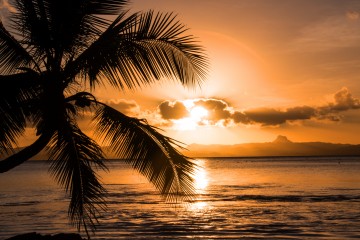 ---
* You may include Fiji as a destination in combination with a trip to New Zealand and/or Australia. We would be happy to work with you to plan a combined itinerary.
---
Accommodation Options
Fiji Islands
Following is a sample of Fiji accommodation options. Uniquely New Zealand has many hidden treasures in addition to these to share with you.
---
Likuliku Lagoon Resort, Fiji – This haven of subtle luxury is a unique and beautiful location built around a tranquil turquoise lagoon – in fact, the word Likuliku means "calm waters." The resort uses traditional designs and architecture, looking from the water like a traditional Fijian village. The resort strives to marry the richness of an ancient culture with vibrant, modern elements. Likuliku also supports the concept of sustainable tourism, working to minimize the impact it leaves in the pristine and fragile ecosystem of the Mamanuca Islands.
Likuliku offers traditional Fijian "bure" style accommodations –luxuriously appointed and traditionally designed individual structures offering spectacular views of the beautiful Likuliku Lagoon and ocean. Likuliku offers Fiji's first and only Over-Water Bures, accessible from the main resort by raised deckways and perched over the lagoon's vibrant fringing reef and marine sanctuary.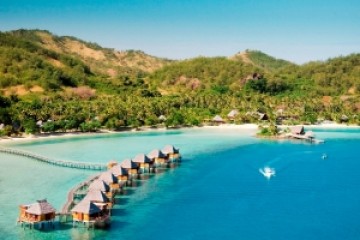 ---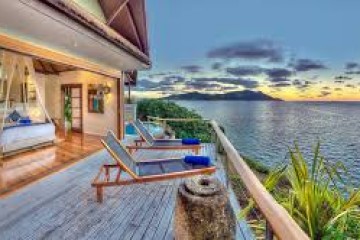 Royal Davui, Fiji – RoyalDavui Island Resort is an exclusive adults-only sanctuary situated in Fiji's spectacular Beqa Lagoon in the Mamanuca Islands and offering an exception level of Fijian luxury and privacy. This boutique luxury island resort offers exceptional service and elegance in the setting of white sand beaches and pristine turquoise waters far away from the hustle of modern living. Every villa is equipped with a private plunge pool and the daily changing gourmet menus are designed to complement the tropical Fijian climate. The surrounding reef has been declared "tabu" (sacred), meaning that no fishing is allowed within 1 mile of the island, creating a stunning marine reserve for guests to enjoy. This world-renowned resort offers an ideal tropical island escape, perfect for vacations, honeymoons, or weddings.
---
Matamanoa Island Resort, Fiji – Matamanoa Island is an intimate and secluded, adults only Fijian Resort situated in the pristine azure waters of an unspoiled marine sanctuary in the Mamanuca Islands. The island's brilliant green vegetation contrasts beautifully with its curved sandy beaches and unmarred coral reefs. In order to preserve this special atmosphere, Matamanoa Island Resort has adopted a policy of not permitting day-trippers or children under the age of 16 years. This pristine setting allows for days of complete rest and offers a wide range of leisure activities and cultural excursions. This exclusive island resort offers the complete luxury getaway experience.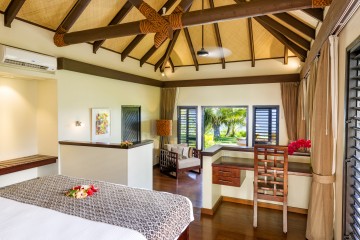 ---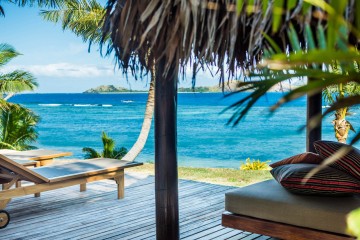 Tokoriki Island Resort, Fiji – This contemporary Fijian style Island Resort has been voted the #1 hotel in Fiji by Trip Advisor travellers in 2015. Enjoy a truly romantic beach vacation at the Tokoriki Island Resort, with warm Fijian hospitality and caring attention to detail, making it the perfect Fiji destination for your child-free island escape. Enjoy private luxury in Tokoriki's Fijian style freestanding Beachfront Bures or Sunset Pool Villas, all enveloped in lush tropical gardens. The resorts offers a gourmet dining experience, specializing in South Pacific and Asian influenced menus. The resort offers endless activities, from tennis, nature walks, unique Fijian spa services, and visits to the nearby local village to a traditional kava ceremony and a walk through the local handicraft beach markets. . . and the list goes on. This beautiful resort in the Mamanuca Islands offers a truly memorable experience.
---
Jean-Michel Cousteau Resort, Fiji – This family friendly resort located on Savusavu Bay in Fiji's Northern Group island of Vanua Levu is considered by some to be Fiji's ultimate luxury Eco Resort. This stunning luxury destination is located on a former coconut plantation and offers unparalleled environmental and cultural experiences. The resort offers a stunning range of activities and offers the opportunity for a number of educational experiences for those interested. Stay in private and elegant freestanding Fijian bures, enjoy top quality spa services, and dine on gourmet local fare at this one of a kind, sustainability-minded luxury Eco Resort. The resort's oceanfront 2-bedroom bures make the perfect family accommodations for four or five and the Bula Club offers a seemingly endless program of activities and educational pursuits for kids.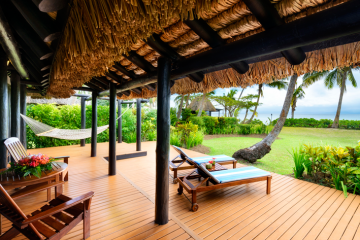 ---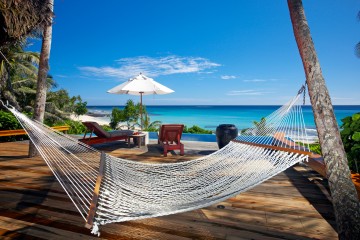 Yasawa Island Resort, Fiji – This luxury adults-only resort on Yasawa Island in the Yasawa Group offers private elegance in an untouched tropical setting of lush bush, sandy beaches, and crystal blue water. "Yasawa" means Heaven in the Fijian language, and Yasawa Island Resort and Spa certainly offers a heavenly experience on one of the most remote and unspoiled islands of Fiji. The Resort offers rare privacy in today's busy world. Walk the resort's house beach and rarely see another guest – or take the opportunity to reserve your own private beach for the day. Yasawa also offers rare, authentic cultural experiences – visit the nearby village, have bowls of kava with locals, witness an evening Meke (dance ceremony) or take part in a lovo (Fijian feast). Enjoy locally caught seafood beautifully prepared in the Fijian style, stay in private, traditionally inspired Fijian bures, and make use of the Resort Spa's exceptional offerings. Also considerthe unique experience of exploring the nearby blue lagoon caves. Yasawa Island Resort is a luxurious, unspoiled, private Fijian paradise.
---
Activity Options
Fiji Islands
Most activity options in Fiji will not be pre-booked but can be scheduled with your resort concierge upon arrival at your luxury accommodations. Examples of activities available at most resort locations are as follows:
---
Snorkelling, Fiji – The islands of Fiji are rich with coral reefs and a diverse range of brightly colored tropical fish and marine animals. Snorkelling in the waters directly in front of your resort is often possible, as is venturing further afield for a guided snorkel adventure to explore additional snorkel sites.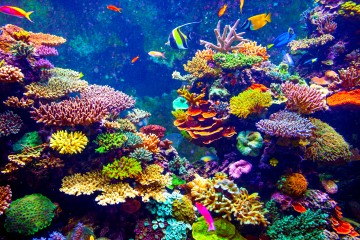 ---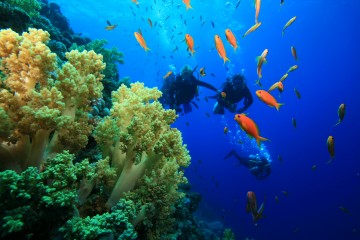 Scuba Diving, Fiji – Many Fiji resorts have a dive center on site. A short boat ride away from your resort and just below the surface of the water is a stunning marine world. Fiji's turquoise waters are home to abundant hard and soft coral and are teeming with colorful reef fish, dolphins, manta rays, turtles, and large pelagic fish. Diving options are usually available for both the novice and experienced diver.
---
Fishing, Fiji – Many resorts offer a variety of fishing excursions, allowing intrepid anglers the opportunity to troll for Wahoo, Mahi Mahi, Billfish, Tuna, Giant Trevally and more.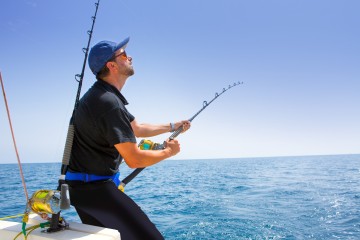 ---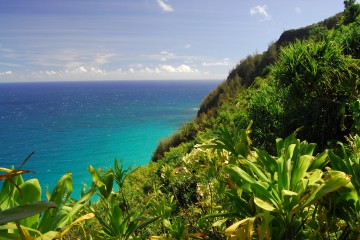 Walking Trails, Fiji – Enjoy Fiji's beautiful white sand coastlines and lush green tropical landscapes. Your resort can direct you to wonderful self-guided hike locations and also often offer guided hike options to enhance your knowledge and understanding of the local flora and fauna. Guided reef walks at low tide may be available depending on your resort's location. This is a wonderful opportunity to discover more about the fascinating coral reef ecosystem.
---
Village Trip, Fiji – A trip to a local village allows visitors to discover how Fiji's indigenous land owners live. Experience Fijian culture first-hand and enjoy dancing and singing by the village people.
Kayaks, stand up paddle boards, and hobie cats are often available at Fiji resorts for guests' recreational enjoyment on site.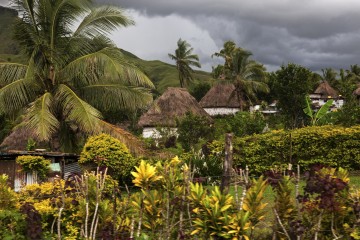 ---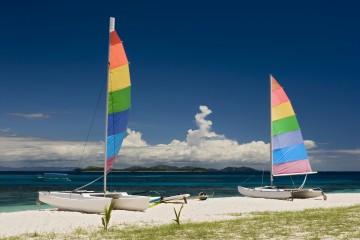 Surf, Sail, Kite Surf, Kayak &  Stand-Up-Paddleboard, Cook Islands – These activities are available at many Fiji Islands resorts. The clean, clear, turquoise waters of the Cook Islands are the perfect place to enjoy watersports.
---
Back to FIJI & COOK ISLANDS Sample Itineraries
> Fiji Islands