Overview
Discovering the National Parks of Australia
Sample Itinerary
Following is a sample itinerary that can be customized just for you.
---
As the United States celebrates the centennial of its National Parks, we invite you to immerse yourself in Australia's National Park System.  Australia has over 500 national parks covering over 28 million hectares of land and accounting for almost four percent of the country's land areas.  Australia's National Parks include state forests, nature parks and conservation reserves and they aim to shelter and support habitats, plants, wildlife, and regions sacred to Australian Aboriginals as well as ecosystems that are unique to Australia.  These Parks are true national treasures that display natural Australia at its best.  The following itinerary highlights 7 of Australia's finest Parks.
Trip at a Glance
Day 1: Arrive Sydney / 3 nights: Sydney
Day 2: A full day to explore Sydney
Day 3:  Day tour to the Blue Mountains National Park Tour
Day 4: Fly to Brisbane, Southern Queensland / Drive to Noosa / 3 nights: Noosa, Sunshine Coast
Day 5:  Full day to explore The Glass House Mountains National Park
Day 6: Tour of Fraser Island in The Great Sandy National Park
Day 7: Fly to Cairns in Northern Queensland / Transfer to Port Douglas / 3 nights: Port Douglas
Day 8: Full day on the Great Barrier Reef, Heritage Listed Marine Park
Day 9: Day trip to Daintree National Park and Cape Tribulation
Day 10: Fly to Uluru/Ayers Rock / Afternoon at Kata Tjuta (Uluru-Kata Tjuta National Park) / 1 night: Ayers Rock
Day 11: Sunrise at Uluru (Uluru-Kata Tjuta National Park).  Fly to Melbourne, Victoria in the afternoon / 3 nights: Melbourne
Day 12: Full day Wildlife Tour – Includes Brisbane Ranges National Park
Day 13: Full Day Melbourne
Day 14: Depart Australia for the U.S.A.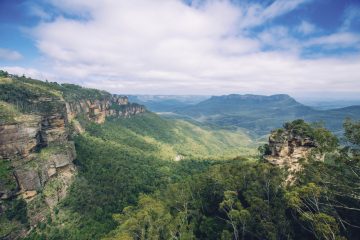 ---
Trip Highlights
Discover the vibrant and metropolitan city of Sydney
Tour the World Heritage-listed Blue Mountains National Park, home of the famous Three Sisters
Visit the rugged peaks of Glass Mountain National Park, formed approximately 26 million years ago.  These volcanic peaks are listed on the National Heritage Register as a Landscape of National Significance
Take in the natural beauty of Fraser Island, the world's largest sand island. 4WD next to sand cliffs, hike through rainforest, meet native wildlife, whale-watch and swim in spectacular freshwater lakes
Spend a full day on the stunning and unique Great Barrier Reef, a heritage listed marine park and one of Australia's most remarkable natural gifts.  This is the world's largest coral reef
Discover one of the world's most ancient rainforests in Daintree National Park, and take in the spectacular remote beaches of Cape Tribulation
Explore an ancient landscape and learn the creation stories of the Aboriginal people at Uluru-Kata Tjuta National Park
Get up close and personal with native wildlife in Brisbane Ranges National Park, home of Victoria's richest wildflower habitat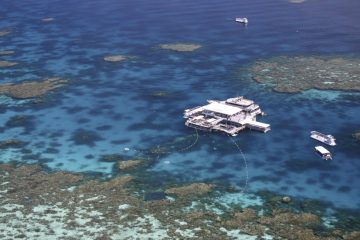 ---
Detailed Itinerary
Discovering the National Parks of Australia
Sample Itinerary
Following is a sample itinerary of how you could discover just a few of Australia's National Parks.  This itinerary can be customized for you, ensuring you experience Australia that way you want to.
---
Day 1 – Arrive Sydney
Gidday and welcome to Sydney!  This cosmopolitan city's laid-back outdoor lifestyle makes it the perfect place to begin your Australian Parks adventure.  Sydney's vibrant culture and food scene as well as its proximity to five major national parks and world famous beaches ensures that the city has something wonderful to offer every traveler.  If time allows this afternoon, begin your exploration of this great city with a guided walk or driving tour.  3 nights: Sydney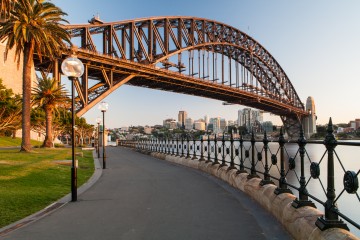 ---
Day 2 – Full day to explore Sydney
Spend today exploring Sydney and the surrounding area.  The city offers countless attractions, activities and famous landmarks to take in – your options are wide and varied, either on your own or as part of a guided tour.  Find a wide range of possibilities under Activity Options.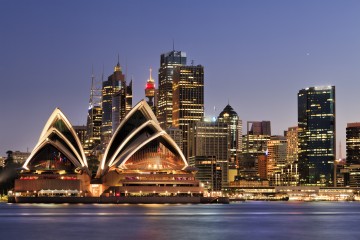 ---
Day 3 – Full Day Tour of The Blue Mountains National Park
Depart this morning on a full day guided tour to the Blue Mountains National Park.  Travel through the rainforest bush and beautiful alpine valleys while learning about this unique landscape and the Aboriginal culture it influenced.  Explore the magnificent Wentworth Falls and take in the renowned Three Sisters and learn about the park's wildlife from an experienced nature guide.  We suggest small group touring options.  Different tours provide different levels of activities from general sightseeing to a more active tour with hiking in the park.
The Blue Mountain region, bordering on Sydney's metropolitan area, consists mainly of a sandstone plateau dissected by gorges up to 760 meters deep. The highest point of the range is 1,190 meters above sea level. This area is one of rugged tablelands, sheer cliffs, deep, inaccessible valleys and rivers and lakes teeming with life. The unique plants and animals that live in this natural place relate an extraordinary story of Australia's antiquity, its diversity of life. This is the story of the evolution of Australia's unique eucalypt vegetation and its associated communities, plants and animals.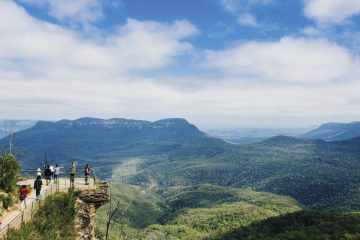 ---
Day 4 – Fly to Brisbane, Southern Queensland, Drive to Noosa
This morning you fill board a flight to Brisbane, where upon arrival you will pick up your rental car and travel north to the Sunshine Coast and Noosa, just 1.5 hours away.  Enjoy the remainder of the day exploring this beautiful pocket of the Sunshine Coast.
The Noosa region, with its beautiful beaches, lush green hinterland, stunning coastal national park, pristine river, cosmopolitan lifestyle and lively calendar of events – all adds up to an unforgettable holiday escape. With an inspiring dining scene and year-round warm and sunny climate, Noosa is the ideal place to kick back and escape from it all. 3 nights: Noosa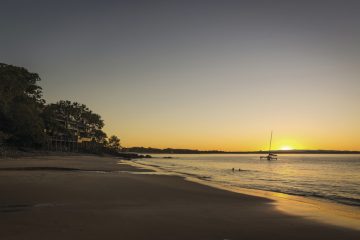 ---
Day 5 – A day to explore Glass House Mountains National Park
Drive to the Glass House National Park, just an hour away, for a day of exploration.  Enjoy views of the majestic Glass House Mountains from a number of panoramic lookouts in the park. The impressive rocky outcrops that make up the Glass House Mountains are remnants of volcanic activity that occurred about 25-27 million years ago.  As the volcanic mountains cooled, stunning vertical columns emerged amidst rainforest and waterfalls. Today these iconic landmarks are a mecca for bushwalkers and hikers.  Choose to take a leisurely drive through the park, stopping at picturesque lookouts along the way, or increase the intensity level with some hiking, rock climbing or abseiling.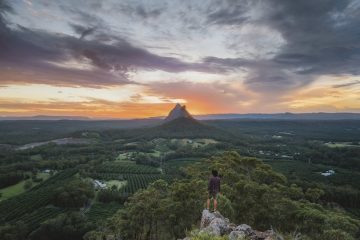 ---
Day 6 – Day Tour of Fraser Island and The Great Sandy National Park
You will be collected from your accommodations this morning for a full day tour of beautiful Fraser Island, a World Heritage-listed site.  Travel along the spectacular Seventy Five Mile Beach and explore the natural beauty of this magnificent wilderness with a guided rainforest walk on the world's largest sand island.  Stop for an Aussie BBQ lunch followed by a refreshing freshwater lake swim.  Travel in a 4WD vehicle next to colored sand cliffs, hike through rainforest, meet native wildlife and whale watch.  Return through the towering forests of Satinay and Brushbox and navigate down the "sandy highway" of the island's remote beaches before returning to Noosa.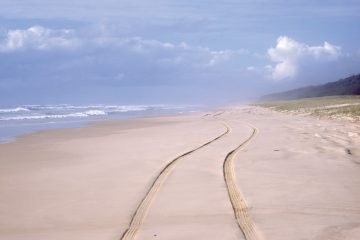 ---
Day 7 – Fly to Cairns, Northern Queensland, Transfer to Port Douglas
Board a flight this morning bound for Cairns, located in the Far North of Queensland. On arrival into Cairns you can either collect your own car, or take a 1 hour transfer to your accommodations in Port Douglas.  Port Douglas is just an hour's drive north via a spectacular coastal road that is surrounded by forest and the Coral Sea.  This seaside village has a unique ambiance with its tropical laid back lifestyle and carefree atmosphere.
Port Douglas and the Far North region of Queensland offers stunning ocean views, deserted coastlines, beachside activities, laidback villages, sugar cane fields, reef and rainforest. Classic palm fringed beaches tempt you to just relax and unwind or you can choose from a host of tours, action packed adventure or just explore more than 200 kilometres of spectacular coastline on your own. Discover the area's diverse natural treasures from the magnificent underwater world of the Great Barrier Reef to the lush tropical Daintree and Cape Tribulation rainforests that cloak the mountains and plains – two world Heritage ecosystems existing side by side. 3 nights: Port Douglas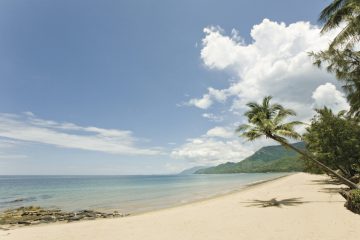 ---
Day 8 – Full Day Great Barrier Reef, a Heritage Listed Marine Park
Allow this day to cruise to and explore the spectacular Great Barrier Reef, a true "bucket list" experience. The Great Barrier Reef is the world's largest reef system composed of over 2,900 individual reefs and 900 islands stretching for over 2,600 kilometers. The reef is located in the Coral Sea, off the coast of Queensland in north-east Australia, The Great Barrier Reef can be seen from outer space and is the world's largest single structure made by living organisms. This reef supports a wide diversity of life, was selected as a World Heritage Site in 1981, and is labeled as one of the seven natural wonders of the world.
There are a variety of ways to experience the reef and myriad activities (both in and out of the water) to enhance your experience at the reef itself.  Find a wide range of possibilities under Activity Options. We look forward to working with you to customize your day on the reef to ensure that your experience is everything you hope for.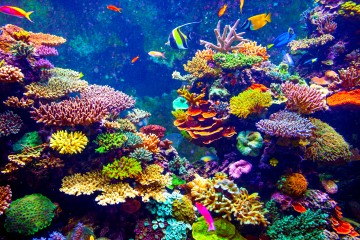 ---
Day 9 – Full Day Daintree National Park and Cape Tribulation
Spend today discovering the Daintree Cape Tribulation area, home to the oldest continuously surviving rainforest on earth.  This spectacular natural area showcases the evolution of land plants from ancient ferns, conifers and cycads to the more highly evolved flowering plants.  Daintree Rainforest is also home to some ancient animal species that have changed very little since ancient times, such as the musky rat-kangaroo and the southern cassowary.  The area is renowned for its scenic panoramas of rainforest-clad mountains, rivers that carve through rugged gorges to spill into freshwater lagoons, giant (and ancient!) trees, ferns from primordial times and curiosities from the animal kingdom.  This rainforested area truly is a world untouched by urban development, noise, and air pollution.  You may choose to explore this area on your own, on a guided tour, or with organized activities (4WD tours, kayaking, horse trekking, diving and snorkeling, river cruises and zip lining are just a few of the options on offer).  We are excited to work with you to plan your time in this treasured National Park and World Heritage site.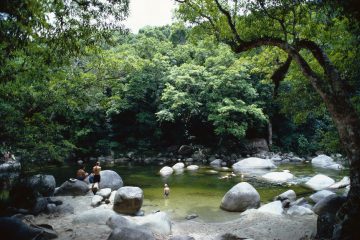 ---
Day 10 – Fly to Uluru / Ayers Rock in the Uluru/Kata Tjuta National Park – Afternoon at Kata Tjuta
This morning fly to Uluru / Ayers Rock located in the Uluru/Kata Tjuta National Park.  Uluru/Ayers Rock is a large sandstone rock formation in the southern part of the Northern Territory, Central Australia.  Kata Tjuta and Uluru (a World Heritage-listed site) are the two major features of the Uluṟu-Kata Tjuṯa National Park.
The afternoon will be spent at Kata Tjuta, formerly known as The Olgas, a group of ancient rock formations approximately 30 kilometres away from Uluru in Australia's Red Center.  The 36 domes that make up Kata Tjuta are spread over an area of more than 20 kilometres, the highest of which is Mount Olga.  Kate Tjuta is sacred to the Anagu people, the traditional owners of this land, who have inhabited the area for more than 22,000 years.  Take a walk around this spectacular rock structure and learn about its history and cultural significance at the Uluru-Kata Tjuta Cultural Center. 1 night: Uluru / Ayers Rock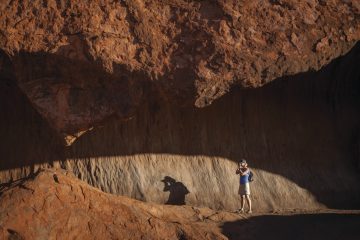 ---
Day 11 – Sunrise at Uluru, Fly to Melbourne
An early start to your day to see the sunrise above Uluru.  Follow in the footsteps of this sacred area's ancestral beginnings by embarking on a walk around the base of Uluru. You may choose to take the entire Uluru Base Walk or just concentrate on one or more of its sections.  Ranger guided walks are also available, instructing visitors about traditional Anagu culture and the rock art present in the park.
This afternoon board a flight to Melbourne, the second largest city in the state of Victoria.   Named as one of the world's most live-able cities, Melbourne is set around the shores of Port Phillip Bay and is laid out in a large rectangle, boasting a lively and cosmopolitan pulse.  It sits on the northern banks of the Yarra River, about five kilometers from the bay. The centre of the city (CBD) is made up of precincts – distinct enclaves each with its own flavor and charm. Some are just a lane or two, while others cover the banks of the Yarra River or a busy CBD street. 3 nights: Melbourne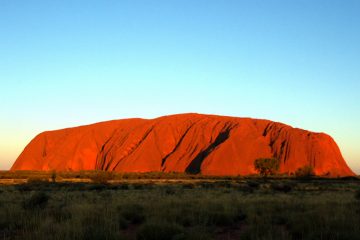 ---
Day 12 – Full Day Victoria Wildlife Tour including Brisbane Ranges National Park
Experience the wild side of Victoria today by discovering its amazing wildlife in a natural setting within easy reach of the city.  Interact with wild animals in their natural habitats on a full day eco tour led by an experienced Wildlife Guide.  See koalas and kangaroos in the wilds of their natural habitat as you learn about the history of these iconic species.  The natural environments you will be visiting are also home to parrots, emus, honeyeaters, possums, wallabies and lizards, which your Wildlife Guide will help you identify and understand.  Brisbane Ranges National Park is recognized as the state's richest wildflower habitat and the unusual geology of the Brisbane Ranges (low mountain ranges dissected by rocky gullies) has preserved plants in this area that have long since vanished from other parts of the region.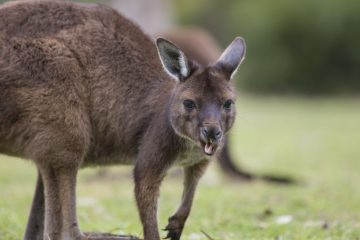 ---
Day 13 – Full Day Melbourne
Allow this day to explore Melbourne and the surrounding area.  This cosmopolitan city offers endless opportunity for urban adventures, and we can help you find city-based activities to best suit your interests or help you organize day tours to the surrounding areas.  Find a range of possibilities for your day in Melbourne under Activity Options.
This is the final full day of your Australian National Parks adventure – if you would like more time in Victoria consider extending your stay by a few days to experience the Great Ocean Road and the Grampians National Park.  The Great Ocean Road is one of the world's most scenic coastal drives, encompassing the towering 12 Apostles, iconic surf breaks and misty waterfalls.  The Grampians are a series of rugged sandstone mountains and forests rich in wildlife – this is one of Victoria's most popular holiday destinations and a great venue for camping, climbing, scenic drives and bushwalks.  We would be happy to work with you to plan an extended trip if you are interested in this option.
---
Day 14 – Depart Melbourne for the U.S.A.
Your Australian National Parks adventure is now complete.  We hope you enjoyed your experience in Australia's beloved and protected natural spaces.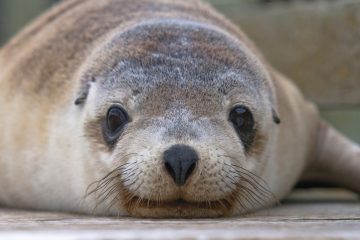 ---
Accommodation Options
Discovering the National Parks of Australia
Following is a sample of accommodation options.  Uniquely New Zealand has many hidden treasures in addition to these to share with you.
---
Sydney
The Langham Hotel, Sydney – Located in the historic Rocks District, The Langham offers dramatic Harbor views from a stylish historic hotel.  98 beautifully decorated rooms and suites are available with expansive terraces offering views of the harbor and city.  Unique dining experiences are available on site at Kent Street Kitchen and the Palm Court.  A spectacular 20 metre indoor pool with a star-dappled sky is available to guests, as are an assortment of body treatments offered by the hotel's spa.
Four Seasons Hotel, Sydney – The luxurious Four Seasons Sydney is located on the footsteps of Sydney's iconic Harbor Bridge and Opera House and near the city's vibrant shopping and business centers. Club rooms, guest rooms, and suites are available, all with stunning views. Enjoy the stunning outdoor pool, spa services, and fine dining in one of the hotel's two restaurants and bar.
Amora Jamison, Sydney – In the heart of the city, the award winning hotel, Amora Jamison combines space, style and warmth, with 415 stylish guest rooms ranging from Deluxe King Rooms to Jamison Club Suites, most overlooking the harbour and city below. A good night's sleep is the key to a great stay and at Amora where the beds are renowned for their comfort. The warm and earthy tones are accentuated by lovely furnishings, and enhanced by extensive in-room amenities, marble bathrooms and the latest in-room entertainment options ranging from Internet access and computer game consoles.
Pier One Sydney Harbour – Nestled alongside the Sydney Harbour Bridge and built over the water, Pier One Sydney Harbour is a boutique luxury hotel mixing Federation style with contemporary chic.  One of only a handful of hotel in the heart of The Rocks district, Pier One allows easy access to the city's historic dining and entertainment precinct as well as the CBD.  Enjoy pier or inside dining onsite for lunch and dinner at The Gantry Restaurant & Bar.  Pier One offers accommodation in a number of rooms and suites, many with panoramic water views and balconies. See image.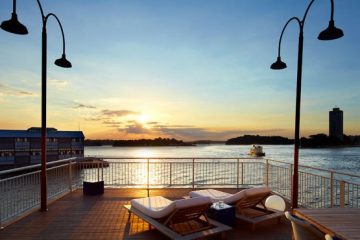 ---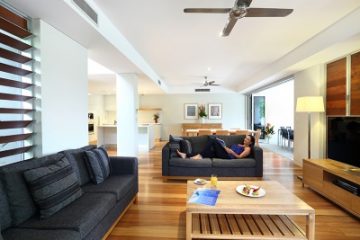 Noosa
Sofitel Noosa Pacific Resort – Located in the heart of Hastings Street, Sofitel Noosa Pacific is the only 5 star hotel in Noosa.  It offers 176 luxuriously appointed studios, suites and villas.  Enjoy upscale dining on site at Noosa Beach House, owned and operated by one of Australia's most renowned chefs, Peter Kuruvita.  The restaurants offers relaxed coastal dining in a chic ambience.  Guests enjoy use of the swimming pool, spa pool and sauna.
The Sebel, Noosa – Set in the heart of Noosa and just minutes from beautiful Noosa Beach, The Sebel is situated on cosmopolitan Hastings Street and is surrounded by up market fashion boutiques and world class restaurants and cafes.  Guests may choose from a range of elegant one and two bedroom apartments and enjoy use of the on-site gym, swimming pool and spa pool.  Each apartment is fully self-contained.
RACV Noosa – 5 star RACV Noosa Resort is a stylish accommodation set amongst serene bushland and surrounded by a conservation sanctuary.  It is close to restaurants, cafes, bars and beaches.  This is a great option for couples, groups and family holidays with the kids.  The resort provides two heated pools, a lagoon pool with beach entry, waterslide pool, interactive splash park with playground and toddler pool.  A heated outdoor spa, day spa, gym, and floodlit tennis court are also available.  Guests may choose from an array of 22 suites, 30 one bedroom apartments, 78 two and three bedroom apartments, 25 multi-story three bedroom villas, all spacious and stylishly appointed.  The 3 bedroom enclave luxury villas complete the offering, providing a premium luxury alternative.  Dining is available onsite at the smart Arcuri Restaurant and at the Resort Bar overlooking the infinity pool. See image.
---
Port Douglas
Coconut Grove Apartments, Port Douglas – Coconut Grove offers a new level of exclusive luxury holiday apartments in Queensland's tropical north.  Situated only 140 metres from beautiful Four-Mile Beach, the apartments offer views of rainforest cloaked mountains and blue seas.  Guests may choose from 33 elegant, fully self-contained three-bedroom holiday apartments, each complete with its own outdoor terrace or balcony.  A sun-drenched swimming pool and outdoor entertaining and barbecue area is available for use. See image.
 Peninsula Boutique Hotel, Port Douglas – This adult only Port Douglas luxury accommodation offers a boutique style hotel experience, enjoying a beachside location overlooking Four Mile Beach and the ocean beyond. The hotel offers 34 modern, one bedroom beachfront apartments complete with kitchenette. Guests enjoy private balconies and an assortment of heated pools. In house dining is available in the hotel's licensed restaurant.
Villa San Michel, Port Douglas – Villa San Michelle offers 40 self contained one and two bedroom/two bathroom apartments right in the heart of Port Douglas.  Shopping, dining and Port Douglas' attractions are just a short walk away.  Apartments face a shared courtyard with two heated swimming pools decorated in the Mediterranean style.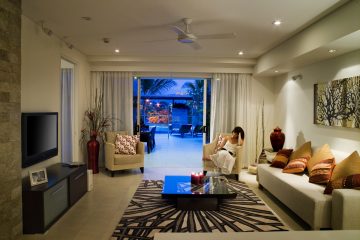 ---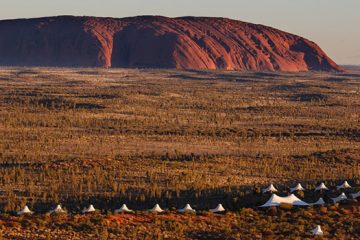 Uluru/Ayers Rock
Longitude 131, Uluru/Ayers Rock – Longitude 131 commands spectacular views of Uluru/Ayers Rock while offering a luxurious and unique hotel experience.  15 private, elevated luxury tents are available for guest use along with a communal tented lodge where guests enjoy refined, locally sourced meals.  Visit the Red Ochre Spa for an outback relaxation experience. Longitude 131 offers a wide range of complimentary activities for their guests' enjoyment. See image.
Sails in the Desert, Uluru/Ayers Rock – In the heart of Australia's Red Center, Sails in the Desert Hotel beautifully contrasts Uluru's raw natural beauty with a decidedly luxurious outback experience.  The hotel offers 228 luxury five star rooms and suites.  Visit the Mulgara Gallery, located on site, and take a dip in the beautiful outdoor pool.  Restaurant, bar, and lounge options are available in the hotel.
Desert Gardens Hotel, Uluru/Ayers Rock – Offering the only rooms with views of Uluru in Ayers Rock Resort, the 4.5 star Desert Gardens Hotel features welcoming rooms, locally inspired dining options and interactive arts experiences within an oasis of native gardens.  Guests may choose from a diverse range of accommodation options including deluxe rock view rooms to shady poolside rooms, all located under a canopy of towering gum trees and garden beds dotted with native flowers.  Dining is available on site in White Gums Restaurant, Bunya Bar and Argnuli Grill's Red Centre.   The Mingkiri Gallery, located on-site, is home to an extensive collection of Australian handcrafted goods.
---
 Melbourne
Langham Hotel, Melbourne – The Langham, situated on Melbourne's Southbank Promenade, offers sweeping vistas of the Yarra River and Melbourne skyline.  The hotel offers a range of guest rooms, club rooms and suites in addition to the option of the hotel apartment and the hotel presidential suite. Guests can expect exciting epicurean adventures in the hotel's interactive restaurant and the opportunity to pamper themselves in the hotel's award winning day spa and beautiful indoor pool.
Hotel Lindrum, Melbourne – Hotel Lindrum Melbourne is a unique 59 room boutique hotel that combines modern design with the ultimate in contemporary facilities.  Located adjacent to Melbourne's city center in the Central Business district, Hotel Lindrum is well situated for access to some of the city's best sights. See image.
Alto Hotel on Bourke, Melbourne – Alto Hotel on Bourke is an environmentally rated boutique apartment hotel in Melbourne's Central Business District.  The hotel is located within easy walking distance to public transportation and many of the city's highlights.  The Alto offers a range of accommodation options, from guest rooms to studio, one, two, and three bedroom apartments.  Apartments are outfitted with fully equipped kitchens and the ground floor of the hotel houses a cozy lounge.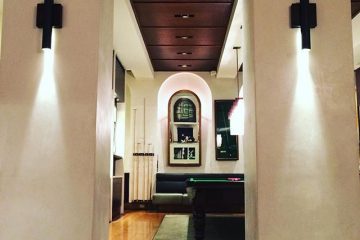 ---
Activity Options
Discovering the National Parks of Australia
Following are guided touring suggestions that would work with your 13 Days Spotlight on Australia itinerary on days when activities have not yet been suggested. These options can be private, small group or large group. For a more personalized experience we suggest at least a small group tour, which are usually 12 or fewer people. Some touring options are half day and many require a full day.
---
Sydney
Sydney Detour – Perhaps Sydney's most unique private sightseeing tour, this half day detour offers a fantastic overview of the real Sydney from a local perspective.  Enjoy touring the city in a vintage Holden while your tour guide introduces you to the city's hidden gems.  Visit various neighborhoods and experience Sydney as a city of villages, discussing contrasts of lifestyles as you explore the natural beauty of Sydney Harbor.  Gain a wonderful insight into Australian culture and customs.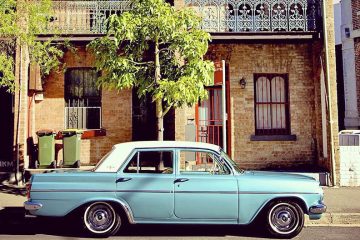 ---
Sydney Harbour Cruise – Enjoy a lunch cruise on Sydney Harbor aboard a smaller vessel.  Your captain and host will share the area's history with stories of Sydney Harbor and its foreshore as you take in the sights of the Sydney Harbour Bridge, the Sydney Opera House and the bays and coves of Sydney Harbor.  Enjoy a gourmet 3-course BBQ lunch with regional wines, local beers and hosted service.  Immerse yourself in all the activities that this private vessel offers including swimming, fishing and kayaking – or sit back, relax on an expansive sunbed, and do nothing at all.
---
Full Day Blue Mountains High Country Eco Tour Including Hike from Sydney – As you travel west towards the Blue Mountains, make a stop at Featherdale Wildlife Park, where you will have the chance to get up close and personal with Australia's favorite marsupials, kangaroos, koalas, wallabies and wombats.  Continue west into Blue Mountains National Park, stopping at Kings Tableland for stunning views over the rugged Grose Valley. Enjoy lunch in the charming village of Leura before heading to Eagle Hawk lookout for an awe-inspiring view of the famous 3 sisters rock formation.  Continue on to Wentworth Falls, where you will be guided down a well maintained trail towards the magnificent Falls.  Learn about the local flora, fauna and geology of the magnificent Blue Mountains from your experienced guide.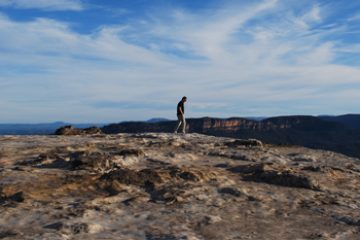 ---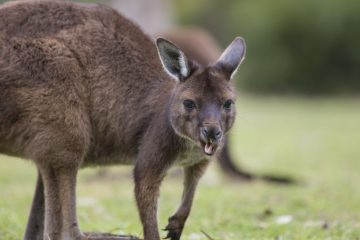 Boutique Wildlife in the Wild Tour from Sydney – This tour takes you to the pristine bushland of the Southern Highlands, just 90 minutes south of Sydney, in search of the animals that make Australia so unique. Small, personalized groups (maximum 10 passengers) travel in luxury 4WD vehicles to the Southern Highlands in a tour designed for those who want to see and understand Australia's wildlife in its natural bush surrounds.  With the help of a knowledgeable and passionate Naturalist Guide you'll search for Australia's charismatic mega fauna, including kangaroos, wallabies, koalas, wombats, emus, possums, gliders and platypus. Birdlife includes distinctive parrots, bowerbirds, kookaburras, the unique Lyrebird, and much more.  Your tour will also include spotlighting at night to see nocturnal animals such as possums, gliders and wombats.
---
Full Day Valley of the Waterfalls Walk, Sydney – The Walking Tour in Valley of the Waterfalls is one of the most beautiful hikes that the Blue Mountains has to offer. Descend into a valley of magnificent waterfalls through a stunning rainforest gorge. Explore ferny grottos, swimming holes and see a series of cascades including beautiful Empress Falls where water gushes from a narrow gorge.  You will be accompanied by a friendly and professional guide who is passionate about the region. The tour includes a delicious lunch and refreshments and bonus sightseeing in the Blue Mountains after your walk.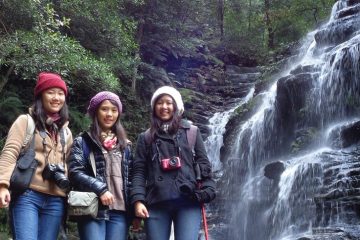 ---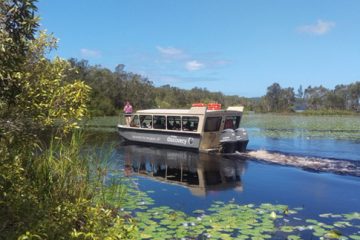 Noosa
Noosa River Everglades Cruise – This tour offers an unforgettable wilderness cruise into one of Australia's most pristine natural regions.  Board your purpose built vessel for a cruise along the beautiful Noosa River ("the river of mirrors"), lakes, and into the dark waterways of the Noosa Everglades.  Experience a guided boardwalk at Fig Tree Point to explore the wetlands before navigating into the Everglades.  You will have the opportunity to explore, swim in the clear waters, and discover wildlife in this natural setting.  This remarkable protected wilderness area is rich in wildlife and natural habitat, with over 44% of all Australia's bird species residing within the region.
---
Full Day Fraser Island Tour, departs from Noosa – Spend a day exploring Fraser Island, the world's largest sand island and a World Heritage Listed site.  With your guide, travel into the best areas of this environmentally sensitive region and discover its precious eco-systems, abundant wildlife and natural beauty.  The island is composed of seemingly endless golden beaches, towering hardwood forests, heathland, pristine rainforests, sandblow deserts, clear freshwater lakes, prehistoric ferns and mosaic colored sands.  Enjoy a swim and an aussie style BBQ in the middle of the day.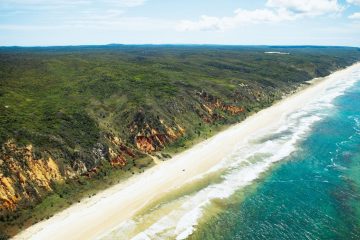 ---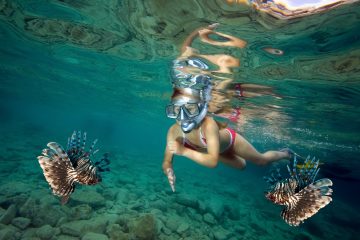 Port Douglas
Great Barrier Reef Experience – Enjoy the thrill of a beautiful and exhilarating Great Barrier Reef Cruise. Half or full day cruises allow you to soak up the peace and tranquility of this idyllic setting. Enjoy an unforgettable snorkeling experience in either the Outer Reef or the protected coral cay of Low Isles, which is closer to Port Douglas. Learn about the living entity that is the Great Barrier Reef from knowledgeable guides. Relax on a sunny, sandy beach in the Low Isles, join the guided snorkel tour, lounge on deck or take a trip in a glass bottom boat. All snorkeling gear and snorkeling instruction included.  Option to cruise to the reef and learn about this natural wonder while staying dry deck.
---
Scuba Dive the Great Barrier Reef – Experience some of the best diving in the world in the clear outer reef water of the Agincourt Ribbon Reefs, northeast of Port Douglas and on the very outer edge of the Great Barrier Reef. Fantastic diving experiences are available for both the seasoned and novice diver.   Certified divers can enjoy up to 3 dives on a day dive excursion, including drift and wall dives while. However, no experience is required to enjoy the thrill of scuba diving under the safe control and supervision of highly qualified instructors. With a wide variety of spectacular dive sites available, each day the best three sites of the day are chosen according to weather and tidal conditions. All dives are guided with a pre-dive briefing on the sites, equipment, and safety procedures.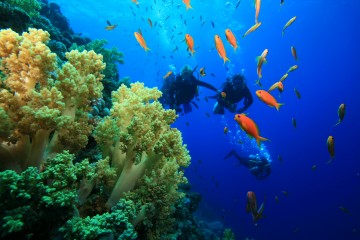 ---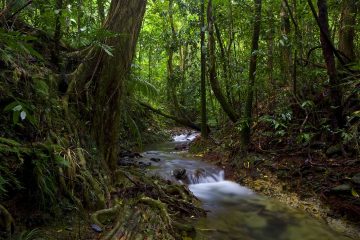 Daintree and Cape Tribulation Tour from, depart from Port Douglas – Venture into this spectacular protected wilderness area for an exclusive rainforest experience.  The Daintree is home to a stunningly diverse ecosystem and supports a spectacular array of native and migratory birdlife.  This area is home to a number of ancient plant species that are not known to exist anywhere else on earth.  Visit the famous Mossman Gorge, traverse the Daintree River, take in the spectacular views from renowned Alexandra Lookout.  Arrive at Cape Tribulation with time to explore and enjoy the spectacular rainforest and beach, the only place in the world where two world heritage listed areas meet.  Enjoy lunch and a swim if time and weather permit.
---
Jungle Surf the Daintree Rainforest, depart from Port Douglas – Travel deep into the heart of the Daintree Rainforest, the oldest continuous rainforest on the planet. Those with an adventurous spirit will have the opportunity to partake in a Jungle Surfing experience through the canopy of the rainforest, zipping along above the forest floor. Enjoy a wildlife spotting cruise on the return journey, spotting crocs, snakes and eagles while learning more about this beautiful and historic part of Australia.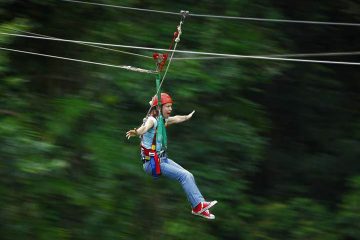 ---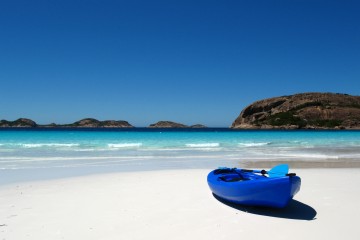 Sea Kayak tour, depart from Port Douglas – Explore one of Tropical North Queensland's most unspoiled and uncrowded coastal environments via a safe and fun sit-on-top guided kayak tour out of Port Douglas. This reef and island area is home to a vast array of wild life – look down through the clear water to see inquisitive sea turtles and colorful fish. Tours include a safety briefing and instruction session.
---
Full Day Cultural Tour, departs from Port Douglas – This fascinating and exclusive full day tour of the Daintree Rainforest and Cape Tribulation explores a pristine world heritage rainforest area while providing great insight into the area's Aboriginal culture and heritage.  Travel to Cooya Beach to learn about the area's Aboriginal traditions and the history of this special place – a traditional fishing ground of the native Kuku Yalanji.  Learn about this unique coastal area's three distinct ecosystems – beach, mangroves and coastal reef.  Your local guide will teach you how to throw a spear and demonstrate how to hunt for fish, mud crabs and mussels.  Learn about "bush tucker" and medicines before enjoying home made "damper" and catch of the day.  At Mossman Gorge guests are welcomed with a traditional "smoking" ceremony.  This ceremony is conducted by Aboriginal people with specialized cultural knowledge.  Wander into the lush rainforest of the World Heritage Listed Daintree Rainforest with pristine waterfalls and vivid plant life.  All the while hear stories of the area's rich indigenous heritage and the Rainforest's delicate eco system and spectacular flora and fauna.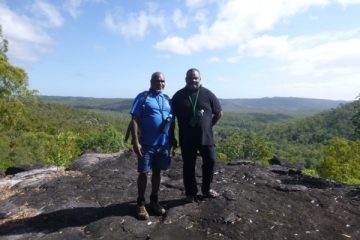 ---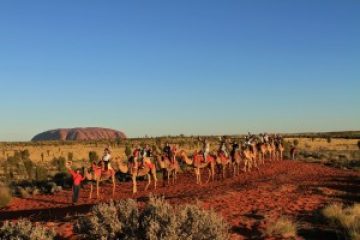 Uluru/Ayers Rock
Uluru Sunset Camel Ride – Depart in the evening on a guided sunset camel ride through rich red sand dunes to see the awe-inspiring backdrop of Uluru and Kata Tjuta and view their color transformation as the sun sets. Skilled camel handlers will describe the flora and fauna of the outback landscape surrounding you on your ride. Return to the camel farm at twilight to enjoy refreshments. Tour departs 1.5 hours prior to sunset.
---
Uluru Sunrise Tour – Experience the remarkable changing colors of the desert landscape and the spectacular sight of Uluru and Kata Tjuta at dawn. Departing your accommodations before dawn, guests are transported to the Uluru base walk.  As day breaks over Australia's heartland, your guide will discuss the history of this unique area, including the plights of early explorers and their interactions with Anangu, the original inhabitants of this spectacular wilderness. With a greater understanding of one of the world's truly ancient cultures, guests walk around the base of Uluru and see for themselves the sites which are so sacred to the traditional owners.  A walk into the Mutitjulu waterhole offers each guest a unique insight into the sheer physical and spiritual enormity of Uluru. During the walk, the guide will point out cave paintings and other relevant sites important to Anangu and the early explorers.  Continue on to the Cultural Centre to learn the cultural and spiritual meanings of Uluru and Kata Tjuta.  You will return to your accommodations mid-morning.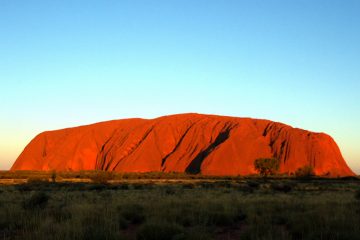 ---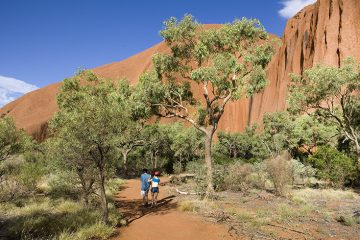 Uluru Trek – Join a guided trek around the base of Uluru as you explore the most profound and culturally significant monolith in Australia.  This 14km trek around the base trail of Ayers Rock/Uluru will be an education in the culture, geology, and environment that is the essence of this iconic monolith. Along the trail you will visit the waterholes and the ancient rock art sites of Uluru's early human inhabitants; your knowledgeable guides will explain the cultural significance of the area to the Anangu people. This morning's activities will be bathed in the gentle glow of an Uluru sunrise.
---
Kata Tjuta Domes Trek – Travel to Uluru-Kata Tjuta National Park to a place where unique flora and fauna thrive, Kata Tjuta (The Olgas).  Your guide will discuss the diverse environment and cultural significance of Kata Tjuta as a sacred Aboriginal ceremonial site. Arrive at Walpa Gorge and walk between the mighty conglomerate domes and hear how these 36 domes that make up Kata Tjuta have evolved over the years.  Listen to the wind (walpa) far above and view the scale of the rocks walls that surround you.  Take time to embrace the spirituality of this amazing location.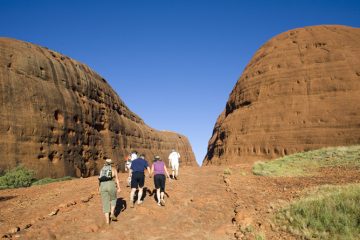 ---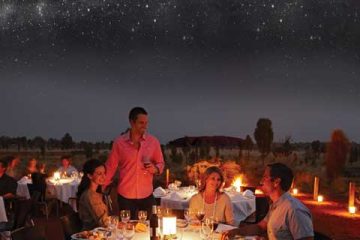 Uluru Sounds of Silence Dinner – Enjoy an evening of dining under the sparkling outback sky with this magical 4 hour experience.  Begin with canapes and chilled sparkling wine served on a viewing platform overlooking the Uluru-Kata Tjuta National Park.  As the sun sets and darkness falls, listen to the sound of a didgeridoo and sit down to an unforgettable dining experience.  Settle back and listen to the resident star talker decode the southern night sky.  The stunning clarity of the night sky in the Red Centre is breathtaking.
---
Uluru – Kata Tjuta Helicopter Flight – Enjoy a 30 minute round trip helicopter flight to Uluru and Kata Tjuta.  After a short safety briefing head out to enjoy an exploration of these two iconic structures from a unique perspective.  This tour will highlight both of these iconic structures in a way that is not fully appreciable from land.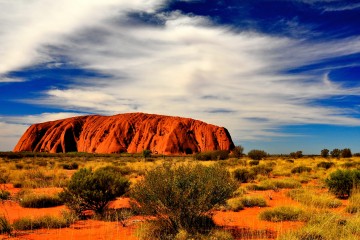 ---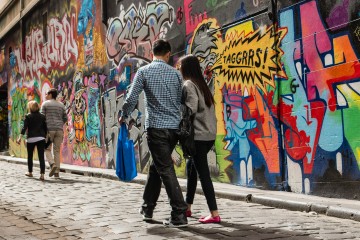 Melbourne
Hidden Secrets, Melbourne – Enjoy a guided walk with local guides (with morning, afternoon and evening departure options) through Melbourne's beautiful lanes and arcades. You will discover local designers and specialty retailers, many of whom are only found in the city. A recount of Melbourne's captivating history and an introduction to her amazing architecture will inspire locals and visitors alike. Morning walks focus on exploring Melbourne's lanes and arcades while afternoon walks have a special emphasis on Melbourne's unique architecture. Evening walks pay special attention to Melbourne's food culture, making stops at a number of restaurants to sample local food and wine.
---
The Essential Melbourne Experience – Truly experience Melbourne like a local with this full day guided tour. Start your day with a relaxing guided bike ride through Melbourne's hippest streets, parks, shops, cafes, hidden laneways and multicultural neighborhoods. Stop for a cup of coffee along one of Melbourne's famous quirky laneways before joining your guide for lunch in this foodie city. Finish the day with a private city tour from the comfort of a luxury vehicle; see Melbourne's icons and learn how this sophisticated city has been shaped and molded.
---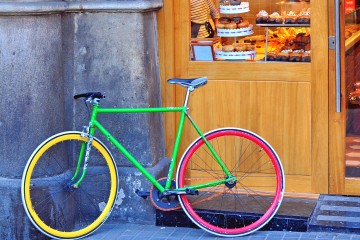 Melbourne Bike Tour – Get your bearings in this cosmopolitan city while you explore by bike, allowing you to see more in a few hours than many visitors manage to see in days. With a local expert, take in Melbourne's trendiest streets, parks, shops, cafes, hidden laneways and multicultural neighborhoods. You don't need to be a frequent or strong cyclist – this is a sightseeing tour requiring some riding with frequent stops to chat and explore.
---
Yarra Valley Wine Tour, departs from Melbourne – One of Australia's leading wine making areas, the Yarra Valley is a short drive from Melbourne, making it an ideal place to visit in a day. The wines of the Yarra Valley are dominated by Shiraz, Cabernet Sauvignon, Pinot Noir and Merlot in the red varieties and Chardonnay and Sauvignon Blanc in the white varieties. Tours to the Yarra Valley wine region can be done in a half-day or full day group tour or with a private guide at a time that suits.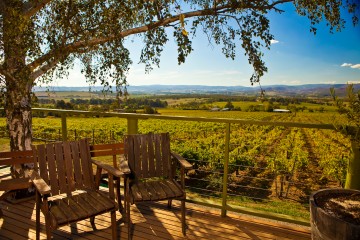 ---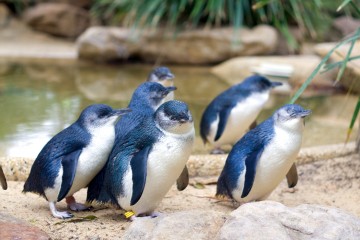 Philip Island Ranger Led Adventure, departs from Melbourne – Experience the beauty and nature of Phillip Island through the eyes of a Phillip Island Nature Parks Ranger. Spend the afternoon with exclusive access to one of the island's expert rangers for an enhanced understanding of the islands flora and fauna, unique and varied birdlife plus the fascinating indigenous Aboriginal History of this small yet diverse island. Get up close to Koalas at the Koala Conservation Center and see Koalas in their natural habitat as you explore the island's tree top boardwalks. As you wander keep an eye out for wallabies, echidnas and bats. See the world's second largest Australian Fur Seal Colony at Seal Rocks and complete the tour at sunset with the nightly ritual of the return of the Little Penguins. This 11 hour tour departs and return to Melbourne in luxury vehicles and includes a dinner featuring local island produce.
---
Back to AUSTRALIA Sample Itineraries
> Discovering the National Parks of Australia – Sample Itinerary