Overview
13 Day Best Aussie Family Vacation…Ever!
Sample Itinerary
Following is a sample itinerary that can be customized just for you.
---
Discover the best Australia has to offer on an itinerary designed with families in mind. Begin in iconic Sydney; explore the harbor, city, surrounding beaches and mountains, and renowned Taronga Zoo. Head to Ayers Rock/Uluru for scenic exploring, nighttime sky gazing, and an education in Aboriginal culture. Explore the living marvel that is the Great Barrier Reef, discover the rainforest village of Kuranda (and the surrounding World Heritage rainforest), experience the world class beaches of Palm Cove, and immerse yourself in ancient Aboriginal culture at Tjapukai Aboriginal Cultural Park. Travel to Brisbane on the Gold Coast and explore this visitor friendly, cosmopolitan city before experiencing unparalleled animal encounters and the Sunshine Coast's acclaimed Australia Zoo.
Trip at a glance
Day 1: Arrive Sydney, Explore / 4 nights: Sydney
Day 2: Tea at Sea Cruise, Sydney Bicycle Tour
Day 3: Taronga Zoo Wild Australia Experience
Day 4: Full day to explore Sydney and surrounding area
Day 5: Fly to Ayers Rock/Uluru, Sunset Camel Ride / 2 nights: Ayer Rock/Uluru
Day 6: Sunrise Base Walk, evening Astro Tour
Day 7: Fly to Cairns, travel to Palm Cove / 4 nights: Palm Cove
Day 8: Full day Great Barrier Reef
Day 9: Full day Kuranda Tour
Day 10: Free day in Palm Cove, evening cultural event
Day 11: Fly to Brisbane, explore / 2 nights: Brisbane
Day 12: Full day Australia Zoo
Day 13: Depart Brisbane, return to U.S.A.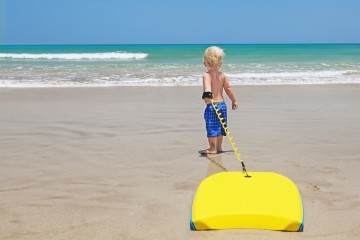 ---
Trip Highlights
Enjoy morning tea on a Sydney Harbor Cruise
Discover the Taronga Zoo with a Wild Australia Experience
Explore Sydney's highlights by bicycle
Experience an Ayers Rock/Uluru sunset from the back of a camel
Explore Ayers Rock/Uluru on a guided sunrise walk
Stargaze under a pristine Outback night sky
Enjoy the ultimate beach day in Palm Cove, Australians' beach vacation destination
Spend a day exploring the Great Barrier Reef
Discover the Kuranda Rainforest, learn about its flora and fauna
Experience Brisbane's sunshine coast culture and hospitality
Enjoy a full day at the world renowned Australia Zoo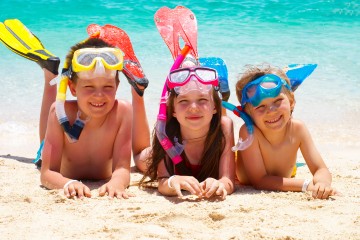 ---
Detailed Itinerary
13 Day Best Aussie Family Vacation…Ever!
Sample Itinerary
Following is a sample itinerary that can be customized just for you.
---
 Day 1 – Arrive in Sydney, Explore
Welcome to Sydney! The rest of the day is free to explore. Consider using Sydney's Hop On Hop Off Double Decker bus to move about the city. This is an independent and easy way to get around Sydney and take in its best attractions. This great service allows you to discover Sydney at your own pace at minimal cost. Stay on board for a 90 minute guided tour of the city or hop on and hop off all day, it's up to you.
Sydney's laid-back outdoor lifestyle and physical allure make it one of the world's greatest cities to visit. The iconic harbor is Sydney's natural playground, the dominant factor in so much of what the city has to offer. World-renowned beaches and five major national parks also deliver unforgettable experiences. The city is culturally diverse, with a dynamic food scene and vibrant cityscape of outstanding contemporary and colonial architecture. A rich collection of Australian museums, historic buildings and indigenous artifacts tell the fascinating story of the settlement of the continent. 4 nights: Sydney.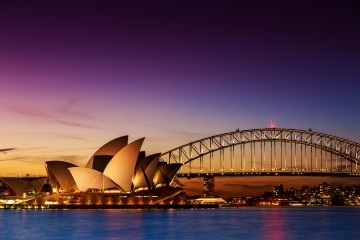 ---
Day 2 – Tea at Sea Cruise & Sydney Bicycle Tour
Begin your day with a morning tea cruise on Sydney Harbor. This unique cruise experience aboard a smaller motor yacht will allow you to take in the sights of Sydney Harbor and its foreshore including the Sydney Harbor Bridge, the Sydney Opera House, and the bays and coves of the harbor. Your personal captain and host will share the rich history of the harbor and the city.
This afternoon experience the highlights of the city by bike. On this easy ride you will see that there is no better way to get a quick feel for this beautiful city than by bike. Take in the stunning harbor views as you pedal past Circular Quay, the piers at Walsh Bay, Darling Harbor, Hyde Park and the Royal Botanic Gardens.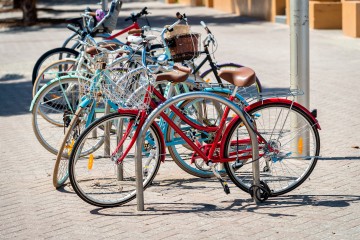 ---
Day 3 – Taronga Zoo Wild Australia Experience
Today you will head to the Taronga Zoo for an exclusive, hands-on and behind the scenes tour with the zoo keepers. This small, personalized group tour is fully escorted by expert guides and keepers. Start by receiving an introduction to Australia's unusual wildlife (including photo opportunities with koalas, kangaroos and echidnas!). You will get the chance to feed the koalas in their enclosure before delving into a rural Australia farmyard experience. Venture into the wilderness of the Australian bush land where you will encounter the endangered Southern Hairy-nosed Wombat and discover some of the mysterious creatures that share the wombat's enormous burrow. Visit behind-the-scenes in the Australian Nightlife House and enjoy encounters with nocturnal creatures. Your tour includes an all day Zoo Pass and a round trip on the Sky Safari Cable Car – discover why Taronga is known as "The Zoo with the View."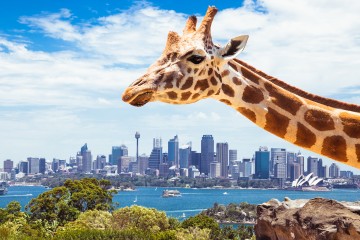 ---
Day 4 – Full day to explore Sydney
Today is a full day to either hang out in Sydney, head to the coast and Bondi Beach, or take a tour out to the Blue Mountains.
Consider using public transportation to get out to Bondi Beach, one of Sydney's most famous destinations. At Bondi there are some great cafes and restaurants to enjoy sitting outside and people watching; there are also some lovely cliff top coastal walks. Consider a walk from Bondi to Coogee, 6km. The walk features stunning views, beaches, parks, cliffs, bays and rock pools. It is a reasonably easy walk with medium gradient paths and several staircases. There are several strategically placed benches on which to take a break and enjoy the view.
Or, heading out the city… The Blue Mountain Region borders Sydney's metropolitan area to the West. Consisting mainly of a sandstone plateau, the area is dissected by gorges up to 760 meters deep. The highest point of the range is 1,190 meters above sea level. This area is one of rugged tablelands, sheer cliffs, deep valleys and rivers, and lakes teeming with life. The unique plants and animals that live in this natural place relate an extraordinary story of Australia's antiquity and its diversity of life. There is beautiful scenery and great walking to be had in this area. Whatever your activity level, we look forward to working with you to tailor your time in Sydney to best suit your interests.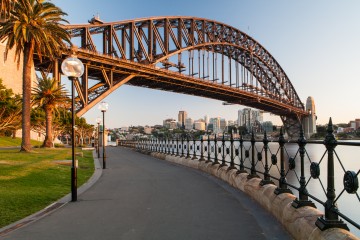 ---
Day 5 – Fly to Ayers Rock/Uluru, Sunset Camel Ride
Board a flight this morning bound for Ayers Rock. A national heritage site, iconic Ayers Rock, known as Uluru by the local Aboriginal people, is a large sandstone rock formation in the southern part of the Northern Territory. Uluru is sacred to the Anangu, the aboriginal people of the area, and the dramatic natural landscape surrounding the rock formation is home to a plethora of springs, waterholes, rock caves and ancient cave paintings. Depending on the position of the sun during the day, Ayers Rock/Uluru changes color from shades of fiery red, delicate mauve, blue, pink and brown, and rainfall creates a silver veil over the entire rock.
This evening (about 1.5 hours before sunset) depart on a guided sunset camel ride through rich red sand dunes to see the awe-inspiring backdrop of Uluru and Kata Tjuta and view their color transformation as the sun sets. Skilled camel handlers will describe the flora and fauna of the outback landscape surrounding you on your ride. Return to the camel farm at twilight to enjoy refreshments. 2 nights: Ayers Rock/Uluru.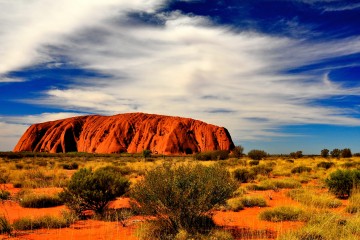 ---
Day 6 – Sunrise Base Walk, Evening Astro Tour
Begin the day early, an hour before sunrise, with a guided sunrise trek around Ayers Rock/Uluru. This 14km trek around the base trail of Ayers Rock/Uluru will be an education in the culture, geology, and environment that is the essence of this iconic monolith. Along the trail you will visit the waterholes and the ancient rock art sites of Uluru's early human inhabitants; your knowledgeable guides will explain the cultural significance of the area to the Anangu people. This morning's activities will be bathed in the gentle glow of an Uluru sunrise.
This evening enjoy a star gazing Astro Tour, designed to easily accommodate families. The Australian Outback is perhaps one of the best places in the world to explore the galaxy of stars in the night sky. The low humidity and minimal unnatural light allow you to view the stars and planets like you've never seen them before. This tour, which takes place just after sunset, provides a great introduction to astronomy and an exploration of the southern night sky.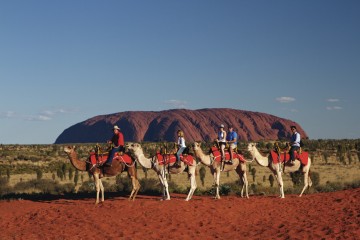 ---
Day 7 – Fly to Cairns, travel to Palm Cove
Depart the Outback to fly to the coast today, arriving in the gateway city of Cairns, in Northern Queensland. From here make the brief journey north to Palm Cove.
Palm Cove is a premier beach location, popular with the local Australians and just 30-minutes from the Cairns Airport. White sandy beaches lined with coconut palms and the year round warm ocean make Palm Cove one of the most beautiful beaches in the area. This is a great area from which to explore the region including the Great Barrier Reef and the nearby rainforest. Palm Cove has a number of fine restaurants, bistros and cafes, offering Australia's finest meats, seafood and tropical fruits. 4 nights: Palm Cove.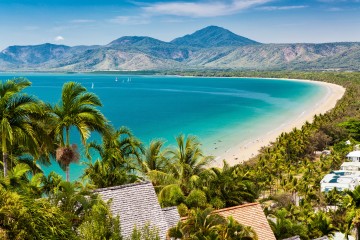 ---
Day 8 – Full day Great Barrier Reef
Enjoy a full day exploring the Great Barrier Reef. This morning depart from Cairns on a full day tour to a Great Barrier Reef activity platform located on the outer reef. You will find options for all activity levels: snorkel the reef, scuba dive, or stay dry and view the reef from above water. Learn about the history and ecology of this amazing living structure.
The Great Barrier Reef is the world's largest reef system composed of over 2,900 individual reefs and 900 islands stretching for over 2,600 kilometers. The reef is located in the Coral Sea, off the coast of Queensland in northeast Australia. The Great Barrier Reef can be seen from outer space and is the world's largest single structure made by living organisms. This reef supports a wide diversity of life – it was selected as a World Heritage Site in 1981 and is labeled as one of the seven natural wonders of the world.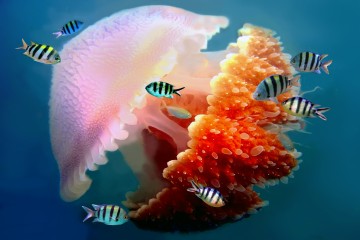 ---
Day 9 – Full day Kuranda Tour
Depart this morning on a full day guided tour of the picturesque mountain retreat of Kuranda, "The Village in the Rainforest," and the surrounding area. Today you will get to explore indigenous culture, native wildlife, and a World Heritage Rainforest, beginning with a scenic train ride to your destination, Kuranda. Once there, explore the picturesque village and take in the Australian Butterfly Sanctuary with a guided tour through the landscaped gardens. Experience the award-winning Rainforestation Nature Park and travel deep into the rainforest on land and by water while your knowledgeable guide explains the wildlife, flora, and fauna surrounding you. Learn about local indigenous culture as you watch the Pamagirri Dancers, learn to throw a boomerang, watch spear throwing, and learn about the iconic didgeridoo. Head over to the Koala & Wildlife Park for a guided tour through crocodiles, wombats, snakes, dingoes and a cassowary before hand feeding kangaroos and wallabies. On your way out, travel over the canopy of pristine World Heritage Rainforest via cable car before returning to Cairns.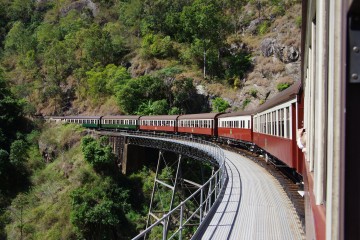 ---
Day 10 – Free day in Palm Cove with evening cultural event
Enjoy a full day in Palm Cove to relax and enjoy the beautiful beaches that make this area famous. We look forward to working with you to customize your free time in Palm Cove. This evening visit Tjapukai Aboriginal Cultural Park for dinner and a unique Aboriginal cultural experience. This powerful and personal experience will lead you into another world as Australia's ancient Aboriginal culture is brought to life through a series of award winning performances. Traditional face painting, a fire making ceremony and live dance performances bring Aboriginal culture alive as you dine on modern cuisine from the Far North.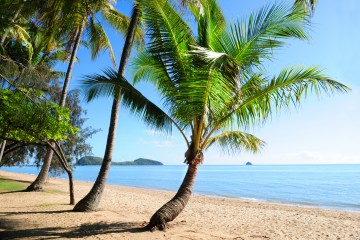 ---
Day 11 – Fly to Brisbane
Catch a flight this morning bound for Brisbane. The remainder of this day is free to explore Brisbane and the surrounding region – we look forward to working with you to customize your free time in this great city.
The capital of Queensland, Brisbane is a city of clear blue skies, sunny dispositions and beautiful river views. This visitor friendly city is livable, easy to navigate, and extremely welcoming. The city (and its one million residents) prides itself on its cultured food and wine scene and laid back outdoor lifestyle. Built around a picturesque winding river, Brisbane's landscapes of green parkways, urban running tracks, bars, cafes, galleries and beaches are unique and appealing. With all that this cosmopolitan city has to offer it is no surprise that Brisbane is one of the fastest growing cities in Australia. 2 nights: Brisbane.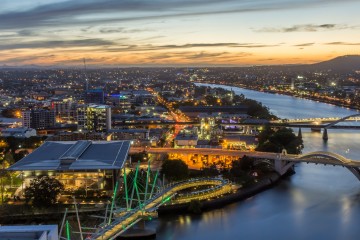 ---
Day 12 – Full day Australia Zoo
Travel to the Sunshine Coast today, home of the Australia Zoo. Experience the many shows and demonstrations on offer at the zoo, including crocodile feeding and snake handling. You may choose to explore the zoo on your own or book a specialized tour as follows:
Platinum Zoo Adventure – For the true wildlife enthusiast a Platinum Adventure is the opportunity of a lifetime. Enjoy a full day of extreme VIP treatment, exclusive behind-the-scenes animal encounters and the undivided attention of the animals and their expert handlers. You will go where very few guests have the opportunity to go, and you are guaranteed a day of fun, discovery and hands-on experience that you will never forget.
Hire A Caddie – 'Hire a caddie for a day' is your very own caddie chauffeur to take you on a mind blowing journey around Australia Zoo that you will never forget. You can choose your very own caddie to suit the experience that you are looking for, whether it is an educational tour you are after or a crazy adventure… it is entirely up to you!
Private Guided Tour – Make the most of your day at Australia Zoo, and have your own private guide show you around.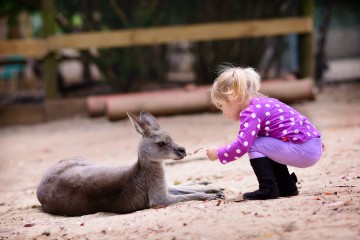 ---
Day 13 – Depart Brisbane, return to the U.S.A.
Sadly, your Australian adventure has come to an end. Catch a flight today to begin your journey back to the U.S.A.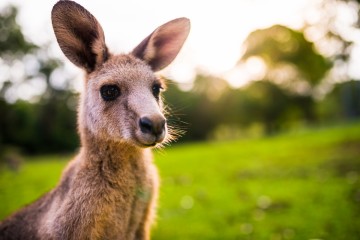 ---
Accommodation Options
13 Day Best Aussie Family Vacation…Ever!
Following is a sample of accommodation options. Uniquely New Zealand has many hidden treasures in addition to these to share with you.
---
Sydney
Quay West Suites Sydney – Quay West Suites is a luxury, 5 star apartment hotel offering spacious apartment style accommodation with views of Sydney's Harbor Bridge, Central Business District and Circular Quay. Quay West features contemporary one and two bedroom apartments, a boutique restaurant and bar, a heated swimming pool, sauna, and outdoor sundeck. Quay West is a well suited to families and located near a number of the city's highlights.
Adina Apartment Hotel, Sydney Harborside – Well situated on King Street Wharf by Darling Harbor, Adina Apartment Hotel offers an excellent harborside experience. The hotel is just a short walk from some of Sydney's main attractions including Madame Tussauds, Sea Life Sydney Aquarium, the Sydney Zoo, the Sydney Harbor and the Central Business District. Stay in one of 114 well-appointed one bedroom apartments, two bedroom interconnecting apartments or studio rooms. Adina is well suited to families and features a heated swimming pool as well as an onsite restaurant and bar. See image.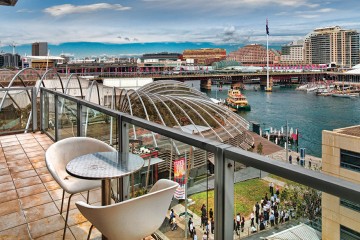 ---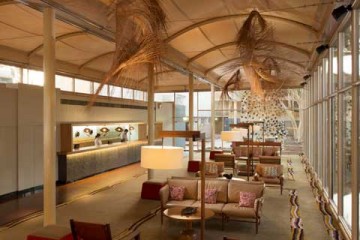 Ayers Rock
Emu Walk Apartments – Only 20km from Uluru, Ayers Rock Resort's Emu Walk Apartments offers comfortable, fully serviced apartments located just minutes from the Town Square and dining options. One and two bedroom self contained apartments complete with well equipped kitchens are available.
Sails in the Desert – In the heart of Australia's Red Center, Sails in the Desert Hotel beautifully contrasts Uluru's raw natural beauty with a decidedly luxurious outback experience. The hotel offers 228 luxury five star rooms and suites. Visit the Mulgara Gallery, located on site, and take a dip in the beautiful outdoor pool. Restaurant, bar, and lounge options are available in the hotel. See image.
---
Palm Cove
Sea Temple Resort & Apartments – The Sea Temple Resort & Spa is located on the northern end of the beach at beautiful Palm Cove near a number of the area's highlights. Ideal for families, the resort offers guestrooms as well as one, two, and three bedroom apartments and villas including plunge pool apartments, swim-out apartments and penthouse apartments (all apartments contain fully equipped kitchens and laundry facilities). Guests enjoy in house dining and spa services. See image.
Peppers Beach Club & Spa – Peppers Beach Club & Spa is well situated for access to the area's highlights. A number of accommodation options are on offer including guest rooms (with the option to adjoin connecting room creating 2 or 3 bedroom units), spa rooms and penthouses. Peppers is an ideal accommodation option for families. Enjoy a swim in the lagoon pool with a sandy beach border and make use of the pool bar. In house dining and day spa services are available for guests.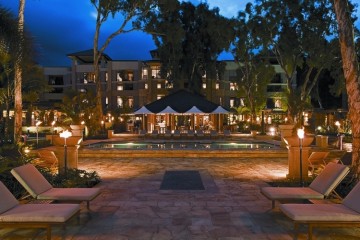 ---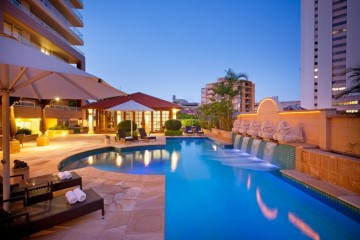 Brisbane
Quay West Suites Brisbane – Perched on the Brisbane River and just steps away from the City Botanical Gardens, this Quay West Suites offers well furnished serviced apartment accommodation, a great option for groups and families. All units have balconies, fully equipped kitchens and laundry facilities. Guest enjoy use of the heated outdoor pool and sun deck with sauna. In house dining is available in the on site restaurant. See image.
---
Activity Options
13 Day Best Aussie Family Vacation…Ever! 
Following are guided touring suggestions that would work with your 13 Day Best Aussie Family Vacation…Ever! itinerary on days when activities have not yet been suggested. These options can be private, small group or large group. For a more personalized experience we suggest at least a small group tour, which are usually 12 or fewer people. Some touring options are half day and many require a full day.
---
Sydney
Sydney Harbor Tall Ships – Discover Sydney Harbor in style aboard an 1850s style tall ship. Spend two hours cruising the harbor and sail past all of Sydney's biggest attractions including Sydney Harbor Bridge, the Opera House, Fort Denison, Taronga Zoo and Admiralty House. Discover Sydney's rich history and hear some of the stories and tales behind these iconic landmarks. Passengers are encouraged to get involved in helping to hoist and set the sails, if they so choose. Enjoy a delicious lunch on board.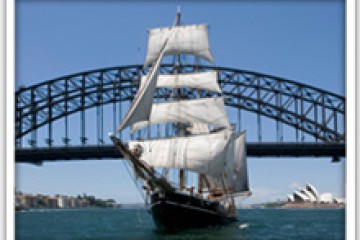 ---
Climb the Sydney Harbor Bridge – The Bridge Climb is an iconic Sydney attraction. Enjoy a guided journey to the top of the Sydney Harbor bridge, travelling along the outer arch of the Bridge on catwalks and ladders all the way to the summit, 134 meters above Sydney Harbor. To participate you must be 8 years and over 1.2 metres tall. Children aged 8 to 15 must be accompanied by an adult, with a maximum of three children per adult.
---
Guided Bike Tour with Bonza, Sydney – This half-day sightseeing tour of Sydney with morning and afternoon departures introduces visitors to Sydney's highlights by bike. See the city's sights and some of her hidden gems, while expert guides ensure that you get the most out of your Sydney experience. Stop for a quick drink at a warm friendly pub at the halfway point before continuing on to take in all of Sydney's stunning sights.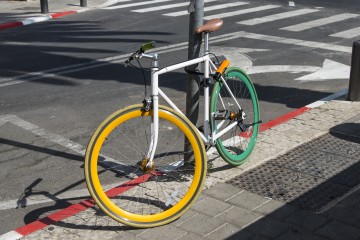 ---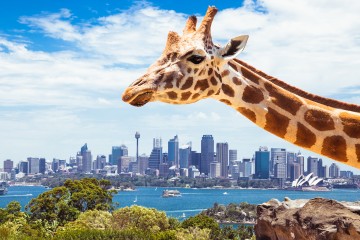 VIP Pass for Taronga Zoo, Sydney – Enjoy a fully escorted, behind the scenes tour of Taronga Zoo's unique Australian animal collection in a small and personalized group. Get "up close and personal" with hand-raised native animals at Taronga's Education Center and learn about the local wildlife. The tour includes a round trip ride on the Sky Safari cable car where visitors will discover way Taronga is known as "the Zoo with a View."
---
Boutique Wildlife Tour, Sydney – Just 90 minutes south of the city is the pristine bushland of the Southern Highlands. This afternoon and evening tour takes guests to this beautiful native bushland in search of the animals that make Australia so unique. Small, personalized groups travel in luxury 4WD vehicles to the Southern Highlands and, with the help of knowledgeable and passionate Naturalist Guides, search for kangaroos, koalas, wombats, emus, possums and more.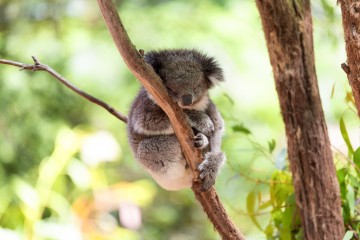 ---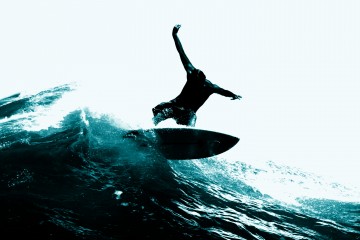 Let's Go Surfing – Spend a day at Bondi, a world famous surf beach. Either sign the whole family up for a Family Private Lesson or drop the kids of for a fun and active beach day at the Bondi Beach Kids Club. Private Family Lessons last 1 to 1.5 hours and are customized around the family – these lessons are suitable for beginner, intermediate and advanced surfers.   A day at the Bondi Beach Kids Club consists of a surf lesson and a mix of other activities including surf fitness, swimming, body boarding, and educational beach walks.
---
Back to AUSTRALIA Sample Itineraries
> 13 Day Best Aussie Family Vacation…Ever! (Sample Itinerary)