Maria Island Walk
Maria Island is a wonderful blend of rare wildlife, convict heritage, and elegant accommodation. On the multi-award winning Maria Island Walk, you'll enjoy four days of gentle walking by day and candlelit gourmet dining at night.
Maria Island National Park lies just a few kilometres off Tasmania's east coast, within easy reach of Hobart. On the Maria Island Walk, you'll explore a heritage listed convict settlement, walk empty white-sand beaches, view rare wildlife, and enjoy gourmet food, all in the confines of a national park.
The Maria Island Walk is an active, but pampered, holiday experience, designed to let you experience the remoteness and tranquility of a wilderness experience in comfort. This is a soft adventure, where the packs are light, the food is gourmet, the wine is Tasmania's best, and a comfortable bed awaits you each night.
Walking groups have a maximum of ten guests with two professional guides. This ratio affords the personalized, intimate experience that the walk has become so well known for. Unlike other, more challenging wilderness hikes, this walk is not terribly demanding; you walk along pristine beaches and formed bush tracks so you don't need to be an experienced hiker to enjoy this walk.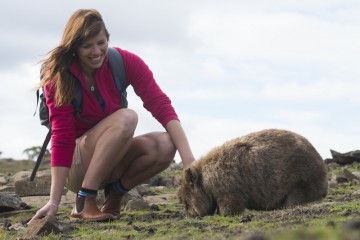 ---
Maria Island Itinerary
Day one: Triabunna to Haunted Bay
Travel by boat through the sparkling waters of Mercury Passage to the isthmus of Maria Island, and walk to the tranquil Casuarina Beach camp. Explore the tall eucalypt forest on the way down to the spectacular Haunted Bay.
Distance: 8km
Day two: Haunted Bay to White Gums Camp
Walk along five beautiful beaches; look out for dolphins, sea eagles and exotic shells. By late afternoon, arrive at White Gums Camp for a refreshing swim.
Distance: 13km
Day three: White Gums Camp to Darlington
Head inland to the heart of the Island. Wander through giant Tasmanian blue gums, climb mountain peaks, and settle at the world heritage settlement of Darlington.
Distance: 9-17km
Day four: Darlington to Hobart
Explore the woodlands at the northern tip of Maria Island, and the dramatic sea cliffs of Fossil Bay. Enjoy a celebratory champagne lunch before boarding the boat to go back to the mainland.
Distance: 4km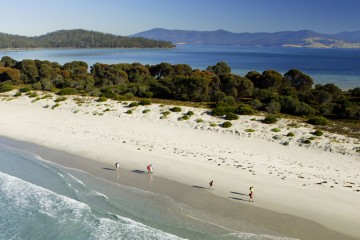 ---
Maria Island Walk Accommodations
At the end of each day you will retire for the evening in one of two secluded wilderness camps, both a stone's throw from empty, white-sand beaches. These beaches are the perfect place to unwind with a glass of wine, enjoy a barefoot stroll exploring for rare shells, or take a swim in the clear waters.
The concealed camps are comfortable, aesthetically pleasing and environmentally conscious. Each night enjoy candlelit three-course meals that make wonderful use of fresh local produce and fine Tasmanian wines. On the final night you will stay in a heritage house in Darlington, a UNESCO World Heritage site nestled on the northern tip of the island. Once a bustling penal settlement with over 600 convicts, Darlington is now home to myriad well-preserved historical buildings.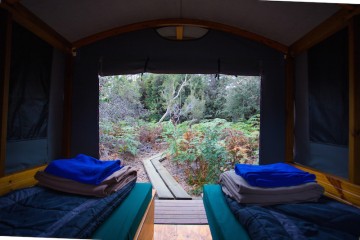 ---
Twelve Apostles Walk
With the Twelve Apostles as your end goal, you will love every step of the beautiful Twelve Apostles Lodge Walk. Delight in the variety of landscapes from cool-climate rainforest and remote beaches to coastal cliff tops, and finally view it all from the air on a Twelve Apostles scenic helicopter flight. Graded overall as moderate, this is a fabulous introduction to walking for a first time hiker. Operating between September and May, there are few better places to see Australian wildlife first-hand than the Great Ocean Walk – this trail is alive with native flora and fauna: birds, fur seals, wallabies, koalas, and many plant species unique to this special corner of the world. Learn about the land through the eyes of the first Australians, and the British convicts transported here on ships over 200 years ago. The coast is littered with shipwrecks from this time, and the tales of survival and loss are part of the fabric of the Great Ocean Walk.
On this trail, you'll explore the Great Otway National Park and the Port Campbell National Park, trek through forests of grasstrees, hear stories of shipwrecks and settlement, and visit remote untouched beaches. All nights of the walk are at the one lodge, which means there's no packing up until the last day, and you'll only carry day-packs containing lunch, water and personal needs. With walking groups no larger than twelve hikers at a time, this is an intimate way to experience one of the great coastlines of the world. Both Feet offers a popular four-day walk itinerary, covering the last 55 kilometres sequentially known as "the Twelve Apostles Walk". The trail is graded overall as moderate with easy and challenging sections along the way. You should expect approximately five kilometres of beach walking over four days. Your guides are committed to making your walk enjoyable as possible. They are first aid qualified, take care of the walk details, and share with you their knowledge of the region. They will be with you every step of the way to make sure your holiday is safe, secure, and memorable.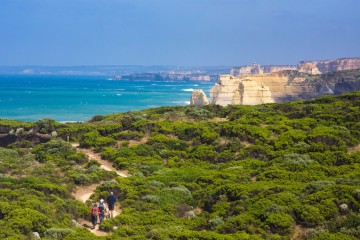 ---
12 Apostles Walk Itinerary
Day one: Castle Cove to Johanna (Lodge Walk-In)
Transfer from Melbourne to the lodge and then begin your walk at Castle Cove. With sheer cliffs dropping to sapphire ocean, rough grass-tree forests, wild flowers, followed by breathtaking Johanna Beach you will struggle to choose a favourite part of today. (Option to walk into the lodge).
Distance: 7.5km (+3km lodge walk in option at the end)
Day two: Milanesia to Moonlight Head
Country lane walking that is the highest point of the whole trail. Here begins the 'Wild Side' – dramatic changes in elevation deliver wild and remote Southern Ocean views. You will understand today why this shoreline became known as the Shipwreck Coast.
Distance: standard walk: 12.5km (+8km longer walk option)
Day three: Moonlight Head to Princetown
Another remote and beautiful beach – Wreck Beach – can be wild or mild depending on mother nature's wishes.   See anchors embedded into the sea rocks and traverse coastal heath forests for your first glimpses of the Twelve Apostles.
Distance: 12.5km (+5km option)
Day four: Princetown to the Twelve Apostles
These coastal pillars reveal a little more with each undulation until finally the Twelve Apostles fill your frame. Take advantage of the exclusive walker photography platform. Finish your guided walk on a high with a bothfeet exclusive:   a helicopter flight over the Apostles.
Distance: 8km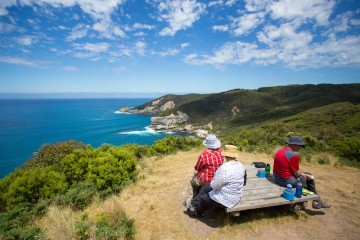 ---
12 Apostles Walk Accommodation
The Twelve Apostles Lodge Walk hubs out of the privately owned and operated hiking lodge located at Johanna Beach, the mid point of the trail. Walkers stay in eco-luxe villas with ensuite bathrooms, flushing toilets, fresh linen and hot showers. The lodge has been purpose-built for hikers. Sustainably designed and constructed, the lodge features many hiker-friendly facilities such as a drying room, foot spas, and gear hire. Enjoy true hospitality with creature comforts and simple pleasures such as good food and anticipatory service. Your guides are committed to providing you the best Victorian walking experience, complete with fabulous regional food and of course, a selection of Victoria's best wines. Meals are prepared by the internationally trained chef, who is more than happy to cater for dietary requirements, allergies and food dislikes.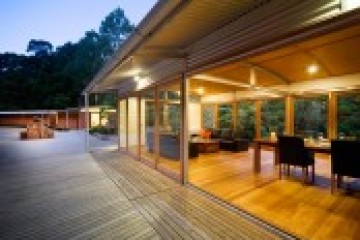 ---
The Arkaba Walk
Traversing the ancient Flinders Ranges and the private Arkaba Conservancy in outback South Australia, The Arkaba Walk is an experience that immerses you in the story of the land. 600-million years of geological history echo through the stratified layers of Wilpena Pound and the Elder Range, providing spectacular backdrops throughout the walk, while craggy sandstone bluffs and dry creek beds lined with River Red Gums offer a quintessential outback landscape. Large numbers of Red and Western Grey kangaroos, wallaroos and emus are regular sightings along the walk, and the country is littered with the stories, and often heroic failures, of early pioneers who tried to eke a living from the harsh but beautiful country.
Arkaba's own conservation management programs offer interested guests the chance to learn of the challenges that Australia faces in conserving its unique and diverse environment.
This is a four-day walk for groups of up to ten walkers. Departing from Wilpena Pound on day one, you'll be escorted by one or more of Arkaba's field guides, whose passion is in opening up the secrets of the country and reconnecting you with the bush.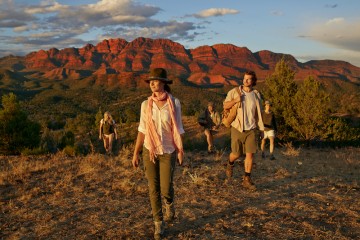 ---
Arkaba Walk Itinerary
Day one: Wilpena Pound Resort to Black's Gap Camp
Set off on foot through the basin of Wilpena Pound before walking onto Arkaba's private wildlife conservancy from the edge of the Pound and descending to Black Gap'sCamp.
Distance: Approximately 12km
Day two: Black's Gap Camp to Elder Camp
A challenging hike through creeks and broken country approaching the foothills of the Elder Range to Elder Camp.
Distance: 10 to 14km
Day three: Elder Camp to Arkaba Homestead
Walk across varying terrain through Mallee and cypress pine forests before ascending the beautiful Red Range for views across the neighbouring ranges and crossing Arkaba Creek to arrive at Arkaba's heritage homestead.
Distance: 10 to 14km
Day four: Arkaba Homestead to Arkaba Woolshed
Relax in the library with a book, take an optional scenic flight over Wilpena Pound or walk along the creek to the historic Arkaba Woolshed.
Distance: optional 6km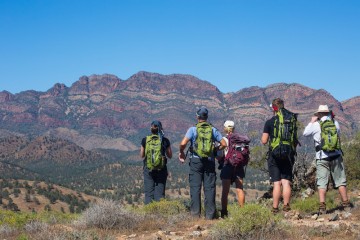 ---
Arkaba Walk Accommodations
The accommodation has been designed to expose you to the surrounding country; Arkaba's signature 'star beds' offer you the chance to lie out under the night skies (or within sheltered bush huts). Arkaba's incredible topography presents spectacular panoramas of Wilpena Pound and the Elder Range, particularly in the evening as the ranges glow with the rich red light of sunset. While spending your days immersing yourself in the stories, both natural and human, of this region, the 'Wild Bush Luxury' touches (hot showers, a cold drink, canapés, comfy swags and hot water bottles) appear on arrival in camp in late afternoon. Evenings are spent around the campfire, indulging in a three-course camp dinner, with a selection of fine South Australian wines, before retiring to your deluxe sway for a well-earned rest and the sounds of the bush all around you.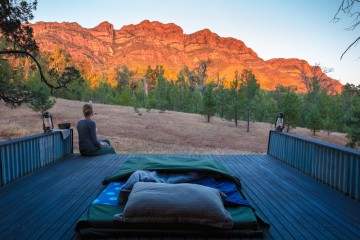 ---
Bay of Fires Walk
At the edge of Mt William National Park in north-eastern Tasmania, the magnificent coastline known as the Bay of Fires provides dramatic landscapes, ecology, and wildlife. Immerse yourself in one of the most pristine environments that Tasmania has to offer; walk the soft sandy beaches, explore coves, kayak the Ansons River and enjoy the uncomplicated luxury of accommodation at the Forester Beach Camp and award winning Bay of Fires Lodge.
Departing daily from October to May, the walk is a four-day experience. Led by well-informed guides, small groups of no more than ten walkers explore both the fascinating beach environment and the rich diversity of the nearby woodlands.
This coastal stretch of azure water and rocky headlands, with boulders dotted offshore, appears as if untouched for thousands of years and offers a remote landscape with something for everyone to discover.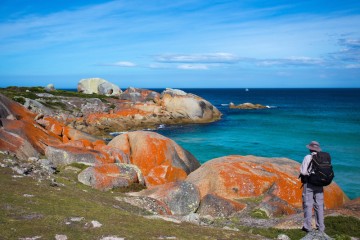 ---
Bay of Fires Walk Itinerary
Day one: Launceston to Mt William National Park
Journey to Mt William National Park, enjoy views of the Furneaux Group of Bass Strait Islands and spend the evening at Forester Beach Camp.
Distance: Approximately 9km
Day two: Exploring the Bay of Fires coastline
Walk along ridgelines of sand-dunes, look out across the heathlands, and lunch at the coves sheltered behind the dunes near Eddystone Point Lighthouse. Sleep sound at the Bay of Fires Lodge.
Distance: Approximately 14km
Day three: Kayaking and enjoying the area
Kayak down the Ansons River and experience the diverse ecology of the river, cross the bird-rich waters of Ansons Bay, and stroll over the dunes of Abbotsbury Peninsula. Fish, snorkel in the marine nursery, explore the nearby shell coves or just enjoy the surroundings.
Day four: Return to Launceston rejuvenated
Walk through eucalypt forests and coastal heathland. Return through the picturesque Pipers Brook wine region stopping at Dr Andrew Pirie's vineyard, then travel onto Launceston returning to Quamby homestead early evening.
Distance: Approximately 4km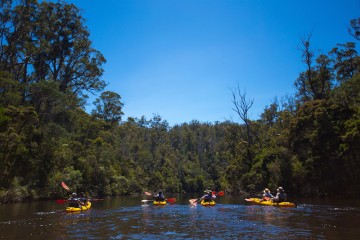 ---
Bay of Fires Walk Accommodation
The first night's accommodation is spent at Forester Beach Camp, a private haven nestled in a protected dune swale behind a stretch of clean, white-sand beach. The camp features twin-share rooms with timber floors, canvas roofs, and full kitchen facilities.
The second and third nights' accommodation is at the multi-award winning Bay of Fires Lodge. Set 40m above the beach, this eco-conscious building is an architectural feat comprising two long timber and glass pavilions, and an open living area complete with fireplace and private twin-share bedrooms. All meals are provided for the duration of the walk, using only the finest Tasmanian local produce: freshly baked bread, fresh fruit salad, cereals, and a cooked breakfast in the morning, and gourmet dinners complete with world-class Tasmanian wines. Consider a visit to the renowned Lodge Spa.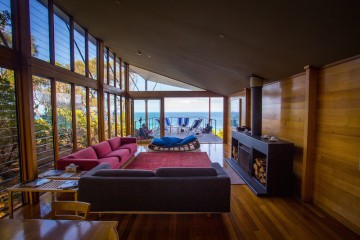 ---
Additional Guided Walk Options
Please contact us for detailed information for the following guided walks and to learn more about options for additional guided walks in Australia.
---
Cradle Mountain Huts Walks
Cradle Mountain Huts Walk offers two walks: a six-day for the more ambitious walker, or a four-day for a more relaxing walk. These itineraries maximize opportunities for optional side trips including Mt Ossa – Tasmania's highest peak (weather permitting), Lake Will and a number of lookouts and waterfalls.
If you choose not to do a side trip, you may retire to the hut and relax with a hot drink, and make the most of our book selection and games.
Each day, you'll walk between seven and twelve kilometres (excluding side trips) over varied terrain including button grass plains, temperate rainforests, alpine meadows and open moorland. Wildlife often encountered along the way include wombats, paddymelons, echidnas and an array of birdlife. The Tasmanian Devil also makes this area its home. At the end of the six-day adventure, take the truly spectacular 17-kilometre boat trip across Lake St Clair before returning to Launceston.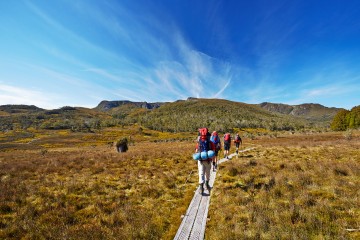 ---
Freycinet Experience Walk
The Freycinet Experience is the original guided walk on Tasmania's east coast, taking you through the pink granite Hazard Mountains and rich coastal forests, and the purest of white-sand beaches including the world-renowned Wineglass Bay. Travel in the footsteps of the Oyster Bay Tribe, walking the same ancient bush tracks trodden some 30,000 years ago. Here, you'll discover diverse marine and wildlife, nesting lagoons, wildflowers and other unique flora and fauna. Led by engaging and knowledgeable guides, go by boat into remote and rarely explored corners of the Freycinet National Park. Choose between challenging mountain climbs or more leisurely coastal routes before regrouping at the end of the day. You'll also travel light, needing only to carry your camera and a small day-pack for lunch.
The Freycinet Experience Walk is a four-day submersion into one the most stunning coastal wilderness areas on Earth. The ethos of this walking company is simple; serve up the best that nature has to offer. The day's walks have been selected to bring guests to the most beautiful parts of the Freycinet Peninsula. Wineglass Bay is voted regularly by travel authorities as one of the world's best beaches. The majority of the walks are off the beaten track, so you'll rarely see another soul outside of your walking group.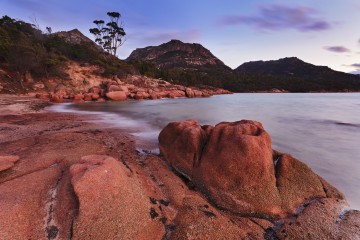 ---
Classic Larapinta Trek in Comfort
Soak up the ethereal scenery of vast flood plains, razorback rocky outcrops and the glorious scale of this ancient land, walking the high ridgelines of the West MacDonnell Range, led by your guides at World Expeditions.
On the Larapinta Trail, you'll enjoy comfortable facilities in splendid isolation, and experience true bush tucker. Reflect on the dynamic landscape with walks that are as achievable as they are satisfying. The Larapinta Trail will delight the wilderness lover and challenge the seasoned hiker. Ideal for the more ambitious walker, the Larapinta Trail also has some challenging stages, passing over remote ridges and canyons, walking up to 72 kilometres over six days.
Following in the footsteps of the land's traditional owners, early explorers and modern adventurers, the stories of the Larapinta Trail will come to life. Carrying only your day-pack, walk with guides into the wild surrounds of the Australian outback and be captivated by the Larapinta.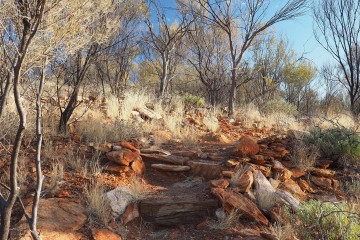 ---
Scenic Rim Trail by Spicers
 This truly unique four-day adventure starts in the foothills of South East Queensland's Main Range National Park, an area famous for its stunning collection of mountains, ridges, escarpments, forests and ancient volcanic plateaus.
From here, experienced guides will lead you through a region that contains more than 30,000 hectares of parkland, numerous state forests and national parks. The Scenic Rim region is a real treasure trove of unique plants, animals and distinctive vegetation types. The mountains preserve living links to Australia's ancient past, while one of Australia's two species of lyrebird inhabits the region's rainforest and wet eucalypt forests. The stories, rituals and traditions of the indigenous inhabitants are woven around the natural environment and highlight their connection to a living landscape. Combined with large portions of private land, including Spicers Peak Station, a 2,800 hectare nature reserve, you'll enjoy a rare opportunity to explore land previously only touched by early pioneers. Throughout your journey you'll also hear tell of stories, rituals and traditions of the region's indigenous inhabitants – people forever woven into the natural environment of this land.
And because you'll be a guest of Spicers Retreats, you can expect luxurious accommodation, gourmet food and wine, and attentive service every step of the way.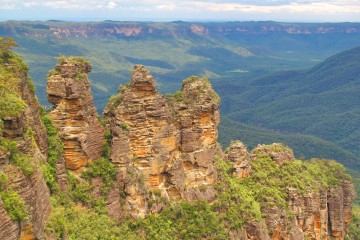 ---
Back to AUSTRALIA Sample Itineraries
> Walking Tours of Australia