Back to AUSTRALIA Sample Itineraries
> 21 Days Luxury Australia – Sample Itinerary
Overview
21 Days Luxury Australia
Sample Itinerary
Following is a sample itinerary that can be customized just for you.
---
21 Days Luxury Australia showcases magnificent natural landscapes and phenomenal wildlife interaction along with rich urban cultural experiences, presented with an impressive level of five star luxury. Begin your adventure in the vibrant city of Melbourne, travel to Tasmania and immerse yourself in the spectacular Freycinet National Park, head back to the mainland to Adelaide and the well-known Barossa Valley wine region. Hop across to unforgettable Kangaroo Island then on to iconic Ayers Rock. Relax and pamper yourself on exclusive Lizard Island before finishing up your vacation in cosmopolitan and culture rich Sydney.
Trip at a Glance
Day 1: Arrive in Melbourne / 3 nights: Melbourne
Day 2: Full day to discover Melbourne
Day 3: Privately guided Echidna Walkabout
Day 4: Fly to Launceston, arrive Freycinet National Park / 3 nights: Freycinet
Day 5: Full day to explore Freycinet National Park
Day 6: Full Day to explore Freycinet National Park
Day 7: Drive to Hobart via Port Arthur / 1 night: Hobart
Day 8: Fly to Adelaide / 2 nights: Adelaide
Day 9: Full day Barossa Valley tour
Day 10: Fly to Kangaroo Island / 3 nights: Kangaroo Island
Day 11: Full day Kangaroo Island
Day 12: Full day Kangaroo Island
Day 13: Fly to Ayers Rock/Uluru / 2 nights: Ayers Rock/Uluru
Day 14: Full day to explore Ayers Rock
Day 15: Fly to Cairns / 1 night: Cairns
Day 16: Fly to Lizard Island, relax and explore / 3 nights: Lizard Island
Day 17: Relax and enjoy Lizard Island
Day 18: Relax and enjoy Lizard Island
Day 19: Fly to Sydney / 2 nights: Sydney
Day 20: Full day to explore Sydney
Day 21: Return to U.S.A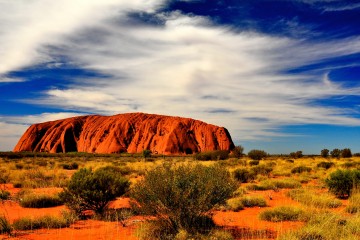 ---
Trip Highlights
Enjoy the unparalleled food scene, rich history and culture of iconic
Melbourne
Interact with native Australian wildlife in their natural habitat
Explore Tasmania. Take in the wild natural beauty of Freycinet National
Park in 5 star style
Immerse yourself in the rich wine culture of the Barossa Valley
Marvel at the dramatic natural and historical wonders of Ayers Rock
Experience the stunning natural beauty of the Great Barrier Reef and the pristine beauty of Lizard Island's beaches in 5 star luxury
Discover the vibrant, culture laden cosmopolitan city of Sydney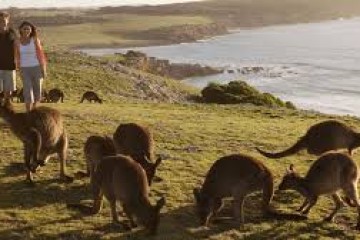 ---
Detailed Itinerary
21 Days Luxury Australia
Sample Itinerary
Following is a sample itinerary that can be customized just for you.
---
Day 1 – Welcome to Melbourne
Welcome to Melbourne! This vibrant, multicultural city is a delight to visit. A pulsing art scene, lively food and wine culture, active nightlife, and rich Australian and Aboriginal history and culture ensure that Melbourne has something for everyone. Discover Melbourne's distinct and charming precincts and encounter her wide streets, winding laneways and tranquil parks. After checking in at your luxury, 5 star accommodations, the afternoon is yours to explore this beautiful city. 3 nights: Melbourne.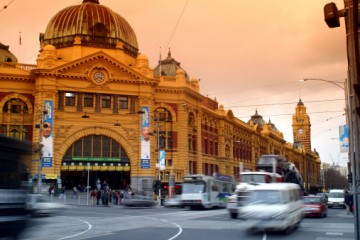 ---
Day 2 – Full day to explore Melbourne

Spend the full day discovering all that Melbourne has to offer. We look forward to working with you to customize your time in Melbourne to best suit your interests.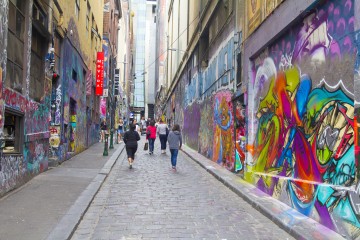 ---
Day 3 – Privately Guided Echidna Walkabout Tour

Today you will see a different side of Victoria by experiencing its amazing wildlife in a natural setting, all within easy reach of the city. Interact with wild animals in their natural habitats on a full day, private eco-tour, led by an experienced Wildlife Guide. See koalas and kangaroos in the wilds of their natural habitat as you learn about the history of these iconic species. The natural environments you will be visiting are also home to parrots, emus, honeyeaters, possums, wallabies and lizards, which your Wildlife Guide will help you find and understand.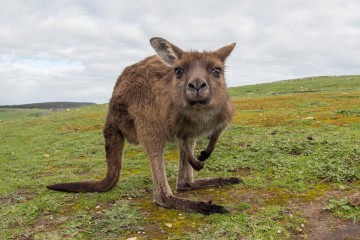 ---
Day 4 – Fly to Launceston, travel to Freycinet National park

This morning fly to Launceston on the island of Tasmania. Tasmania is a large Island just over 150 miles from the mainland, and its southernmost state. Roughly the size of West Virginia, Tasmania has five diverse regions to explore. The state offers a complete experience, whether you want to be active or a little more laid back. It offers unique scenery and wildlife, world-class wine and food, and fascinating history, including convict heritage sites.
From Launceston you will travel by car in the southwest direction to Freycinet National Park. On arrival in Freycinet make your way to Saffire Freycinet, your luxury lodge accommodations. 3 nights: Freycinet.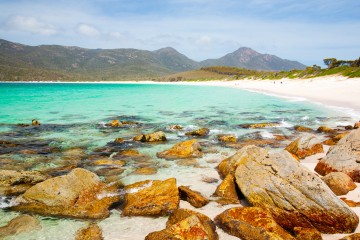 ---
Day 5 – Full day to explore Freycinet National Park

Freycinet National Park resides on a peninsula of pink granite mountains, white sand beaches, sand dunes and dry eucalypt forests on Tasmania's east coast. The park is made up of the Freycinet Peninsula, Schouten Island off its southern tip and the Friendly Beaches north of Coles Bay. The Hazard Mountains, near the town of Coles Bay, is the forms the gateway to the many attractions of the park. The park is famous for Wineglass Bay, just one of its white sandy beaches and the pure clear turquoise waters that are perfect for sea kayaking, swimming and scuba diving. The Hazard Range offers climbing, abseiling and mountain walking, and the coastal heath-lands have wonderful day walks. We are excited to work with you to customize your experience in the park.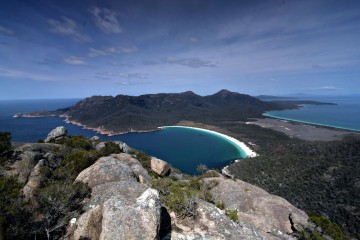 ---
Day 6 – Full day to explore Freycinet National Park

We look forward to helping you tailor your experience in Freycinet to best meet your personal interests.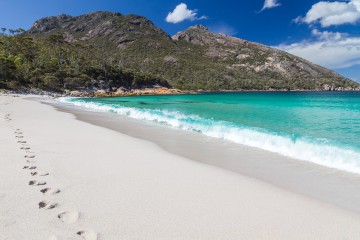 ---
Day 7 – Travel to Hobart via Port Arthur

Travel south along Tasmania's East Coast to Hobart today. Take a detour to Port Arthur and the Port Arthur Historic site on the Tasman Peninsula.
Port Arthur Historic Site is Australia's most intact and evocative convict site. The Historic Site has over 30 buildings, ruins and restored period homes set in 40 hectares of landscaped grounds. Allow plenty of time to fully experience all that Port Arthur has to offer.
Upon arrival in Hobart and check in at your luxury accommodations, the remainder of the day is free to explore the city, Tasmania's beautiful harbor capital, on your own. Hobart is a city rich in whaling history and abounding with a lively art, music, and food scene. Stroll the historic waterfront warehouses, how home to myriad cafes, galleries, and art studios, or immerse yourself in the city's history at the Tasmanian Museum and Art Gallery. 1 night: Hobart.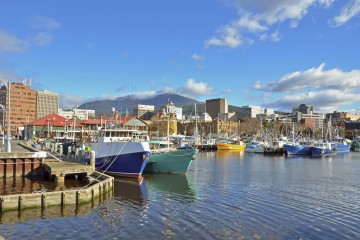 ---
Day 8 – Fly to Adelaide, explore

This morning board a flight bound for Adelaide. Upon your arrival make your way to your luxury, 5 star accommodations. The afternoon and evening are yours to spend exploring this vibrant city. South Australia's capitol city is a lush city comprised of wide, elegant boulevards, cosmopolitan architecture, and stunning gardens. This well-planned and live-able city, bordering the well-known Barossa wine region, is rich in history and culture. We look forward to helping you choose activities suited to your interests in this charming city. 2 nights: Adelaide.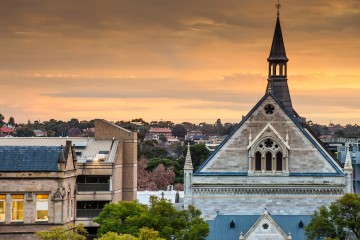 ---
Day 9 – Full day Barossa Valley tour

Depart this morning on a small group tour of the Barossa Valley, one of Australia's best-known wine regions, which combines old world charm with world-class wine. The Barossa has cool summers and rainy winters, which makes it perfectly suited for red wine production, particularly Shiraz and richly flavored Cabernet. Aside from an amazing array of wines and wineries to discover, the area is rich in regional arts and has a fascinating pioneering history worth exploring. And, of course, with great wine comes great food.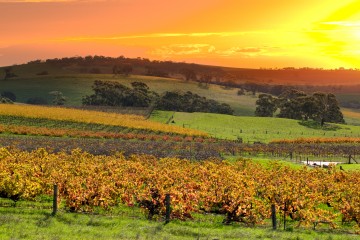 ---
Day 10 – Fly to Kangaroo Island

This morning catch a flight to Kangaroo Island, southwest of Adelaide. Kangaroo Island is a pristine wilderness, often referred to as Australia's premier wildlife destination – a place that has offered protection to substantial populations of native Australian animals. Kangaroo Island (or 'KI' as the locals call it) is also big and surprisingly diverse. If you traverse its 155km length you'll find soaring cliffs, dense forest, towering sand dunes, wetlands and massive arcs of bone white beach. You'll also find rich histories, a thriving arts community, and a wonderful range of local foods and wines. Check in to your luxury accommodations at Southern Ocean Lodge and let your Kangaroo Island adventure begin. 3 nights: Kangaroo Island.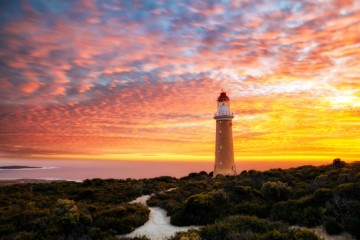 ---
Day 11 & 12 – Explore Kangaroo Island

The next two days will be spent discovering Kangaroo Island. Enjoy informative presentations about the island's discovery and natural history provided by knowledgeable naturalists. Learn about Kangaroo Island's wildlife, maritime heritage and stunning coastal landscapes. Soak up the history of the early island settlers at Grassdale, a historic island property where you will observe local wildlife including kangaroos and wallabies as they congregate to graze. Join a naturalist guide for an exclusive tour to Seal Bay, Australia's third largest colony of Australian sea lions. Embark on scenic walks atop the limestone cliffs of Hanson Bay, allowing for a bird's eye view of the wild coastline. Or, you may choose to enjoy some unstructured leisure time pampering yourself with the lodge's luxury spa services.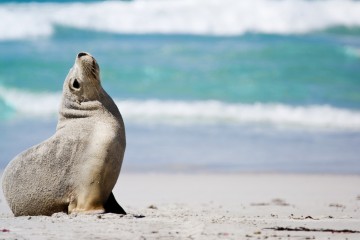 ---
Day 13 – Fly to Ayers Rock/Uluru

This morning you will board a plane bound for Ayers Rock via Adelaide. A national heritage site, iconic Ayers Rock, known as Uluru by the local Aboriginal people, is a large sandstone rock formation in the southern part of the Northern Territory, central Australia. Uluru is sacred to the Anangu, the aboriginal people of the area, and the dramatic natural landscape surrounding the rock formation is home to a plethora of springs, waterholes, rock caves and ancient cave paintings. Depending on the position of the sun during the day, Ayers Rock changes color from shades of fiery red, delicate mauve, blue, pink and brown, and rainfall creates a silver veil over the entire rock. Upon arrival in Ayers Rock check into your luxury accommodations at Longitude 131. 2 nights: Ayers Rock/Uluru.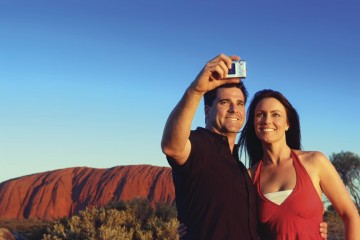 ---
Day 14 – Full day to explore Ayers Rock/Uluru

This day is free to relax and explore the dramatic landscape, history, and ancient cave paintings in the area. We look forward to working with you to customize your experience.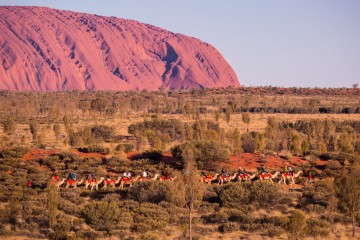 ---
Day 15 – Fly to Cairns

This morning is free to continue exploring Ayers Rock. In the afternoon you will board a flight bound for Cairns. Nestled on the coast of Far North Queensland, the city is tucked between the Great Barrier Reef in the Coral Sea and the lush rolling downs of the Atherton Tableland to the west. This friendly city is a gateway to Queensland adventure, serving as a jumping-off point for travel to the Great Barrier Reef, Daintree National Park, and Cape Tribulation. 1 night: Cairns.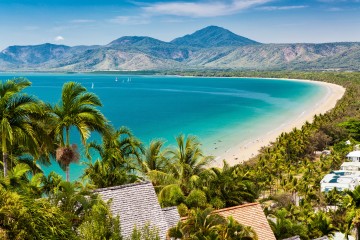 ---
Day 16 – Fly to Lizard Island

This morning you will fly to Lizard Island, which will be your luxury destination for the next three nights.
Beautiful, natural and wild, the most northern Great Barrier Reef resort, Lizard Island is a place reserved for the fortunate few. Consistently ranked as one of the top hotels of the world for more than a decade, Lizard Island offers the natural beauty of the Great Barrier Reef, uninterrupted by the rest of the world. 24 white sand beaches lie undisturbed but for the occasional footprints.
Tucked amid the largest reef system in the world, snorkelling or diving and deep-sea game fishing excursions reveal a diversity of life beneath crystal blue waters. The Cod Hole, one of the area's world-famous dive sites, is just a short boat ride away.
Secluded picnics on private beaches open a window of luxury. Accessible only by private plane, this Great Barrier Reef resort rests discreetly within the island oasis. Or, Indulge in a range of natural Australian spa treatments to generate health and balance. 3 nights: Kangaroo Island.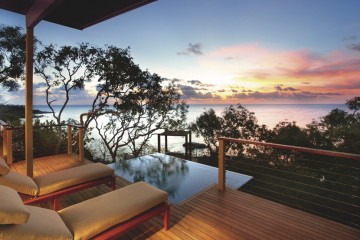 ---
Day 17&18 – Relax and enjoy Lizard Island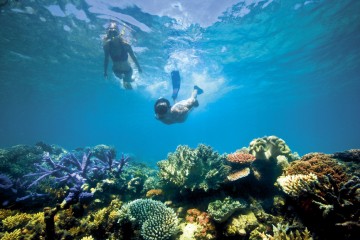 ---
Day 19 – Fly to Sydney

Welcome to Sydney! This charming laid-back city is a joy to visit. The magnificent Sydney harbor frames this cosmopolitan city, which is known for its stunning beaches, close proximity to world-renowned national parks, rich culture, gourmet food and wine scene, and vibrant nightlife. Take note of the outstanding contemporary and colonial architecture, along with a rich collection of Australian museums, historic buildings and indigenous artifacts that tell the fascinating story of the settlement of the continent. On arrival in Sydney check into your luxury, five star accommodations. 2 nights: Sydney.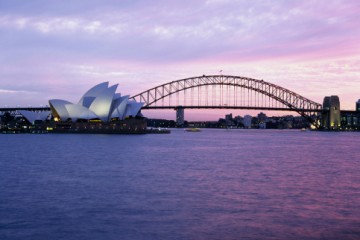 ---
Day 20 – Full day to explore Sydney

Enjoy a full day to discover Sydney. We look forward to working with you to customize your stay in Sydney.
---
Day 21 – Depart Sydney for the U.S.A.

Today you will depart Australia. We hope you enjoyed your luxury Australian adventure!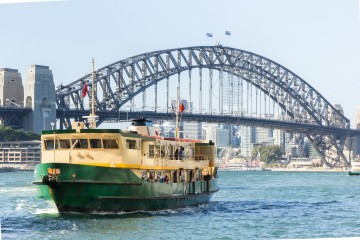 ---
Accommodation Options
21 Days Luxury Australia 
Following is a sample of accommodation options. Uniquely New Zealand has many hidden treasures in addition to these to share with you.
---
Melbourne
Langham Hotel Melbourne – The Langham, situated on Melbourne's Southbank Promenade, offers sweeping vistas of the Yarra River and Melbourne skyline. The hotel offers a range of guest rooms, club rooms and suites in addition to the option of the hotel apartment and the hotel presidential suite. Guests can expect exciting epicurean adventures in the hotel's interactive restaurant and the opportunity to pamper themselves in the hotel's award winning day spa and beautiful indoor pool. See image.
Grand Hyatt Melbourne – Overlooking St. Patrick's Cathedral, Fitzroy Gardens and the cosmopolitan mix of Victorian and modern architecture, Park Hyatt Melbourne offers luxury accommodation in the heart of the city. The hotel's guest rooms mirror the luxurious design of the shared spaces, with each featuring a deep soaking tub. Several dining options exist in house as well as a first class health and fitness facility.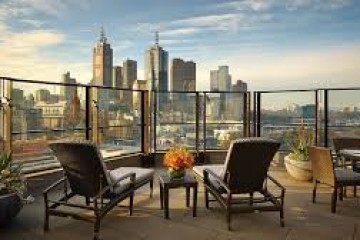 ---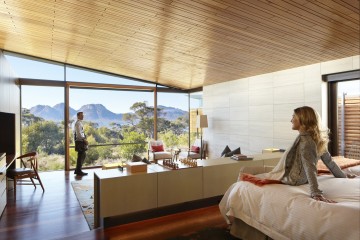 Freycinet
Saffire Lodge – Positioned on Tasmania's east coast overlooking the Hazards Mountain range, Freycinet Peninsula and the pristine waters if Great Oyster Bay, Saffire is a unique, ultimate luxury lodge situated in a coastal sanctuary. The lodge features 20 luxurious suites and private pavilions, each featuring a private courtyard and deck (private pavilions also have private plunge pools). Saffire serves inspired local fare in its in house restaurant and lounge and guests enjoy relaxing body treatments in Saffire's renowned spa. See image.
---
Hobart
Henry Jones Art Hotel – The Henry Jones is Australia's first dedicated art hotel, and one of a handful of art hotels in the world. Created within Hobart's oldest waterfront warehouses, the hotel merges historic and modern. The hotel's 56 individually designed rooms and suites are a fusion of art, heritage, tradition and nature. Coupled with the Henry Jones Art Hotel's award-winning restaurants and bars, prime waterfront location and easy access to Hobart's best attractions, the hotel offers an unparalleled experience.
Islington Boutique Hotel – Islington is a small, luxe hotel in Hobart with a long history and a large garden, affording unique and stunning views of Mount Wellington. The hotel offers eleven luxurious, distinctive guest rooms, each decorated with imported fabrics, fine antiques, and comfortable beds. In the Islington kitchen, the focus is always seasonal, local, and organic where possible. Expect to see only the freshest local ingredients with an emphasis on the best Tasmania has to offer. See image.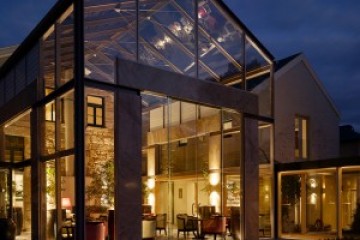 ---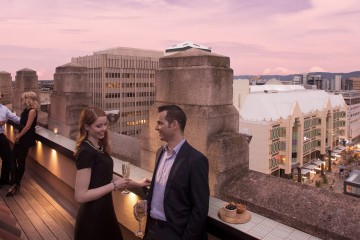 Adelaide
Mayfair Hotel – This glamorous hotel, located right in the heart of the city, offers luxury accommodation and contemporary dining experiences in an onsite restaurant, bar and cafe. The hotel's 170 elegant rooms and suites are furnished with locally designed and created furniture. See image.
Intercontinental Adelaide – The Intercontinental Adelaide provides city center accommodation conveniently located a short walk from Adelaide highlights including the Parlaiment House, botanical gardens, and Art Gallery of South Australia. The hotel offers 367 guest rooms, club rooms and suites offering views of the city. Guests can enjoy contemporary dining in the restaurants two restaurants and bar and may choose to take advantage of the heated outdoor pool.
---
Kangaroo Island
Southern Ocean Lodge – Southern Ocean Lodge is one of Australia's first true luxury lodges. Located at Hanson Bay on the Island's south west coast, the Lodge site adjoins both the Flinders Chance and Cape Bouger / Kelly Hill National Parks. 21 luxury suites offer stunning ocean views from the lodge's elevated cliff top location. Elegant dining and sumptuous spa services complement this one of a kind experience. See image.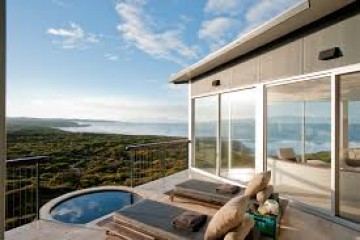 ---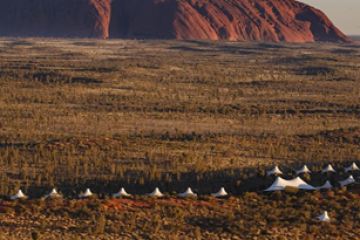 Ayers Rock
Longitude 131 – Longitude 131 commands spectacular views of Uluru/Ayers Rock while offering a luxurious and unique hotel experience. 15 private, elevated luxury tents are available for guest use along with a communal tented lodge where guests enjoy refined, locally sourced meals. Visit the Red Ochre Spa for an outback relaxation experience. See image.
---
Cairns
Shangri La, The Marina – Positioned with uninterrupted views of Cairns' seascape, Shangri La offers luxury accommodation in a great location on the Cairns waterfront. The Shangri La offers 255 spacious guestrooms and suites, all with balconies and city, garden or bay views. Enjoy the poolside bar and take in a meal at the on site restaurant. See image.
---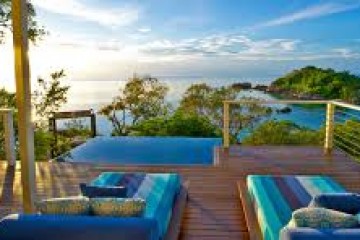 Lizard Island
Lizard Island – With 24 white sand beaches and 40 luxurious suites, Lizard Island is the most northern resort in tropical Queensland and is located directly on the Great Barrier Reef. A National park covering 1,013 hectares with pristine sandy beaches and a lagoon, Lizard Island is accessible only by private charter from Cairns Airport in northern Queensland, Australia. Guests enjoy five star cuisine in the beautiful Salt Water restaurant and indulgent spa treatments in the Essentia Day Spa. See image.
---
Sydney
Park Hyatt Sydney – Positioned on the beautiful Sydney Harbor, Park Hyatt Sydney offers a luxury accommodation experience with views of both the Sydney Opera House and the Harbor Bridge. The hotel boasts 24-hour butler service, a day spa with rooftop pool and sundeck, two excellent restaurants, a bar and a gallery featuring commissioned art from renowned artists. 155 guest rooms and suites are available. See image.
Four Seasons Hotel Sydney – The luxurious Four Seasons Sydney is located on the footsteps of Sydney's iconic Harbor Bridge and Opera House and near the city's vibrant shopping and business centers. Club rooms, guest rooms, and suites are available, all with stunning views. Enjoy the stunning outdoor pool, spa services, and fine dining in one of the hotel's two restaurants and bar.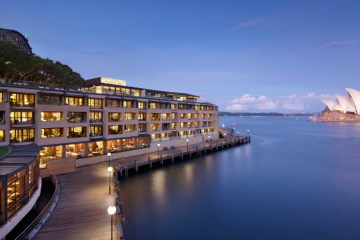 ---
Activity Options
21 Days Luxury Australia 
Following are guided touring suggestions that would work with your 21 Days Luxury Australia itinerary on days when activities have not yet been suggested. These options can be private, small group or large group. For a more personalized experience we suggest at least a small group tour, which are usually 12 or fewer people. Some touring options are half day and many require a full day.
---
Melbourne
The Essential Melbourne Experience – Truly experience Melbourne like a local with this full day guided tour. Start your day with a relaxing guided bike ride through Melbourne's hippest streets, parks, shops, cafes, hidden laneways and multicultural neighborhoods. Stop for a cup of coffee along one of Melbourne's famous quirky laneways before joining your guide for lunch in this foodie city. Finish the day with a private city tour from the comfort of a luxury vehicle; see Melbourne's icons and learn how this sophisticated city has been shaped and molded.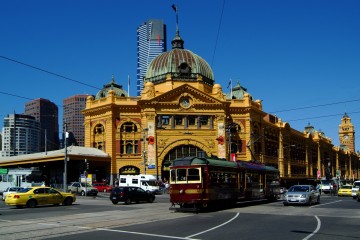 ---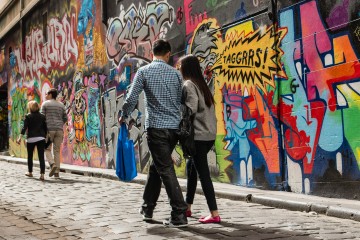 Hidden Secrets, Melbourne – Enjoy a privately guided walk with local guides (with morning, afternoon and evening departure options) through Melbourne's beautiful lanes and arcades. You will discover local designers and specialty retailers, many of whom are only found in the city. A recount of Melbourne's captivating history and an introduction to her amazing architecture will inspire locals and visitors alike. Morning walks focus on exploring Melbourne's lanes and arcades while afternoon walks have a special emphasis on Melbourne's unique architecture. Evening walks pay special attention to Melbourne's food culture, making stops at a number of restaurants to sample local food and wine.
---
Extraordinary Wildlife Experience, Melbourne – Experience a privately guided full day spent viewing and interacting with wild koalas and kangaroos (and more!) in their natural habitats on this small group eco-tour, led by an experienced wildlife guide. On your tour, located within easy reach of the city, also keep an eye out for parrots, fairy-wrens, emus, honeyeaters, possums, wallabies and lizards, which your wildlife guide will help you find and understand.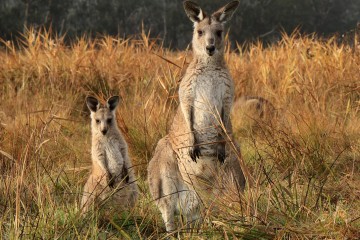 ---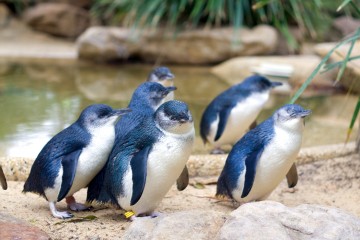 Philip Island Ranger Led Adventure – Experience the beauty and nature of Phillip Island through the eyes of a Phillip Island Nature Parks Ranger. Spend the afternoon with exclusive access to one of the island's expert rangers for an enhanced understanding of the islands flora and fauna, unique and varied birdlife plus the fascinating indigenous Aboriginal History of this small yet diverse island. Get up close to Koalas at the Koala Conservation Center and see Koalas in their natural habitat as you explore the island's tree top boardwalks. As you wander keep an eye out for wallabies, echidnas and bats. See the world's second largest Australian Fur Seal Colony at Seal Rocks and complete the tour at sunset with the nightly ritual of the return of the Little Penguins. This 11 hour tour departs and return to Melbourne in luxury vehicles and includes a dinner featuring local island produce.
---
Freycinet, Tasmania
Saffire Lodge, Freycinet – Saffire offers a great range of complimentary activities from local walks to longer hikes taking you to amazing lookouts for views of Wineglass Bay. Don a pair of waders and visit a working oyster farm and enjoy oysters on the shell – very popular! Go canoeing & bird-watching, or visit the local Freycinet Winery, where you will learn the art of winemaking and indulge in some fine Tasmanian Fare.
Saffire also offers a couple of great Signature Experiences for an additional charge.   Please inquire with your agent for more details on the complimentary activities and the Signature Experiences.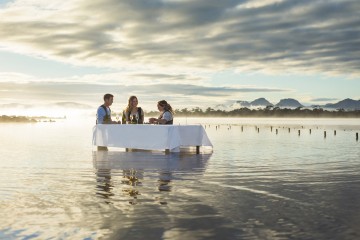 ---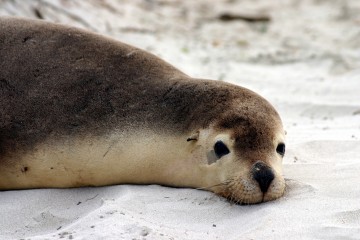 Kangaroo Island
Southern Ocean Lodge, Kangaroo Island – Southern Ocean Lodge offers guests a complete and personal Kangaroo Island experience. A signature itinerary of selected guided island excursions is designed daily and included in the tariff, allowing guests to encounter abundant wildlife in a "zoo without fences" and discover the Island's unique natural attractions, often with exclusive access.
The Southern Ocean Lodge Guide introduces sea lions at Seal Bay, hosts an exploration of the vast wilderness of Flinders Chase National Park and leads a journey through coastal flora along the limestone clifftops. A menu of Bespoke Experiences offers further exploration and excellent private charters are also available. Discover epicurean delights, visit local artists, or step off the beaten track to encounter wildlife in Australia's own Galapagos. Please inquire with your agent for more details about activities available at Southern Ocean Lodge.
---
Ayers Rock/Uluru
Longitude 131, Ayers Rock/Uluru – At Longitude 131 an exceptional touring program designed exclusively for guests is included in your luxury wilderness experience. Complimentary Signature Experiences with Lodge naturalist guides are shared with fellow guests in custom touring vehicles and may include:
Uluru Sunset – See the changing lights reflected over Uluru's facets as the sun slips below the horizon, chilled glass and canapé in hand.
Field of Light – Bruce Monro's acclaimed art phenomenon, Field of Light, is created from 50,000 bud-like stems and crowned with frosted glass spheres – the installation blooms and appears to sway as darkness descents over the Outback. Arrive at dusk and meander through the field.
Table 131 – Dine out beneath the night sky at an exclusive venue among the dunes. Feast on four courses with Australian wines and learn about the Southerly constellations so vivid in the Outback sky.
Walpa gorge & Kata Tjuta – Explore the impressive formation of Kata Tjuta, the walls of Walpa Gorge rising obliquely on each side and discover how eons of weathering and continental upheaval have created today's landscape. Complete the visit with a trip to the Cultural Center.
Mala Walk & Katju Gorge – Join the Lodge guide for a gentle walk along a portion of Uluru's base and learn about the history of the Indigenous Mala people, viewing cave paintings and other sacred sites. Enter the Gorge at dusk to witness rock walls ablaze with the light of the setting sun. Enjoy sunset drinks and canapés.
Mutitjulu Meander – Discover peaceful Mutitjulu Waterhole and the sacred site of Kuniya Piti as the sun lights up the ancient monolith and listen to the Anagu creation story of Kuniya and Liru.
For those looking for a custom and personalized itinerary, a range of optional Bespoke Experiences is also available for an additional charge. Please inquire with your agent for more details about activities available at Longitude 131.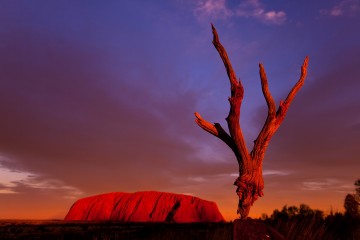 ---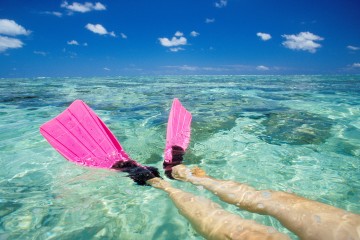 Lizard Island
Lizard Island Resort – Lizard Island Resort offers a variety of complimentary activities to guests, from snorkeling instruction (and use of snorkeling gear) and use of motorized dinghies for exploring the island to interpretive glass bottom boat tours, tennis, paddle ski tours, informative nature presentations and self-guided nature walks.
A range of additional activities are on offer for an extra charge: Guests have the opportunity to experience diving and snorkeling trips to the inner or outer Reef, diving instruction, and night diving safaris. Consider a private game fishing trip, a champagne sunset cruise, or choose from a range of luxurious spa treatments at the on site Essentia Day Spa. Please inquire with your agent for more details about the activities available at Lizard Island Resort.
---
Sydney
Sights of Sydney Introductory Tour – This half-day private touring experience has guests travelling around the harbor city in a vintage Australian car – a 1964 EH Holden. Discover the "off the beaten path" areas of Sydney that locals love to visit. This tour is led by a passionate Sydney local who will show you the city's, beach, bushland and shore. Hear insider tips and tales about this stunning harborside city.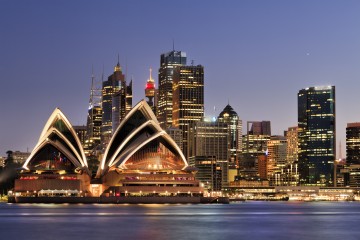 ---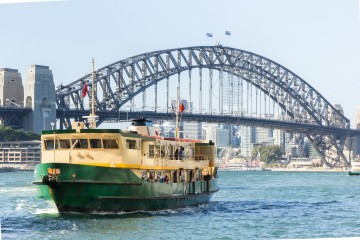 Sydney Harbor Cruise –Treat yourself to a Sydney Harbor lunch cruise on board a 52-foot power boat. Your captain and host will recount Sydney's rich history and share stories of Sydney Harbor as you take in views of the city, Sydney Harbor Bridge, and the Sydney Opera House. Enjoy a BBQ lunch with regional wines and beers while you relax on deck and take in the beautiful surroundings.
---
Climb the Sydney Harbor Bridge – The Bridge Climb is an iconic Sydney attraction. Enjoy a guided journey to the top of the Sydney Harbor bridge, travelling along the outer arch of the Bridge on catwalks and ladders all the way to the summit, 134 meters above Sydney Harbor. A half day tour, the Bridge Climb can be undertaken either during daylight hours or at twilight, for a truly unique experience.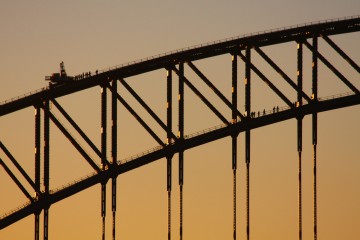 ---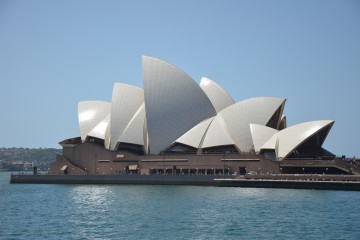 Visit the Iconic Sydney Opera House – Take a look inside one of the world's most recognizable structures and experience this piece of architecture and engineering with a knowledgeable and experienced guide. The Opera House is a work of art that came into existence against strong odds to become one of the busiest performing arts centers in the world. Learn the engrossing story and history of this Sydney icon where live performances take place every day.
---
Sydney Seaplane Flights Take off from Australia's first international airport at Rose Bay, on the Sydney Harbour! It is hard not to be awed as beautiful Sydney Harbour unveils itself beneath. Gently exit the harbor and marvel at the stunning sandstone cliffs rising abruptly from the sea. Travel along the coast in a 15 or 30-minute flight before tracking to the Harbour Bridge and Opera House, adding a complete circuit above both famous icons. Other flights include landing for lunch or dinner at superb waterfront spots before returning to Sydney.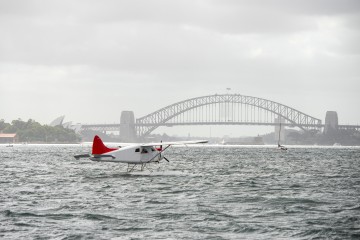 ---
Travel outside of Sydney – If you have more than a couple of days in Sydney there are some great privately guided tour options within just a couple of hours of central Sydney. Take a full day tour to the Blue Mountains and the Greater Blue Mountains Area World Heritage Site, one of the most beautiful national park areas of Australia. Visit the Hunter Valley one of Australia's original wine growing regions; or take an afternoon and evening Wildlife Tour to the Southern Highlands in search of Australia's Wildlife in its natural environment.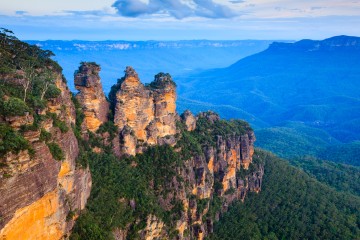 ---